Skip Navigation
Annette Wysocki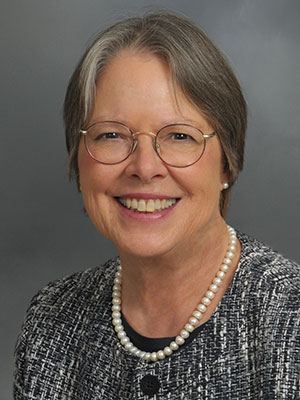 Dean of the School of Nursing
Annette B. Wysocki is Dean of the School of Nursing at Stony Brook University effective August 1, 2019.  She was formerly the Associate Dean for Research and Professor in the College of Nursing at the University of Massachusetts Amherst.
Wysocki received her BSN and MSN from East Carolina University in Greenville and her PhD from the University of Texas at Austin. She completed two postdoctoral research fellowships in cell biology at the University of Texas Southwestern Medical Center and at Weill Cornell Medical College.  She joined the faculty of New York University Medical Center as Director of Nursing Research and as Assistant Professor in the Department of Dermatology, before moving to the National Institutes of Health (NIH) to serve as the Scientific Director of the National Institute of Nursing Research, and Chief of the Wound Healing Laboratory. Following her tenure at NIH, she became Professor of Nursing and Surgery at the University of Mississippi Medical Center, before moving to UMass Amherst where she was instrumental in establishing the UManage Center that is focused on symptom self-management of fatigue and sleep disruptions using handheld and wearable sensor technologies funded by a National Institute of Nursing Research (NINR), NIH P20 Exploratory Center Grant.
Her program of research is focused on discovering the pathophysiology of delayed healing in chronic wounds.  She has specifically focused on the activation and overexpression of serine proteases, matrix metalloproteinases (MMP-2 and MMP-9), and bacterial proteases responsible for the degradation of extracellular matrix that leads to delayed healing.  Collaborative research efforts have been directed at keloids, pressure ulcers, colonizing and infecting bacteria, POSS-based nanomaterials, and topical antiseptic agents.
She is an elected Fellow of the American Academy of Nursing, is one of the 100 "Incredible East Carolina (ECU) University Women," and received the 2018 Distinguished Alumnus Award from ECU, was a Harvard Macy Scholar and received the Distinguished Service Award from the Wound Healing Society and served as President of the Wound Healing Foundation.

CONTACT:
Wesam Hassanin
Executive Assistant
wesam.hassanin@stonybrook.edu
Phone: 631.444.1041
School of Nursing
101 Nicolls Road HSC, Level 2, Room 235
Stony Brook, NY 11794-8240