Skip Navigation
Charles S. Taber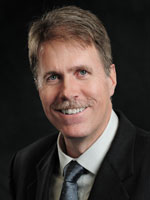 Vice Provost for Graduate and Professional Education
Chuck Taber has been on the faculty at Stony Brook University since 1989 and is Dean of the Graduate School and Vice Provost for Graduate and Professional Education, as well as a Professor of Political Science. Chuck has served as undergraduate director and graduate director for the department of political science, as chair of the University Graduate Council, chair of the President's Task Force on Graduate and Professional Student Housing, chair of the Provost's Task Force on Responsible Conduct of Research and Scholarship, chair of the Senate Subcommittee on the Masters Initiative, and co-chair of the Provost's Task Force on Academic Assessment, in addition to a variety of other committee memberships.
Chuck Taber received his PhD from the University of Illinois, Urbana-Champaign in 1991, and is a leading scholar in the fields of political psychology and computational modeling, with over 50 scholarly publications. Chuck has been a pioneer in the use of computational modeling in political science, publishing the first article using this method in a major political science journal (American Political Science Review, 1992) as well as a widely-used text for computational modeling in the social sciences (Computational Modeling, Sage, 1996). Chuck has also made a significant contribution to the growing literature on the psychological mechanisms that drive public opinion. In 2000, he received the Paul Lazersfeld outstanding paper award from the American Political Science Association for a paper on the causes of bias in political reasoning, published in the American Journal of Political Science. Along with Milton Lodge, Chuck has developed an influential theory of unconscious thinking in political behavior. Their 2013 book, The Rationalizing Voter, from Cambridge University Press, won the Robert E. Lane Book Award and the Book of the Year Awards from the Experimental Politics and Migration and Citizenship Sections of the American Political Science Association.
Chuck's research and career have been the subject of numerous profiles in the scientific and popular press, including in Science, Scientific American, and Mother Jones. He has received nine research grants from the National Science Foundation, has edited the journal Political Psychology, and serves on the editorial boards of several leading political science journals. Chuck has directed 15 completed PhD dissertations and dozens of undergraduate independent research projects and senior honors theses, and currently advises seven PhD students on their dissertation research.
CONTACT:
Gianna Juliano-Hooper
Executive Assistant to the Dean
Phone: 631.632.7035
2401 Computer Science Bldg.
Stony Brook, NY 11794-4433