Skip Navigation
Jacqueline B. Mondros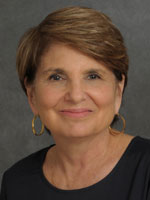 Dean, School of Social Welfare
Dr. Jacqueline B. Mondros, D.S.W., currently serves as Dean and Assistant Vice President for Social Determinants of Health at SUNY Stony Brook. She was formerly Professor and Dean of the Silberman School of Social Work at Hunter College where she was widely recognized for the School's moving into national prominence.
Her research and practice interests are in the study of urban neighborhoods and she has written extensively on community social services, community development, and community organization. Her co-authored text, Organizing for Power and Empowerment, has been widely used in schools of social work. In recent years she has focused her scholarship on leadership in human services, social work education, and is currently working on the implications of social capital and social network analysis for social work.
Dr. Mondros received her B.S.W. from Temple University in Philadelphia, and her M.S.W. and D.S.W. from University of Pennsylvania. She was formerly Professor and Vice Dean of the School of Social Work at the University of Southern California, Professor and Associate Dean of the School of Social Work at Barry University, and Associate Professor and Assistant Dean at Columbia University where she was on the faculty for eleven years.
She has won multiple awards, including Woman of the Year for Dade County, Community Leadership award of Violence Intervention Program, Opportunity Award for Hope Inc., Alumni of the Year for Temple University, and Top Leader Award for NASW New York City Chapter.
Throughout her academic career, Dr. Mondros has led the development of community initiatives. In Philadelphia, she was a founding member of Kensington Action Now, a grassroots neighborhood organization, and Community Organizations Acting Together (CO-ACT), a coalition of six neighborhood organizations. While in New York she worked with community groups in the Bronx and Yonkers to develop indigenous leadership to end housing segregation. In Miami, she founded and served as Executive Director of the Academy for Better Communities, which designed and delivered more than $10 million of funded community services in Palm Beach, Broward, and Dade counties. These projects ranged from foster care, in-home health care and independent living for older adults, moving low-income women into the workforce, and overseeing the rights and needs of persons who were wards of the state as part of a Public Guardian program. She now leads Hunter College's partnership All in East Harlem, a college wide collaboration with neighborhood residents and community based organizations.
Dr. Mondros has also worked extensively with major religious organizations, including the Catholic Campaign for Human Development, Jewish Theological Seminary, Council of Reform Rabbis, and Hebrew Union College-Jewish Institute of Religion. At both JTS and HUC-JIR she helped both seminaries establish and then implement extensive internship training programs.
CONTACT:
Victoria Yngstrom
Administrative Assistant
Phone: 631-444-2139
HSC L2, Rm 093
Stony Brook, NY 11794-8231