Skip Navigation
Shafeek Fazal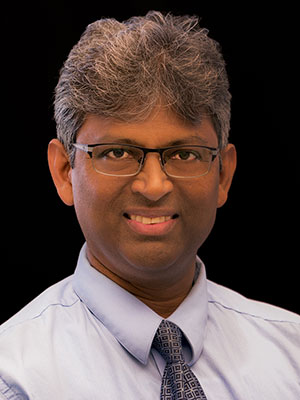 Interim Dean, University Libraries
Shafeek Fazal serves as Interim Dean of University Libraries, advancing the Library's strategic direction in support of the University strategic plan and overseeing all areas of operation.
Fazal joined Stony Brook University in 2014 as Associate Dean for Library Technology, Discovery, and Digital Services. Among his many accomplishments, he established a team of librarians and staff to support all library technology initiatives, created and sustained a digitization program that has produced several new digital collections, implemented tools and services for enhancing the discovery of new research resources, established a University Center for Scholarly Communication, and assisted with leading the SUNY Open Access effort. The latter activity has served to place Stony Brook at the forefront of such initiatives both in the SUNY system and in American higher education as a whole. Fazal has also played a key role in designing and creating new technology-rich student study spaces, and in augmenting user experience with the Library's web and other virtual investigative spaces and platforms. He currently leads several major projects at the Library, including the promotion of textbook affordability through the SUNY Open Educational Resources (OER) program, the implementation of a new Library Services Platform, and the development of a large scale institutional repository platform for all of our University's scholarship, research, data, and digital (and digitized) art.
Prior to joining Stony Brook University, Fazal held a decade-long tenure at SUNY Maritime College where he progressively served as Head of Reference and Access Services, Assistant Library Director, and then as Library Director. During his tenure at CUNY's Bronx Community College, he served as Head of the Library Systems Department and simultaneously managed the faculty Center for Teaching Excellence. Fazal received several grants at SUNY Maritime to implement and sustain a digitization program, as well as significant funding to establish an information literacy center at Bronx Community. More recently, he secured funding from the National Network of Libraries of Medicine to create a new digital health sciences collection at Stony Brook.
Fazal has published and presented his research on topics ranging from digitization, library systems, information literacy, assessment and program accreditation. He is a recipient of the SUNY Chancellor's Award for Excellence in Librarianship. Fazal holds a BS and MS in Electrical Engineering from the City College of New York (CUNY), and a master's degree in Library and Information Science from Queens College (CUNY).
CONTACT:
Stacey Horath
Executive Asst. to the Library Dean
Phone: 631.632.1067
University Libraries, W1502
Stony Brook, NY 11794-3300