Skip Navigation
SBU Virtual Postdoc Spotlight 2021 

SBU Virtual Postdoc Spotlight is an online celebration of the research performed by Stony Brook's postdoctoral scholars.
Date: Thursday, February 25, 2021
Time: 4:00 pm-5:15pm
Location: Zoom
This event is free and open to the public.
Awards are generously sponsored by the Office of the Vice President of Research.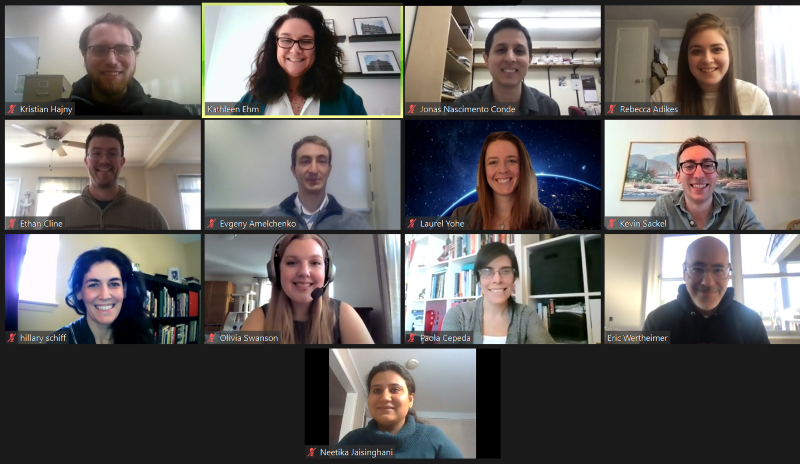 Spotlight 2021 Speakers
Congratulations to our Spotlight Winners! 


Spotlight Agenda: 
4:00pm-4:05pm
Welcome & Overview
 
Eric Wertheimer, Dean of the Graduate School
Kathleen Flint Ehm, Assistant Dean, Graduate and Postdoctoral Initiatives
4:05pm-4:55pm
Spotlight Presentations (in order of presentation)

 
Laurel Yohe, Ecology and Evolution
How Dinosaur Brains and Bat Noses Can Save the World

 
Kristian Hajny, School of Marine and Atmospheric Sciences
Understanding New York City CO2 From Above

 
Olivia Swanson, Neurobiology and Behavior
The Science of Feeling Full
 
Evgeny Amelchenko, Anesthesiology


The Good, The Bad and The Ugly: Mice living in an interesting or a boring cage differ in aggressiveness



 
Jonas Nascimento Conde, Microbiology and Immunology


Why Don't You Bleed to Death When You Get COVID-19?



 
Neetika Jaisinghani, Pharmacology


Decoding the Exterior of a Deadly Bug



 
Rebecca Adikes, Biochemistry and Cell Biology


Migration & Division: A Cells Balancing Act



 
Kim Berghaus, Yang Institute for Theoretical Physics


Making Light of Dark Energy



 
Ethan Cline, Physics and Astronomy


How Big is the Proton?



4:55pm (approx)

Winners Announced & Award Presentation