Skip Navigation
Information for New Postdocs
In this Section:
---
WHO IS A POSTDOC AT SBU?
At Stony Brook, a Postdoctoral Scholar is an individual holding a doctoral degree who is engaged in a temporary period of mentored research and/or scholarly training for the purpose of acquiring the professional skills needed to pursue a career path of his or her choosing. This definition includes  but is not limited to the following SBU appointment titles: Postdoctoral Associate; Senior Postdoctoral Associate; and Postdoctoral Fellow.
We also have researchers appointed in a number of other titles who are de facto postdocs without the word "postdoc" in their official title.  If you are in a mentored, training position conducting Ph.D.-level research and consider yourself to be a postdoc, then you are welcome to participate in any of our postdoctoral services, workshops and activities.
Stony Brook has approximately 250 postdocs working on both east (hospital) and west (main) campus, and just over half are international postdocs on temporary visas. Most postdocs here are supported on a research grant and so are employees working for the Research Foundation of the State University of New York (often shortened to Research Foundation or RF). A smaller fraction of SBU postdocs are employees working for the State of New York (usually called State). Typically you'll find out whether you are an RF or State postdoc based on your offer letter and which new employee orientation you are invited to. Another group are Postdoc Fellows working on a fellowship or traineeship and are not employees. These Fellows may be paid a stipend through university payroll (e.g., NRSA Postdocs) or may receive their stipend directly (e.g., NSF postdoc fellows or some international postdocs supported by funding from their home country). Benefits will vary for each appointment type.
If you have questions on your benefits or other aspects of your appointment, contact the Office of Postdoctoral Affairs or the Benefits office in Human Resources. 
WHAT TO DO WHEN YOU ARRIVE
Office of Postdoctoral Affairs
Complete the Office of Postdoctoral Affairs information form in order to ensure you are on our mailing list for information, services, and events.  You can e-mail the Office of Postdoctoral Affairs at  postdocs@stonybrook.edu or find us on the second floor of the Computer Science Building in Room 2309, down the hall from the entrance to the Graduate School.
New Postdoc Welcome
OPA offers a New Postdoc Welcome once every three months to help orient and welcome all new postdocs who have joined Stony Brook in the interim. It's a chance to hear information and ask questions about the postdoctoral experience at Stony Brook. The general orientation is typically followed by an opportunity to mingle and network with new and continuing postdocs to welcome you to our community. Visit the New Postdoc Welcome page or contact OPA about the next welcome. 
Transportation
The region around Stony Brook has limited public transportation options, and so many postdocs prefer to have a car to get around Long Island. Some options are below.
Housing
Finding for affordable housing can be a challenge on Long Island. Visit our Housing page for information and an option for temporary housing. 
ID cards
Your SBU ID number is your gateway to services on campus. When you first arrive you will want to take your number and some form of photo ID to the nearest Campus Card office to have your SBU ID card issued. For West Campus employees the office is located on the first floor of the Administration building in Room 103. For East Campus employees the office is located in the Health Sciences Center, Level 3, Room 162. Telephone numbers and office hours for both locations can be accessed at the following link:  Campus Card.
INTERNATIONAL SCHOLARS
Visa and Immigration Services
Visa and Immigration Services is located on the fifth floor of the Melville Library, Suite E5310. All international Postdoctoral Scholars must visit the  Visa and Immigration Services office within the first few days of their arrival to campus. There you can find a list of services offered, upcoming events, news, office hours and reference guides.
Social Security
In order to receive a paycheck in the United States, a person must have a Social Security number. For international Postdocs receiving a paycheck for the first time, you must apply for a Social Security number in order for your payroll paperwork to be processed.  Please note: You will have to contact the  Office of Visa and Immigration Services upon your arrival before you can begin the process of obtaining a social security number.
You can read about the documents necessary for submission at the Social Security website. The nearest Social Security office is located at 75 Oak Street in Patchogue, about 30 minutes due south of SBU by car. Office hours are Monday through Friday from 9 am-4 pm, except federal holidays. See the  Social Security website for general directions, a map, telephone numbers and more information.
Taxes
If you are hired as an employee by Stony Brook, you may be liable to pay income tax during your postdoc. The details of your situation will depend upon a number of factors, including your appointment type, your country of citizenship, and any tax treaties that may apply to you. Information and resources on taxes are available for postdocs each year around tax time (January through April). Additional resources are available through the National Postdoctoral Association. 
Driving in New York
You do not need to be a New York resident to  register a car in New York State, and you may drive in New York on a foreign or international driver license. You also can obtain a New York driver license as a non-U.S. citizen; see the Department of Motor Vehicles (DMV) Web site for more information on Moving to New York. 
On Being a Postdoc in the United States
The National Postdoctoral Association maintains an International National Postdoc Survival Guide with tips on things like your visa status, getting a credit card, and general aspects of living in the United States like health insurance and taxes.
FAMILY RESOURCES
Maternity and Paternity Leave Resources
Postdocs considering having or adopting children during their tenure at Stony Brook should review their  leave options for their respective employment type. Stony Brook RF and State employees may be eligible for a paid family option via the New York State Paid Family Leave program. Stony Brook also offers Family and Medical Leave Act (FMLA) unpaid leave for eligible RF and State employees. Postdoc Fellows should consult the terms of their fellowship or training grant for leave options. For more information, consult an overview of family leave benefits and family resources at Stony Brook.
Child Care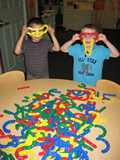 Stony Brook University is home to on-campus, nationally accredited childcare services. Stony Brook Child Care Services is located on West campus at the corner of Stony Brook Road and South Drive. The Center is open Monday through Friday, 7 am to 6 pm with various shifts available and serves University faculty, staff and students as well as Hospital employees and students. The Center is accredited by the National Academy of Early Childhood Programs. The student-teacher ratio in the 3 to 5-year-old centers is 7 to 1; in the Infant Center it's 4 to 1. Fees are charged on a sliding scale according to family income. More information can be found at  Stony Brook Child Care Services. The Stony Brook area also boasts a number of other childcare options for every budget.
Dual career households

Stony Brook University is a member of the northeastern region of the  Higher Education Recruitment Consortium (HERC). which provides resources for employees seeking nearby jobs for their spouse or partner.  The HERC site offers information and dual-career job searches in the metro New York and southern Connecticut area with links to other regional coverage areas. Many local universities and organizations belong to the consortium and share their employment opportunities. Some of the members close to home are:
Adelphi University
Barnard College
Brookhaven National Laboratory
Brooklyn Law School
The City University of New York
Cold Spring Harbor Laboratory
Columbia University
Fashion Institute of Technology
Fordham University
The Juilliard School
Manhattanville College
Marist College
Memorial Sloan-Kettering Cancer Center
Molloy College
The New School
New York University
Norwalk Community College
Polytechnic University
Pratt Institute
The Rockefeller University
Sarah Lawrence College
St. John's University
St. Joseph's College
Teachers College, Columbia University
Union Theological Seminary
United States Coast Guard Academy
Vassar College
Wagner College
Weill Medical College of Cornell University
Western Connecticut State University
Yale University
Yeshiva University
CONNECT WITH SBU POSTDOCS
If you would like to connect with local SBU postdocs before you arrive for your position at Stony Brook for advice on housing, getting around, or anything else, e-mail the Office of Postdoctoral Affairs at postdocs@stonybrook.edu. You can also visit our Facebook page. Once you arrive, be sure to attend the New Postdoc Welcome held every quarter, join our other networking events and socials, and make sure to complete the Postdoc & Research Scientist Info Form to ensure you are added to our mailing list and database.