Skip Navigation
Family Resources
Stony Brook has an array of supporting resources for postdocs starting or supporting families. For questions on your benefits, contact Human Resources.
Postdocs considering having, adopting or fostering children during their tenure at Stony Brook should review  their leave benefits and start planning in advance when/how they will take leave and manage their continuing research.
Some general guidance on planning is available from the National Postdoctoral Association on managing your research, talking with your supervisor, and planning your leave:  A Postdoc's Guide to Pregnancy and Maternity Leave  and  A Postdoc's Guide to Paternity Leave .
Stony Brook also has leave options for postdoc employees who need to take leave for family illness, with support from FMLA and New York State Paid Family Leave Program. For guidance on leave options available to you, you can also contact the Time and Attendance unit in Human Resources.
Stony Brook Child Care Services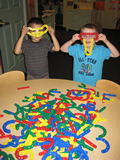 Stony Brook University is home to on-campus, nationally accredited childcare services. Stony Brook Child Care Services is located on West campus at the corner of Stony Brook Road and South Drive. The Center is open Monday through Friday, 7 am to 6 pm with various shifts available and serves University faculty, staff and students as well as Hospital employees and students. The Center is accredited by the National Academy of Early Childhood Programs. The student-teacher ratio in the 3 to 5-year-old centers is 7 to 1; in the Infant Center it's 4 to 1. Fees are charged on a sliding scale according to family income. More information can be found at  Stony Brook Child Care Services. The Stony Brook area also boasts a number of other childcare options for every budget.

Stony Brook University is a member of the northeastern region of the  Higher Education Recruitment Consortium (HERC). which provides resources for employees seeking nearby jobs for their spouse or partner.  The HERC site offers information and dual-career job searches in the metro New York and southern Connecticut area with links to other regional coverage areas. Many local universities and organizations belong to the consortium and share their employment opportunities. Some of the members close to home are:
Adelphi University
Barnard College
Brookhaven National Laboratory
Brooklyn Law School
The City University of New York
Cold Spring Harbor Laboratory
Columbia University
Fashion Institute of Technology
Fordham University
The Juilliard School
Manhattanville College
Marist College
Memorial Sloan-Kettering Cancer Center
Molloy College
The New School
New York University
Norwalk Community College
Polytechnic University
Pratt Institute
The Rockefeller University
Sarah Lawrence College
St. John's University
St. Joseph's College
Teachers College, Columbia University
Union Theological Seminary
United States Coast Guard Academy
Vassar College
Wagner College
Weill Medical College of Cornell University
Western Connecticut State University
Yale University
Yeshiva University