Skip Navigation

Version 11
Uploading Images
You can upload images in several ways.
Uploading Images While Editing
You can Upload a new image while working on the page by clicking on the insert image icon in the toolbar, browsing to the images folder and clicking 'Upload.'
You can then drag an image into the dialog box and click 'Start Upload.' When it has uploaded, select the image file name and follow the steps above to edit it.
Drag and Drop
Users can now select a file or multiple files from their desktop or other external source and drag them directly into the Upload dialog with no limit to the number of files that can be uploaded. You may also drag and drop images files into a folder in the Pages view.
Dropping images into a folder in Pages View: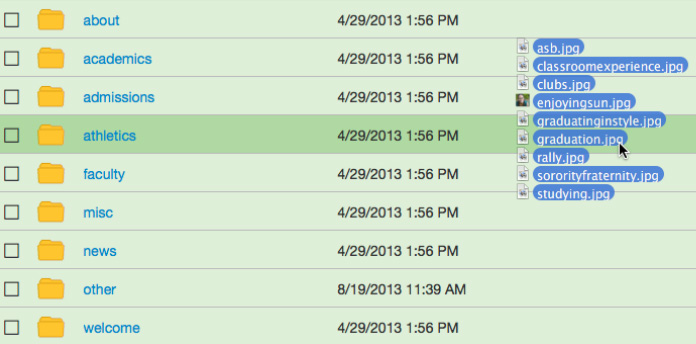 Stony Brook University
Office of Communications and Marketing
Stony Brook, NY 11794-0605