Skip Navigation

Version 11
Publishing a Page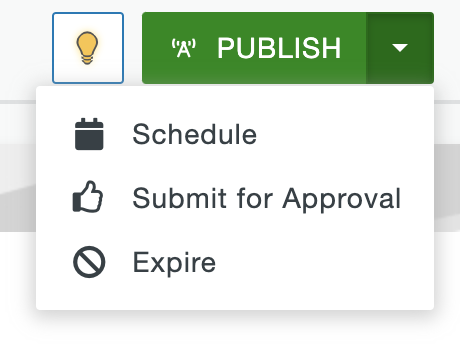 When you are finished editing a page, you can then publish that page to the production server for your website and make it 'live.' Click the 'Publish' button at the top of the page, in the page action toolbar.
The button is only shown if the user has publishing rights.
You can also access the publish function for a checked in or a checked out page by hovering over the file name in Pages view, and from the Publish menu, choose Publish.
You can publish immediately or schedule a publish by clicking the Schedule tab in the publish dialog box. Other options include submitting the page for approval by another user in your access group, or setting an expiration date for the page.
After clicking publish, you can also run a set of final checks including spelling, WC3 and accessibility checks.
Learn about all of the publishing options.
This video will walk you through the complete publishing process:
Stony Brook University
Office of Communications and Marketing
Stony Brook, NY 11794-0605