Skip Navigation

Version 11
Social Media / Print Sidebar

The Sidebar option of the configuration file - or config file - located in your site's _includes folder allows you to control a vertical group or tab of links that is fixed on the right side of every page of your site.
The sidebar includes 8 popular social media platforms as well as a print button.
Available social media platforms include Facebook, Twitter, Instagram, YouTube, Pinterest, Tumblr, Flickr and LinkedIn.
To configure this sidebar, check out the config file and go to Properties.
Under ' Show Social Links,' check either 'Show' or 'Do Not Show.' If you select 'Show,' enter the social media URLs in the fields where indicated. You can choose to show or not show the print button.

If you are making changes to the config file, remember you must republish your enter site in order for the changes to be reflected on the site.
Details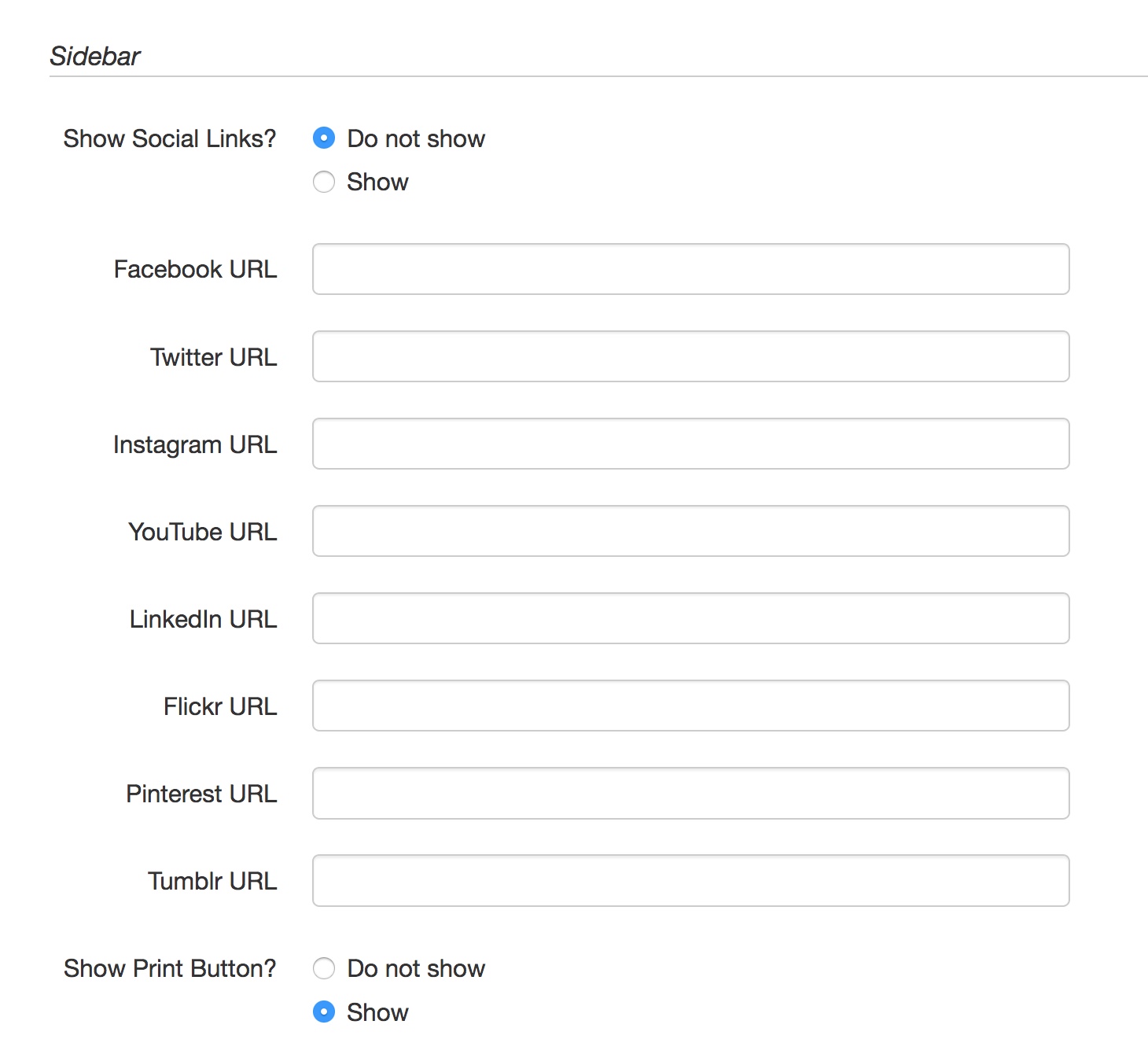 Show Social Links?
Allows you to turn the social links on or off.
Social URLs
Defines the page URLs for each social channel.

Must start with http:// or https://

You do not need to show all. Only enter URLs the links you want.

Removing a URL will remove the social icon.

There can only be

at most

 

one of each

 social channel.

The display order is automatically set and cannot be changed.
Show Print Button?
Allows you to turn the print button on or off.

You can turn the print icon on and off independent from the social icons, meaning if you only want print, you can have set that up.
Social Links Override within a Site
It is generally recommended that each site have its own list of social links that serve for the entire site.
However, in some cases, you may need to have a custom set of social links for a certain section within a site. For example, if you have a single site that houses multiple divisions, and each division has its own list of social channels.
This override is done using Access Settings .
First, in the Pages view, navigate to the folder whose pages should have its own set of social links. Mouse over that folder row and go to Edit > Access .
Next, define the Directory Variables as indicated below.
 
| Name | Description | Type |
| --- | --- | --- |
| social | Setting to true  will override the social links defined in the config.pcf file in your _includes folder | boolean |
| facebook | URL for this social channel | URL |
| twitter | " | " |
| instagram | " | " |
| youtube | " | " |
| linkedin | " | " |
| flickr | " | " |
| pinterest | " | " |
| tumblr | " | " |
Guidelines:
These directory variables must be lowercase as depicted above

If a social URL is not available, simply not defining a variable for that social channel will ensure that it will not show up.

If social is not set to true, the links will show as configured in

config.pcf

.

The display order of the social links is automatically set and cannot be changed.