Skip Navigation
Welcome Freshmen Students!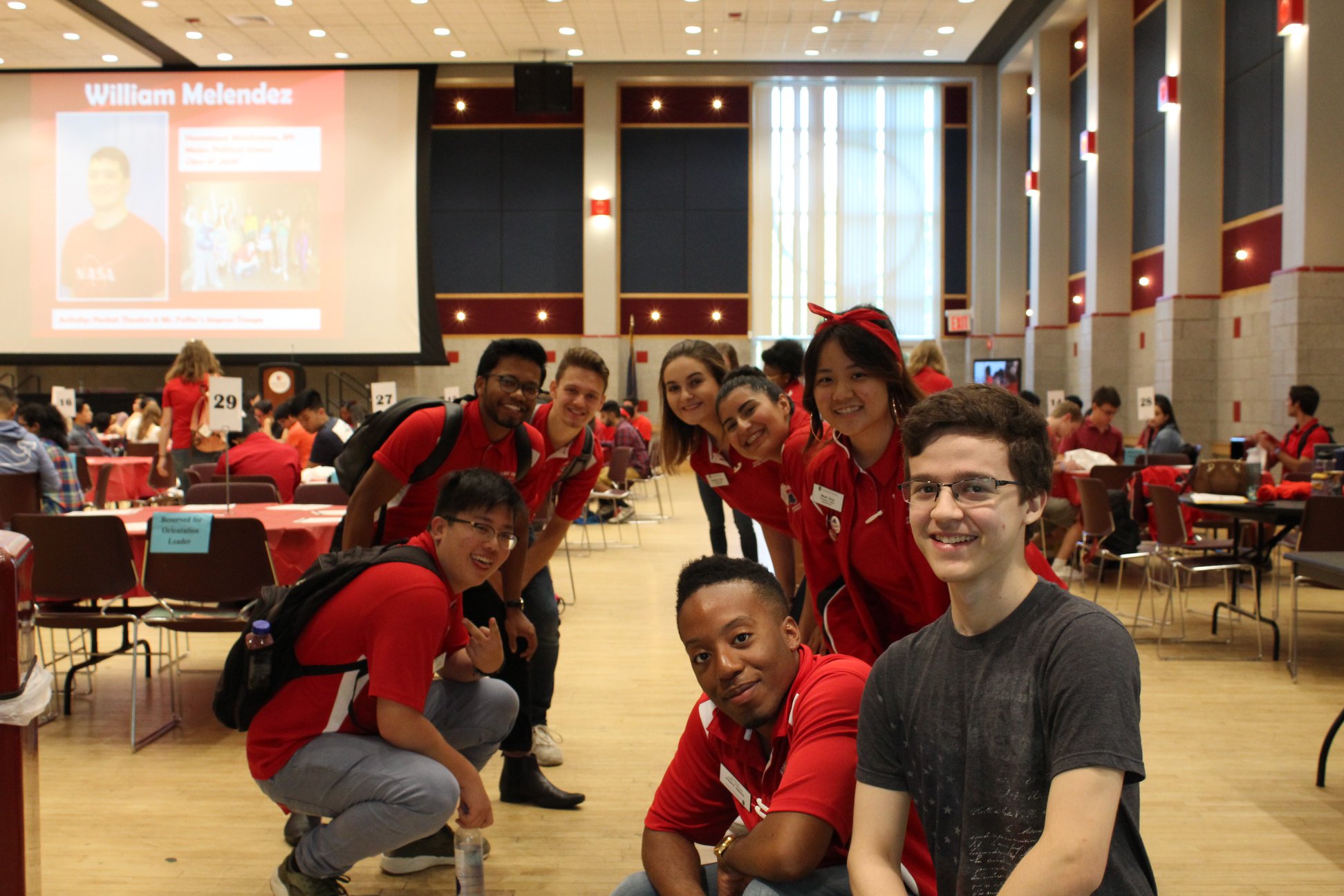 Welcome to Stony Brook University! All new freshmen students at Stony Brook University will participate in a two-part orientation experience. Both Orientation and Opening of School are   required for all  new freshmen students.
Orientation Part I is a full-day session that focuses on getting to know Stony Brook and your  Undergraduate College.  Orientation takes place in  July and August (fall admitted students) and in  January (spring admitted students)
Orientation Part II, also known as  Experience Stony Brook, focuses on getting acclimated to the University climate, culture, and community. Experience Stony Brook takes place during the weekend before the beginning of the semester. Students who do not attend Experience Stony Brook will automatically be enrolled in the  ROME (Required Orientation Makeup Experience) course.
To Receive an Orientation Date: In order to receive an orientation date, you should log on to the  SOLAR system. Here you can accept your admission by:
Paying your tuition deposit online
Paying your housing deposit (if applicable) 
Paying your  orientation fee
Completing the New Student Preferences form
After you have completed these steps, you will be assigned an Undergraduate College and an orientation date based on the order in which your tuition deposit was received.  Orientation dates will be assigned on a rolling basis after the University Deposit Deadline . You will receive an email and postcard with your orientation date once you have been assigned an orientation. 
Things to Do Before Orientation
Your Stony Brook NetID is used to access campus technology resources such as email, WiFi, on-campus computer labs, printing, and Blackboard. It is important that you set up your NetID before coming to campus to take placement exams as you will need it to log in to the placement exam computers.
To set up your NetID, log in to SOLAR, under "Security and Maintenance" then click "Security and Personal Data" then "NetID maintenance". You will see your NetID listed. To set your NetID password, create your security question, then set up your NetID password. It will take 15 minutes for this to take effect. Be sure to take note of your NetID and password for future use.
Complete Required Health Forms.
All students attending courses on Stony Brook campus must submit a completed Immunization / Meningitis Form, demonstrating compliance with New York State Health Laws. It is  REQUIRED that this form be submitted to Student Health and submitted at least three weeks before attending orientation and enrolling for classes to avoid any problems with registering for classes at orientation.  Copies of the immunization form or immunization history may be digitally uploaded to the Student Health Patient Portal  https://stonybrook.medicatconnect.com.  You can also make photocopies of these forms and bring them with you to orientation as well.
Please note that students must be in compliance with MMR immunization requirements and meningitis response form completion before residence hall move-in or day 1 of classes (whichever is earlier). To ensure compliance in a timely manner and avoid issues with course de-registration, students should submit the required forms 3 weeks prior to orientation.
Three (3) Required Forms: All forms should be received ideally three weeks before your orientation date. Detailed information about required immunizations is available   here . 
The  Immunization Form / Meningitis Response must be submitted at least three weeks prior to your Orientation/Enrollment date.

Please note that a doctor's appointment is not required. In many cases, you can obtain a signed copy of your immunization history from your high school or previous college to submit to Stony Brook. 

The  Meningitis Form must be submitted at least three weeks prior to your Orientation/Enrollment date. If you are 18 years of age or older, this requirement can be met by logging on to your SOLAR account and submitting your response electronically under "Holds."
The  Health Form should be submitted shortly after you receive notification of your acceptance to Stony Brook University. This form should ideally be received no later than 3 weeks before you arrive to campus for orientation.
Submitting Forms: 
Watch a video about how to upload your forms
Via the Patient Portal: You MUST  set up your NetID prior to use of the portal. The Patient Portal can be accessed at  https://stonybrook.medicatconnect.com. After signing in, go to the Immunization tab. You will see instructions on how to enter the dates of your immunizations.  When you are finished entering the dates you must go to "Upload" area and follow the instructions on how to upload your documents so that the dates can be verified.
If you are unable to submit forms through the patient portal you can mail the forms to: Stony Brook University, Student Health Service, 1 Stadium Road, Stony Brook NY 11794 -3191. 
Complete Advising Planning Form.
The Advising Planning Form is located in the "New Student" folder on your 
SOLAR
 account. You will be asked a series of questions that will provide us with important information for your orientation day. This includes more details about your academic background and plans, placement exam information, dietary needs and accommodations for your orientation day, and information about our Family & Guest Program. This information will also be used by your Undergraduate College advisor to help you construct an appropriate first semester schedule. The Advising Planning Form should be completed no later than July 1st.
Take Required Placement Exams.
Submit all of your AP and Transfer College credit.
If you earned at least a 3 on any AP exam and you have not already sent your score report to Stony Brook, visit College Board at  apscore.org and request that an official score report be sent to the university. Information about AP scores and equivalent Stony Brook coursework can be found  here.
If you have earned college credit at another institution before coming to Stony Brook, please contact each school's Registrar's Office and request that an official transcript be sent to the address below. Please bring hard copies of scores/transcripts to Orientation for reference, but this does NOT replace a formal submission to the Transfer Office.
                         Academic and Transfer Advising Services
                         E-2360 Melville Library
                         Stony Brook University
                         Stony Brook, NY 11794-3353
Questions?
If you have specific transfer credit questions, please call  Academic & Transfer Advising Services  at (631) 632-7082, option 2. More information about transferring credits to Stony Brook can also be found at  Transferring Credits to Stony Brook. Specific information on transfer course equivalencies for select institutions is available by visiting this  page and clicking on "Course Equivalency List".
Submit an official copy of your final high school transcript with proof of graduation to Stony Brook.
If you have not already done so, please send an official copy to:
Undergraduate Admissions
118 Administration Building
Stony Brook, NY 11794-1901
Resolve new student holds on SOLAR.
Resolving  SOLAR "To Do" items and holds before your orientation date will help your course registration to go smoothly.  *Please note that the Orientation Hold will remain on your account until you come to Orientation Part I and does not need to be resolved ahead of time.
Health Insurance To Do Hold: 

All full-time students 

must

 have health insurance coverage at all times without exception. Stony Brook offers a health insurance plan for all full-time domestic students, but you may waive this insurance plan with a comparable plan

.

 For more information concerning the University's Student Health Insurance plan, please visit:  https://www.stonybrook.edu/commcms/studentaffairs/shs/insurance/index.php. To acknowledge this requirement and either fill out a a waiver form or accept the university's student health insurance plan, please log into  SOLAR and complete the following instructions:
Click on "details" under the "Holds" section in the upper left corner of your home screen.
Click on the Hold Item labeled "Mandatory Health Insurance."
Answer the subsequent questions as they pertain to your plan for health insurance.
Click Submit and this hold will be removed.
You must complete the above steps before you arrive at orientation.
Acknowledge the Financial Responsibility Statement: 

All new students 

must

 acknowledge their financial responsibility for the education they will receive at Stony Brook. For more information concerning your financial responsibility, please visit:  http://www.stonybrook.edu/commcms/bursar/index.html. In particular, students should note that you are financially responsible for the classes you register for even if you do not attend classes. Enrollment will not automatically be cancelled for nonattendance. If you decide not to attend, it is your responsibility to withdraw through the appropriate office and you will be held financially responsible for charges if you do not properly withdraw.

To resolve this hold, please log into  SOLAR and complete the following instructions:
Click on "details" under the "Holds" section in the upper left corner of your home screen.
Click on the Hold Item labeled "Financial Responsibility Statement."
Read the information on financial responsibility.
Click that you acknowledge the Financial Responsibility Statement and this hold will be removed.
Register for SB Alert: 

All new students are required to register for SB Alert, the University's emergency notification system used to notify members of the campus community about major emergencies, immediate safety threats, or impending situations. To resolve his hold, log into  SOLAR and complete the following steps:
Click on "details" under the "Holds" section in the upper left corner of the home screen.
Click on the Hold Item labeled "SB Alert"
Provide your email and/or phone number to receive emergency voice, text, and email notifications.
Consider your course registration options.
Based on the information you provide in your Advising Planning form, your academic advisor will develop your first course schedule for you. At orientation, you will also learn from faculty and advisors what requirements need to be fulfilled in order to graduate. To aid you in being as informed as possible, we strongly recommend that you read through the following contents as they pertain to you.
Final arrival information for orientation including what to bring and where to park.
On your orientation day, you should bring
a government issued photo id
copies of health forms that you submitted before orientation
copies of AP scores and college transcripts (if applicable)
Orientation occurs in the Student Activities Center (SAC). Students will spend most of their day in the SAC. Students driving to orientation should be sure to park in the H Lot, also known as the Student Activities Center lot (Faculty/Staff Lot). Parking cannot be validated for the parking garage or other areas of campus. Click  here for directions to orientation.
Encourage your family members to register for our Family & Guest program.
Please note that orientation is only for new students. Family members or other guests will not be allowed to participate in the orientation program with the student. We welcome and encourage family members and guests to attend a separate Family & Guest Orientation.  For more information on Family & Guest Orientation and date availability, please visit the 
Family & Guest
 page.
Register for the optional Overnight Experience
Click here for more information about the optional Orientation Overnight Experience. Pre registration is required atleast one week before your assigned orientation date.