Skip Navigation
Welcome First Year Students!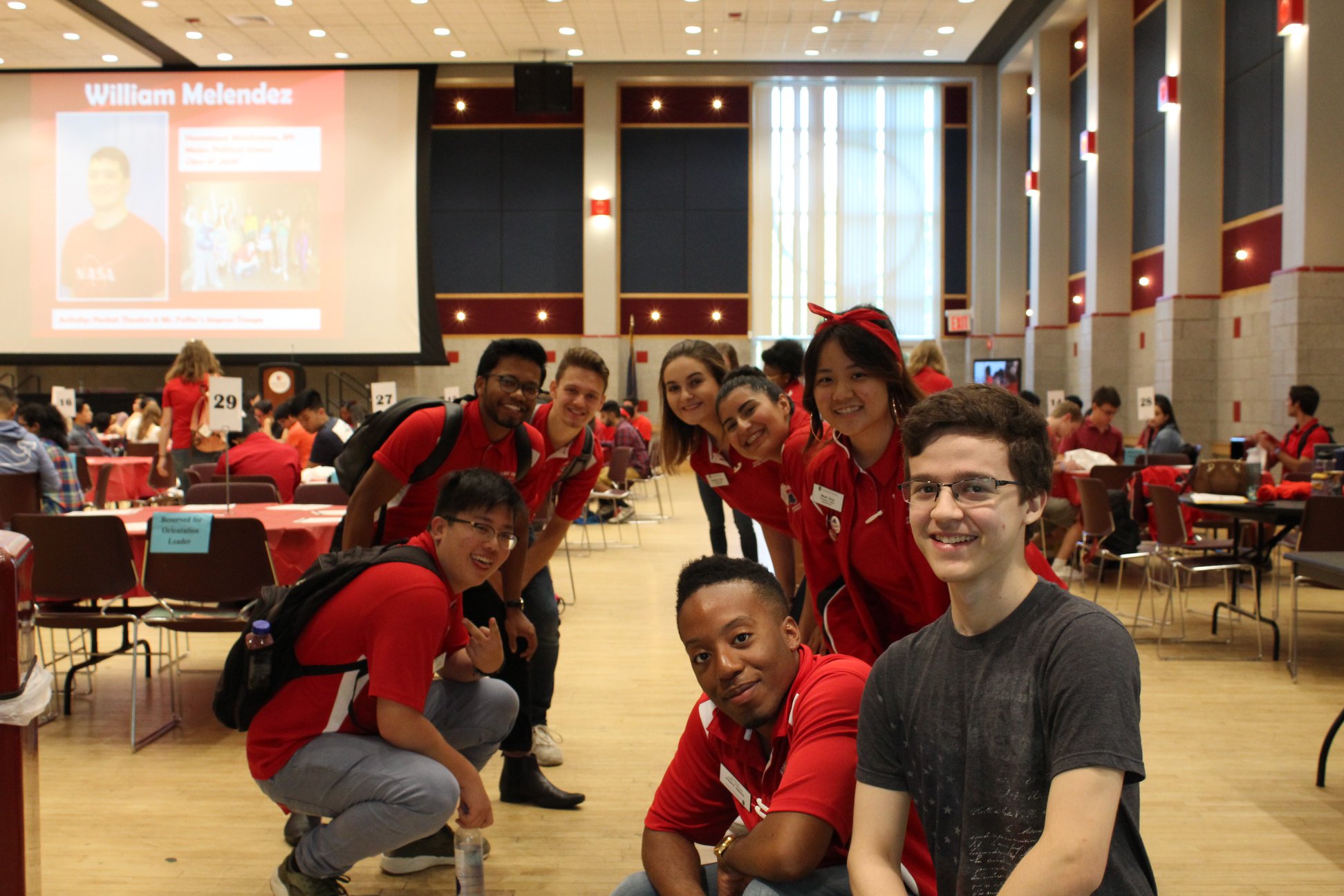 Welcome to Stony Brook University! All new first year students at Stony Brook University will participate in a multi-part orientation. New Seawolf Orientation is required for all new first year students and consists of Seawolf Foundations online orientation modules, participation in the advising and registration process with your Undergraduate College or your respective honors program, virtual group workshops including Seawolf Connections and commuter/resident panel, and New Seawolf Winter Welcome.
Seawolf Foundations Online Orientation (Part 1) focus on getting to know Stony Brook, including modules on  academic readiness, financial responsibility, campus life, and introducing you to the Undergraduate Colleges.  Seawolf Foundations Online Orientation will be available May 1 and is due June 1. 
Seawolf Connections are designed to connect you with your Peer Assistant Leader and your new peers throughout the winter. You'll have an opportunity to ask important questions and learn more about your transition into Stony Brook University. Keep an eye on your email for a link to sign up!
New Seawolf Welcome Week focuses on getting acclimated to the University climate, culture, and community. In preparation for the first day of classes, you will also complete Seawolf Foundations Online Orientation (Part 2). New Seawolf Welcome Week takes place the week before the the first day of classes. Students who do not attend New Seawolf Welcome Week will automatically be enrolled in the ROME (Required Orientation Makeup Experience) course in the first few weeks of the semester. 
To keep you on track, we've developed a New Seawolf Orientation Checklist. This checklist is available as a Google Sheet, which you can copy and customize, or as a PDF.
Accept your Admission to Stony Brook University
To begin your New Seawolf Orientation, you should log on to the SOLAR system. Here you can accept your admission by:
Confirm your preferred communication methods.
Confirm your preferred email address, current mailing address and phone numbers in yourSOLAR account are up to date. Under "Security and Personal Data" you will find the options for "Email Addresses", "Addresses", and "Phone Numbers". Be sure to check ALL THREE are up to date to ensure we send your Orientation information to the correct place.
Your Stony Brook NetID is used to access campus technology resources such as email, WiFi, on-campus computer labs, printing, and Blackboard. It is important that you set up your NetID as soon as possible to be able to access your virtual orientation events and activities.
Use the NEW Password Reset Tool to find your NetID and set/change your NetID Password
Click Go To Reset Tool, and then enter your SOLAR ID (the 9-digit number on your Stony Brook ID card)

Select and complete 2 authentication methods, and then create and confirm your NetID password
The first time you log in with your NetID, you will follo the DUO Two-Step Authentication set up instructions. Ensure that your favorite device (like your cell phone) is the default device. It can take up to 48 hours to be fully active. 
For assistance, you can contact Client Support at 631-632-9800 or use the service portal. 
Submit your Required Immunizations.
To ensure a healthy and safe campus community, if you plan to enroll in at least one in-person class, live on campus, or access in-person services or facilities on Stony Brook's campuses, you are required to comply with mandatory immunization requirements. 
If you have not submitted the required immunization records, there is a registration hold on your SOLAR account, and you cannot register for classes until that hold is removed . The registration hold will be removed once you complete and submit the requirements noted below. Please  submit all immunization records to the Wolfie Health Portal immediately to have optimal selection of classes. 
For the most up to date information about Student Health Service requirements, please visit their website:https://www.stonybrook.edu/commcms/studentaffairs/shs/forms_new/
Complete Advising Planning Form.
The Advising Planning Form is located in the "New Student" folder on your 
SOLAR
account. You will be asked a series of questions that will provide us with important information that will be used by advisors to pre-enroll you into your first-semester courses. This includes more details about your academic background and plans, and placement exam information. The Advising Planning Form should be completed by May 27.
Take Required Placement Assessments and Exams.
Placement Exam scores are required for Math, Chemistry, and Writing, unless official AP and/or transfer credits are received and processed. You must complete all of your Placement Exams as soon as possible. 

If you took the SAT or ACT and did not have your scores sent to us as part of your application process, we encourage you to send them immediately to facilitate your advising and placement in first year courses.  Official scores from the SAT, ACT or both must be sent directly from the testing agency. SAT Code: 2548, ACT Code: 2952.
Math Placement: Most students will need to take the math placement assessment and should do so

as soon as possible in order to be enrolled for math or math-dependent science, engineering or computer science courses.

Chemistry Placement: All incoming students who want to register to take general chemistry (CHE 129, 131, or 152) during their first semester at Stony Brook must participate in the Online Chemistry Placement & Preparation (OCPP) process. Students interested in fields related to science, engineering, and pre-health typically will need to take general chemistry. You must complete the required objectives of the OCPP process in order to make an appointment for registration in your courses.

The goal is that every student will complete their OCPP registration work no later than June 17.

In order to take the initial assessment and complete the appropriate objective(s), you will need to follow the OCPP process explained on the 

 

OCPP website.
Writing Placement: 

Students who have not been directly placed into WRT 102 through SAT scores, ACT scores, AP exams, or transfer credit will need to complete the Online Writing Placement Diagnostic. To determine whether or not you need to complete the Online Writing Placement Diagnostic and review deadline information, visit the 

Writing Placement page

.
Foreign Language Placement: Every Student in the College of Art and Sciences, College of Business, School of Marine and Atmospheric Sciences, and School of Communication and Journalism must demonstrate a basic level of foreign language proficiency to graduate from Stony Brook. The Foreign Language Placement Exam is used to place you into the appropriate level language course at Stony Brook, unless you meet an exemption. For more information about how to take the exam, visit the Foreign Language Placement page. 
Submit all of your AP and Transfer College credit.
If you earned at least a 3 on any AP exam and you have not already sent your score report to Stony Brook, visit College Board at apscore.org and request that an official score report be sent to the university. Information about AP scores and equivalent Stony Brook coursework can be found here.
If you have earned college credit at another institution before coming to Stony Brook, please contact each school's Registrar's Office and request that an official transcript be sent electronically through a secure server like National Student Clearinghouse, if that's an option the school offers and list transfer_office@stonybrook.edu

 as a recipient, or via mail to the address below:
Academic & Transfer Advising Services
Suite 105, Stony Brook Union 
Stony Brook University
Stony Brook, NY 11794-3217
Questions?
If you have specific transfer credit questions, please call Academic & Transfer Advising Services  at (631) 632-7082, option 2. More information about transferring credits to Stony Brook can also be found at Transferring Credits to Stony Brook. Specific information on transfer course equivalencies for select institutions is available by visiting this page and clicking on "Course Equivalency List".
Submit an official copy of your final high school transcript with proof of graduation to Stony Brook.
If you have not already done so, please send an official copy to:
 The Admissions Office
  Stony Brook University
  118 Administration Building
  Stony Brook, New York 11794-1901
Resolve new student holds on SOLAR.
Resolve SOLAR "To Do" items and holds no later than June 1st. 

Health Insurance Hold: 

All full-time students 

must

 have health insurance coverage at all times without exception. Stony Brook offers a health insurance plan for all full-time domestic students, but you may waive this insurance plan with a comparable plan

.

 For more information concerning the University's Student Health Insurance plan, please visit: https://www.stonybrook.edu/commcms/studentaffairs/shs/insurance/index.php. To acknowledge this requirement and either fill out a a waiver form or accept the university's student health insurance plan, please log into SOLAR and complete the following instructions:
Click on "details" under the "Holds" section in the upper left corner of your home screen.
Click on the Hold Item labeled "Mandatory Health Insurance."
Answer the subsequent questions as they pertain to your plan for health insurance.
Click Submit and this hold will be removed.
You must complete the above steps

no later than June 1st or 2 weeks after your deposit.
Acknowledge the Financial Responsibility Statement: 

All new students 

must

 acknowledge their financial responsibility for the education they will receive at Stony Brook. For more information concerning your financial responsibility, please visit: http://www.stonybrook.edu/commcms/bursar/index.html. In particular, students should note that you are financially responsible for the classes you ar  registered for even if you do not attend classes. Enrollment will not automatically be cancelled for nonattendance. If you decide not to attend, it is your responsibility to withdraw through the appropriate office and you will be held financially responsible for charges if you do not properly withdraw.

To resolve this hold, please log into SOLAR and complete the following instructions:
Click on "details" under the "Holds" section in the upper left corner of your home screen.
Click on the Hold Item labeled "Financial Responsibility Statement."
Read the information on financial responsibility.
Click that you acknowledge the Financial Responsibility Statement and this hold will be removed.
Register for SB Alert: 

All new students are required to register for SB Alert, the University's emergency notification system used to notify members of the campus community about major emergencies, immediate safety threats, or impending situations. To resolve his hold, log into SOLAR and complete the following steps:
Click on "details" under the "Holds" section in the upper left corner of the home screen.
Click on the Hold Item labeled "SB Alert"
Provide your email and/or phone number to receive emergency voice, text, and email notifications.
Prepare for your course registration.
Your academic advisor will develop your first semester course schedule for you based on information you provide on the Advising Planning Form and any additional information requested directly from your advisor. You will receive more information via email. 
You may find the following information about course registration helpful in understanding your academic requirement and coursework at Stony Brook:
Upload a photo for your Student ID Card
You will recieve an email from Campus Card Services with information about the
 self-service photo submission system which allows students to take and submit their own ID card photos remotely.
Encourage your family members to participate in our Family & Supporter program.
Family Members and supporters are encouraged to participate in their own virtual orientation program.  For more information on Family & Guest Orientation, please visit the 
Family & Guest
 page.