Skip Navigation
The Thomas Hartman Center for Parkinson's Research
A substantial gift from the Thomas Hartman Foundation for Parkinson Research, that was matched by the Simons Foundation, will fund an endowment in perpetuity to name the Thomas Harman Center for Parkinson Research. The Thomas Hartman Center in Parkinson Research, housed in the University's nationally ranked Department of Neurobiology and Behavior is a research intensive center in a Tier 1 Research institution and has the University's collaborative support and resources. The Thomas Hartman Center for Parkinson's Research is dedicated solely to Parkinson's Research.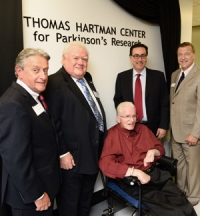 Photo: Inauguration of
the Hartman Center for Parkinson's Research
in the Department of Neurobiology & Behavior, June 2013
For questions of scientific nature regarding the Hartman Center please contact Professor and Chair, Dr.  Alfredo Fontanini .
If you wish to   donate  to the Hartman Center, please make checks payable to " Stony Brook Foundation" (memo: " Hartman Center").
For more information about giving to Stony Brook or the impact of your gift, please contact The Office of Donor Relations and Stewardship at   donor_relations@stonybrook.edu.

The Thomas Hartman Center for Parkinson's Research has funded PD research since 2013, with many projects advancing to applications for extramural funding. Annual calls for proposals will be added below as available.
2021 Hartman Application: Contact Catherine Costanzo ( catherine.costanzo@stonybrook.edu) for an application.  All applications due May 10, 2021
2021 Hartman Call for Proposal: Studying the pathophysiology of Parkinson's disease
2019 Award Recipients:  Mary Kritzer,  Maya Shelly,  Howard Sirotkin
Past Recipients: Mark Bowen, Bill Collins, Holly Colognato, Craig Evinger, Alfredo Fontanini, Simon Halegoua, Mary Kritzer, Hoi-Chung Leung, Joel Levine, John Lutterbie, Arianna Maffei, Gary Matthews, Lisa Muratori, Aaron Nieman, Memming Park, Michelino Puopolo, Guy Schwartz, Howie Sirotkin, Irene Solomon, David Talmage, Gerald Thomsen, Lonnie Wollmuth