Skip Navigation
Peter Aurecchio, Trumpet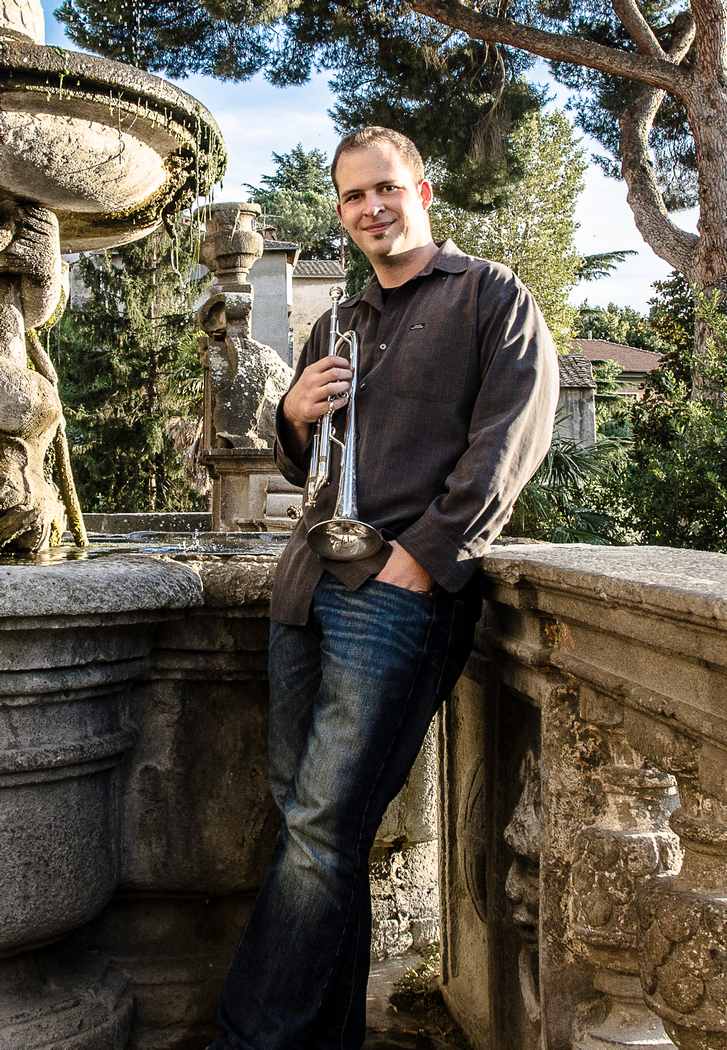 Peter received his Bachelor of Music in Trumpet Performance from the Boston University College of Fine Arts in 2003. While at B.U. he studied with Terry Everson, a world renowned recital soloist and performer in the Boston area. In 2002, Peter placed runner-up in the International Trumpet Guild Moch Orchestra Competition. The Competition was held at the International Trumpet Guild's Conference in Manchester, England at the Royal Northern College of Music.

After his graduation from Boston University, Peter traveled the Continental United States for a season with the NETworks Presents second national tour of Cole Porter's 'Kiss Me Kate!'. Upon Returning home to NY after almost a year on the road, Peter spent the next year recuperating spiritually from the loss of his father, Carmine R. Auricchio Jr. in the fall of 2004 and spent much of that time with his family and closest friends.

In 2005 Peter moved to Denver, Colorado to pursue his Master of Music Degree in Trumpet Performance with a Jazz Emphasis at the University of Denver's Lamont School of Music. While studying with Professor Alan Hood, Peter placed runner up in the 2006 and the 2007 Lamont Concerto Competitions as well as runner up in the Lamont Chamber Music Competition in 2006. 

Upon the conclusion of his Master of Music degree program, Peter spent 3 years freelancing and teaching around the Denver and Front Range areas with groups such as The Colorado Symphony Orchestra, The Colorado Music Festival Orchestra, The Denver Brass, The 9th and Lincoln Orchestra and many other groups throughout Colorado. In 2008 Peter became a principal player in the Apollo Chamber Brass, a non-profit musical organization that provides high-art chamber music recital series as well as community outreach and educational programs. With the ACB, Peter was given the opportunity to perform full recital series and live radio spots in addition to presenting clinics and masterclasses on chamber music and ensemble playing in several states across the western United States. Before leaving Colorado to return to New York in the summer of 2009, Peter was one of the inaugural members of Chased, the premier Bill Chase Tribute Band in the United States.
Since his return to New York in 2009, Peter has performed regularly with countless ensembles and musical organizations throughout the New York, New Jersey and Long Island areas. As a member of the teaching faculty of Music & Arts in Stony Brook as well as several local area music stores, he is always eager to accept new trumpet students and help to guide them in their musical and artistic journeys. 
While based in New York, Peter traveled extensively performing and lecturing across the world. In 2014, as a member of the Tuscia Opera Festival Orchestra in Viterbo, Italy. In 2017, as a guest artist for the 'A Century of Movement: Russian Culture and Global Community Since 1917' Conference at the University of North Carolina, Chapel Hill. And most recently, with the Worklight Productions' touring company. As a member of the touring orchestra for Rogers and Hammerstein's 'Cinderella', Peter was part of over 200 performances across the United States (Including Alaska), Mexico and Canada through the 2017-18 and 2018-19 seasons.
In addition to his rigorous performance and teaching schedule, Peter is a D.M.A. Candidate at the Stony Brook University School of Music and is currently living in his home town of Stony Brook, NY.
Department of Music
3304 Staller Center
Stony Brook, NY 11794-5475
Phone: (631) 632-7330
Fax: (631) 632-7404