Skip Navigation
Please note that the Orff Ensemble will not be offered during the 2022/2023 school year.

The Kinetic Ensemble is the Stony Brook University Children's Music Program for children in 2nd Grade through 6th Grade. In the Orff Ensemble, children will Sing, Say, Dance and Play with Orff instruments. Most class activities will be divided into two groups based on age and ability.
Activities include:
Singing (canons)
Playing instruments (pitched and non-pitched percussion including xylophones, metallophones, glockenspiels, drums and more)
Moving (singing games and dances)
Improvising (on instruments and vocally)
Integrated arts (add a folk tale or children's story)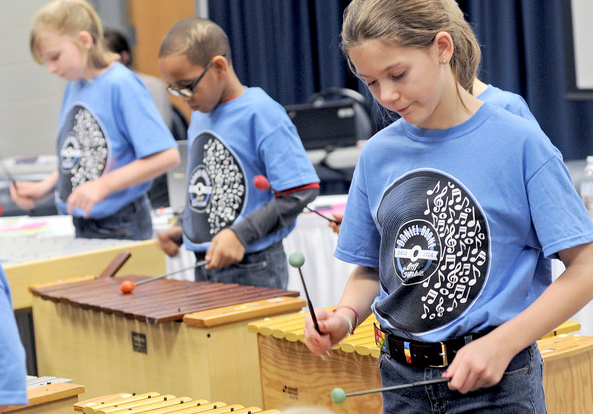 The Orff approach is a way of introducing and teaching children about music on a level that they can easily comprehend. Musical concepts are learned through activities children enjoy. Singing, chanting, dance, movement, drama and the playing of percussion instruments. Improvisation, composition and a child's natural sense of play are encouraged.
Pitched mallet percussion instruments used in the Orff Ensemble include xylophones (soprano, alto, bass), metallophones (soprano, alto, bass), and glockenspiels (soprano and alto). The use of non-pitched percussion instruments are categorized into three families including wood, metal and skins. Typical instruments used in the Orff class include castanets, maracas, woodblocks, triangles, tambourines, gongs, bongos, conga drums and hand drums.
SCHEDULE
Stony Brook Orff Ensemble (2nd grade to 6th grade)
Saturdays, 11:00 AM – 12:00 PM, Music Building Room 0111