Skip Navigation
MIC News


lecture series: Translanguaging, multilingualism and education


Thursday, October 12 , 2017




dr. OFelia garcia (The city university of new york)
---
lecture series: A Tale of Two Countries Family Language Policies in England and Singapore


Thursday, March 23 , 2017




dr. Xiao Lan Curdt-Christiansen (Institute of Education, University of Reading, U.K.)
---
lecture series: Tribal and endangered languages in India


Thursday, AUGUST 24 , 2017




dr. ANVITA ABBI (Jawaharlal Nehru University, Linguistic Society of India)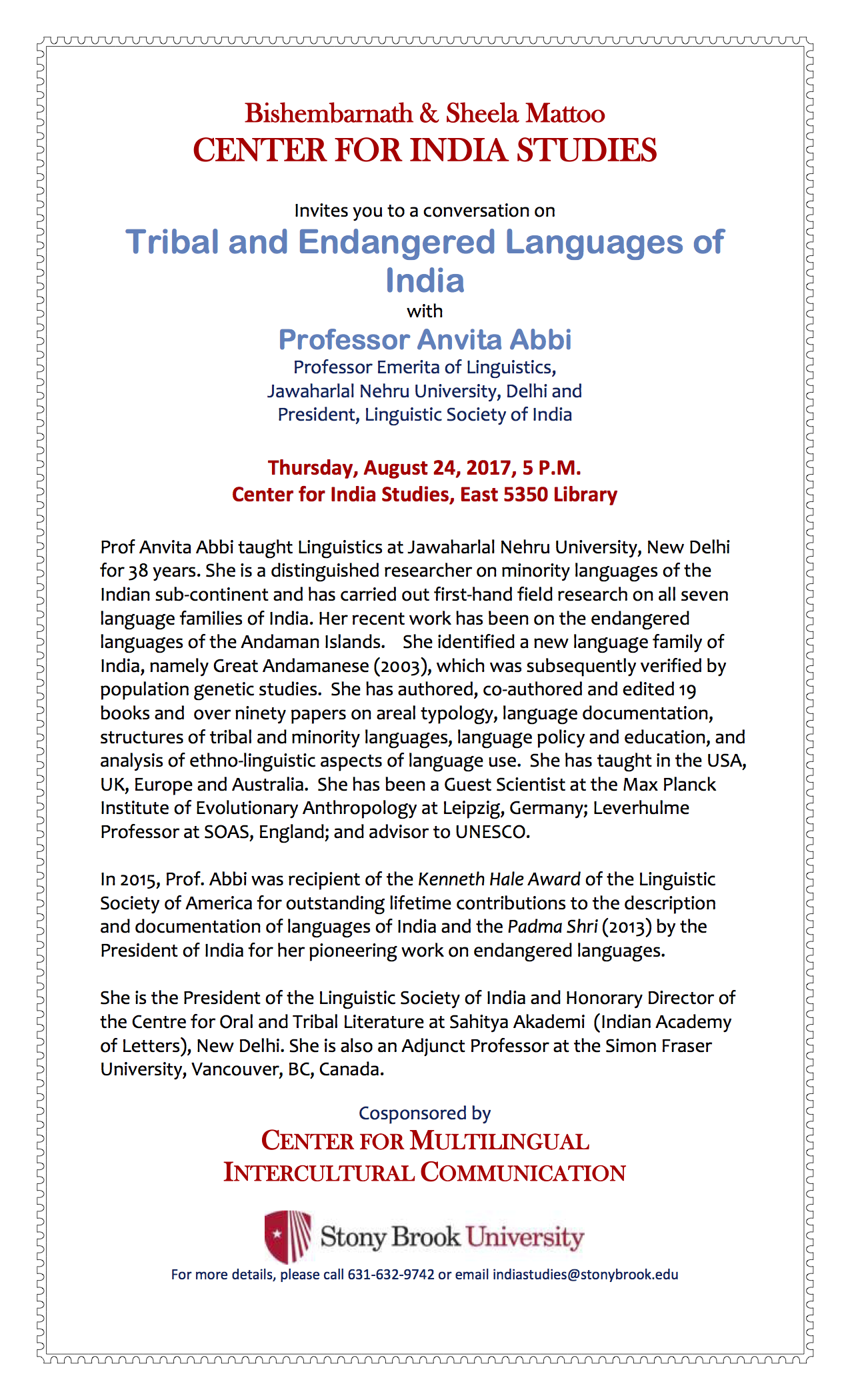 ---
GLOBAL FORUM- INTERCULTURAL COMMUNICATION: UNDERSTANDING OUR GLOBAL CAMPUS
Five distinguished Stony Brook faulty discuss the importance and implications of intercultural communication on our global campus
Panelists:
Agnes He, Department of Asian & Asian American Studies
Nancy Goroff PhD, Professor of Chemistry
Michael Frohman MD,PhD, Distinguished Professor & Chair of Pharmacological Sciences
Wei Zhu PhD, Professor & Deputy Chair of Applied Math & Statistics
Georges Fouron PhD, Professor of Africana Studies
See also http://www.stonybrook.edu/commcms/mic-1/_pdf/Intercultural Communication.pdf
MASTER OF ARTS IN CONTEMPORARY ASIAN AND ASIAN AMERICAN STUDIES(MA-CAAS)
What is the focus of the new MA-CAAS program?
This new Master's program focuses on contemporary Asian and Asian-American cultures, politics and societies, contemporary philosophical and religious orientations in Asia, as well as the role of global processes in the transformation of Asia and Asian America.
Who should apply ?
If you say YES to any of the following—
Are you a major/minor in Asian Studies and Asian American Studies and who would like to pursue a graduate degree in Asian and Asian American Studies?
Do you have an academic background in Art, Business, Education, Journalism, Health Professions, Engineering and other fields and would like to develop expert knowledge about Asia and Asian America?
Are you planning a career in Arts and Culture, Business, Advertising, Education, Journalism, Diplomacy, International Relations, Health Sciences, and Industry in today's globalized job market?
Are you a mid-career professional who would like to enhance your job prospects by building expert knowledge about Asia and Asian America?
Are you a teacher of ESL, EFL, Chinese, Korean, Japanese, Spanish, French, Italian, and other global languages who would like to seek relevant advanced professional training?
What does the MA_CAAS curriculum look like?
30-credits including 24-credits of course work and 6-credits of thesis/project work, over two semesters. More specifically, students are required to take the following:
   1) a fall pro-seminar in research methods (3 credits)
   2) one course in each of five categories (15 credits) 
Language and Cross-Cultural Communication
Religions and Philosophies of Asia
Culture and Heritage
Politics and Society
Contemporary Asian Diaspora 
    3) two elective courses in any field of interest, chosen in consultation with and subject to approval of the Graduate Director (6 credits) 
    4) a thesis or final project (6 credits) 
An optional Asian language track is provided for students with a strong background and interest in a particular Asian language. These students may take graduate level Asian language courses as their two elective courses for the MA program. 
What do you need to prepare to apply for the MA-CAAS program ?  
Undergraduate transcript
Official report of GRE scores
Statement of purpose (500-1000 words)
Three letters of recommendation
Official report of TOEFL scores (for international applicants from non-English speaking countries)
What is the deadline?  
March 1, 2016 for full consideration. 
After March 1, 2016, applications will be considered at the Admission Committee's discretion. 
Who to contact for more information    
Professor Andrew Nicholson Director of Graduate Studies 
Department of Asian and Asian American Studies College of Arts and Sciences, Stony Brook University
Andrew.Nicholson@stonybrook.edu 
631-632-4030
iCafe: FEED YOUR FUTURE
FRIDAY, SEPTEMBER 4, 2015 at 2PM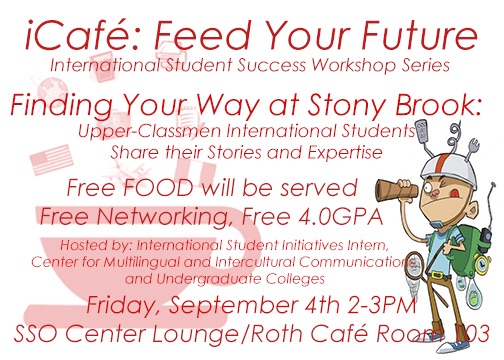 MIC has co-sponsored the first iCafé event titled "Feed your future". The event was led by the coordinator of the International Student Orientation and Services, Trista Lu. MIC was represented in the event by its GA, Honaidah Ahyad, a fourth year international PhD student. The main goal of the workshop was to get both upper-classmen international students and new international students share their language, cultural, academic and personal experiences at Stony Brook University.

MIC as incubator and home for $1M NSF-funded project
Communication in the Global University: A Longitudinal Study of Language Adaptation at Multiple Timescales in Native- and Non-Native Speakers The widespread deployment of non-native English-speaking international teaching assistants (ITAs) in U.S. universities has presented not only wonderful opportunities but also persistent challenges. American undergraduates often complain of difficulty in understanding their ITAs. Jiwon Hwang (PI, AAAS/Psychology), Susan Brennan (lead grant author, Psychology), Ellen Broselow (Linguistics), Agnes He (AAAS), Marie Huffman (Linguistics), and Arthur Samuel (Psychology) have received a $1M research grant from the National Science Foundation which will enable them to address this problem. While conventional wisdom has often attributed poor intercultural communication to the foreign accent of the non-native speaker, this team of researchers views successful communication as a collaborative achievement involving all participants. Their goal is to measure, track, and improve not only the ITAs' developing communication skills in English, but also the undergraduates' understanding of and adaptations to foreign-accented English and their ability to learn to transfer their experience of one accent to another. This project is a three-year (2015-2018) longitudinal study involving approximately 150 international graduate students and over 1000 American undergraduates. Methods of analysis will include ethnographic observations and interviews, psycholinguistic and dialog experiments, linguistic analyses of spontaneous and elicited speech, electrophysiology studies of perception, eye tracking studies of language processing, and surveys. Data will be collected at multiple timescales (over conversations, class sessions, semesters, and ITAs' first two years in the U.S.) and at multiple levels (pronunciation and perception of phonetic segments, use of vocabulary and syntax, discourse cues and strategies, communicative norms, preferences, and attitudes). This research aims to enhance the educational experience of both international graduate students and American undergraduate students by improving communication in the college classroom. The research findings will also benefit intercultural encounters beyond the classroom. The data resulting from this project will provide an unprecedented opportunity for scientists to examine long-term effects in foreign language learning, language processing, and the development of communicative strategies. With a mission to create interdisciplinary and cross-departmental synergy in researching how globalization transforms language behaviors, MIC served as the incubator and is now the home of this project.
See also http://www.stonybrook.edu/commcms/cas/news14.html
---
Lecture series: FAHSS Interdisciplinary Project

As a result of collaborative efforts by 12 faculty members from 7 departments, MIC has been awarded a 2014-2015 FAHSS Interdisciplinary Project Grant to sponsor its Distinguished Lecture Series.  
2014 Grant authors:
Agnes He, Department of Asian & Asian American Studies (lead author)
Ellen Broselow, Department of Linguistics
Sarah Jourdain, Department of European Languages, Literatures and Cultures
Mark Aronoff, Department of Linguistics
Susan Brennan, Department of Psychology
Peggy Christoff, Department of Asian & Asian American Studies
Charles Haddad, School of Journalism
Jiwon Hwang, Department of Asian & Asian American Studies
Dorit Kaufman, Department of Linguistics and Professional Education Program
Eriko, Sato, Department of Asian & Asian American Studies
S. N. Sridhar, Department of Asian & Asian American Studies
E. K. Tan, Department of Cultural Analysis and Theory
Expected outcomes:
For short-term, through the lecture series, we hope to provide students and faculty with insights into some of the most important, current, creative, cutting-edge work in multilingualism and intercultural communication, to encourage interdisciplinary and interdepartmental collaboration,  and to inspire more students to pursue studies in languages, cultures, and communication.
We also expect the MIC Distinguished Lecture Series to have a sustained, long-term impact on the SBU campus. Ultimately, through the lecture series, we hope to contribute to a campus that is knowledgeable about and sensitive to the complex, creative, and dynamic nature of multilingual and intercultural repertoires that characterize today's global citizenry.