Skip Navigation
Stony Brook Professor to Receive National Award for Sustainability Education
Stony Brook, NY, September 26, 2018 –  Alex Orlov, PhD, Associate Professor of Materials Science and Chemical Engineering in the College of Engineering and Applied Sciences, and a faculty member of the  Consortium for Inter-Disciplinary Environmental Researchand the  Advanced Energy Center at Stony Brook University, will receive the  American Institute of Chemical Engineering's (AIChE) Sustainable Engineering Forum Education Award.
The annual award, which comes with a $1,000 cash prize, is given to one national educator each year who has made outstanding contributions to sustainability education. Professor Orlov will receive the award at the AIChE's annual meeting, to be held October 28 to November 2.
He is being recognized for his educational innovation at Stony Brook University, namely new approaches to teaching sustainability practices to undergraduate and graduate student engineering students. These include courses pioneering engineering design, life cycle analysis of materials, 3D printing of environmentally friendly consumer products and computer games that illustrate ecological impacts of packaging materials.
This honor adds yet another acknowledgement of Prof. Orlov's creative teaching efforts, which  have been already recognized by the 2017 American Chemical Society Award for Incorporating Sustainability into Chemistry Education and 2015 National Academy of Engineering  Frontiers of Engineering Education selection.
Prof. Orlov  teaching efforts are also matched by his  innovative research focused on synthesis of novel nanomaterials and tuning their properties for environmental and energy related applications. He was awarded the US National Science Foundation CAREER Award and the UK National Endowment for Science Technology and Arts CRUCIBLE award. In 2016 Dr. Orlov has been named Sigma Xi Distinguished Lecturer and was recognized by the State University of New York with Chancellor's Award of Excellence in Scholarship and Creative Activities. He was also selected to the Fellowship of the UK Royal Society of Chemistry, the US National Academy of Engineering (NAE) Frontiers of Engineering (US), the EU-US (NAE) Frontiers of Engineering and was made Kavli Fellow in 2014 by the Kavli Foundation and the US National Academy of Sciences. 
AIChE is a professional society of more than 53,000 chemical engineers in 110 countries.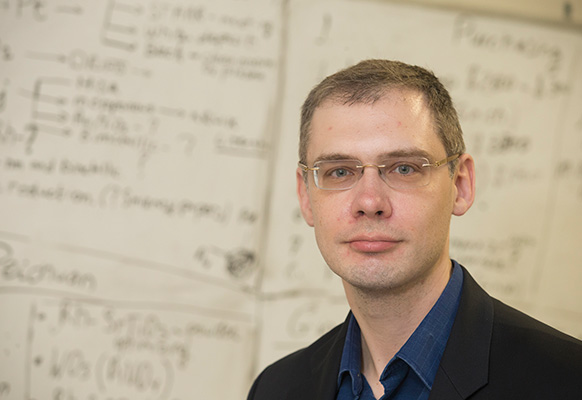 About Stony Brook University
Stony Brook University is going beyond the expectations of what today's public universities can accomplish. Since its founding in 1957, this young university has grown to become a flagship as one of only four University Center campuses in the State University of New York (SUNY) system with more than 26,000 students and 2,600 faculty members, and 18 NCAA Division I athletic programs. Our faculty have earned numerous prestigious awards, including the Nobel Prize, Pulitzer Prize, Indianapolis Prize for animal conservation, Abel Prize and the inaugural Breakthrough Prize in Mathematics. The University offers students an elite education with an outstanding return on investment: U.S. News & World Report ranks Stony Brook among the top 50 public universities in the nation. Its membership in the Association of American Universities (AAU) places Stony Brook among the top 62 research institutions in North America. As part of the management team of Brookhaven National Laboratory, the University joins a prestigious group of universities that have a role in running federal R&D labs. Stony Brook University is a driving force in the region's economy, generating nearly 60,000 jobs and an annual economic impact of more than $4.6 billion. Our state, country and world demand ambitious ideas, imaginative solutions and exceptional leadership to forge a better future for all. The students, alumni, researchers and faculty of Stony Brook University are prepared to meet this challenge.