New & Notable Collections
Watch the film "Stony Brook's First Alumni: Reunion and Reflections"
From June 6 to June 8, 2014, a reunion weekend was held at Stony Brook University and at Planting Fields at Oyster Bay (first campus), in celebration of the 50th anniversary of the Classes of 1961, 1962, 1963 and 1964, and reuniting the Founders Group, classes of 1961-1966. At Planting Fields, alumni were interviewed about their experiences and reflections of their time at the Oyster Bay campus and transitioning to the new campus in Stony Brook. Photographs from the University Archives are featured in the 16 minute film. A full weekend of activities was planned and included: viewing an exhibition of archival materials in Special Collections and University Archives; campus tours; a visit to Oyster Bay; and inductions into the newly-established Brook Heritage Society, for alumni who had celebrated their classes' 50th anniversary year.
Senator Jacob K. Javits Collection
Jacob J. Javits was an attorney, United States Congressman, Attorney General of the State of New York, and United States Senator. The collection comprises more than 1,200 linear ft. of documents and manuscripts, photographs, motion picture footage, audio and videotapes, slides, microfilm, and memorabilia of New York's longest-serving senator. "It is my hope and expectation that this collection of my official papers will be a stimulus for enterprising minds and a source of creativity in human and governmental endeavors. The lessons of both experience and moderation may be made to serve effectively for the solution of problems already crystallized or indicated in my time."
- Jacob K. Javits
Dr. Jacqueline M. Newman Chinese Cookbook Collection
Mandarin Chop Suey Cook Book. Chicago: Pacific Trading Company, 1928.
In 2002, Special Collections and University Archives at Stony Brook University was the proud recipient of the Dr. Jacqueline M. Newman Chinese Cookbook Collection, the largest cookbook collection of its kind. The collection includes: over 4,000 Chinese cookbooks, books on food Chinese food culture; medicine; and history; haute cuisine magazines; archival materials; and audio visual materials. These materials provide a valuable record of the Chinese Diaspora that has carried its rich cuisine to every corner of the globe. Dr. Newman's extensive annotated bibliography is now available online, thereby making it accessible worldwide.
Special Collections acquired two exciting American Revolutionary War-era letters authored by George Washington that document spy activities in Setauket, NY during 1779 and 1780. The purchase of these letters was made possible with a generous gift from Dr. Henry Laufer and laid the foundation for the establishment of a Long Island Historic Documents Collection. The collection includes primary and secondary source material on the history of Long Island from the earliest settlers through the present, with a strong emphasis on the period of the American Revolution through the War of 1812 (1764-1812). Visit the LibGuide for George Washington and the Culper Spy Ring for more information and resources about this topic.
William Butler Yeats Collection
William Butler Yeats Collection is the most extensive collection of the famed Irish poet and author's manuscripts housed outside of Ireland. It was acquired in December 1974 by State University of New York for and on behalf of the State University of New York at Stony Brook. Through agreements with Senator Michael Butler Yeats and his daughter, Caitriona Dill Yeats, the State University of New York at Stony Brook received, on microfilm, the papers of William Butler Yeats and his family, held at that time in the National Library of Ireland (NLI), as well as in the family home, Cliff House, Dalkey, Ireland. Facsimiles were produced and cataloged, and now comprise more than 58 cubic ft. of manuscripts, correspondence, documents, printed materials, memorabilia, music, drawings, sketches, still pictures, and portraits of William Butler Yeats, his family, and his friends.
Environmental Defense Fund Archive
The Environmental Defense Fund (EDF) is a public membership, non-profit, tax-exempt organization of scientists, lawyers, economists and citizens dedicated to improving environmental quality through innovative strategies. It was created "to translate knowledge of the environmental sciences into public policy through advocacy before courts and regulatory agencies…the experience of EDF shows clearly that scientific knowledge, as testimony from the witness stand, exerts far greater influence on public policy than the same knowledge exposed through the normal channels of scientific literature or advisory panel"
(EDF Prospectus, ca. 1970).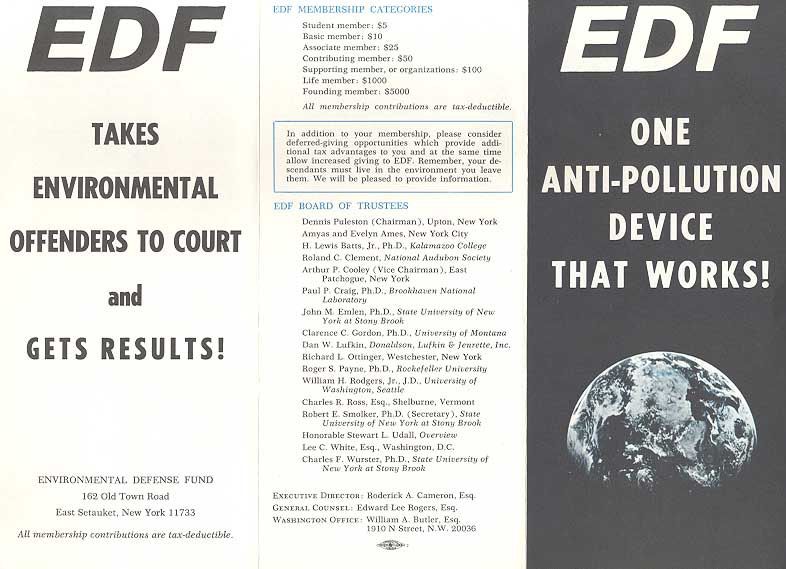 EDF Archive
In 1967, Environmental Defense Fund was incorporated in Stony Brook, Long Island. Its founding members were a group of scientists, citizens, local activists and legal minds who demonstrated the toxicity of dichloro-diphennyl-trichloro-ethane (DDT) in a class action suit against Suffolk County Mosquito Control Commission.
In 1976, Dr. Robert Smolker advocated for the donation of the EDF's Executive Committee files to the university. The records transfer began in 1977 and continued throughout the next 15 years. Currently there are office records from New York, California, Colorado, Washington D.C. and Boston. At present, most of the holdings are litigation files and administrative hearings transcripts from the 1970s through the early 1980s, reflecting EDF's original mission using the courts to protect the environment. There are also minutes of Board of Trustees and Executive Committee meetings during 1971-77, providing evidence of managerial discussion and decision making.
Additional donations to the archive were provided by Art Cooley, Robert Smolker, Charles Wurster, the family of Dennis Puleston, and Ernst Habicht.
In August 2009, the processing of the EDF Archives at Stony Brook University was completed. Researchers interested in records created during the 1990s through the present are advised to contact the Environmental Defense Fund for further information.