Skip Navigation
Bachelor of Arts in Journalism
As a journalism major at Stony Brook University, you'll write, shoot and record the first draft of history, learning to apply journalistic principles and ethics to multimedia reporting. 
You'll write in the School's two-story Newsroom. You'll shoot video and cue stories in TV Studio B and the control room, equipped with all the tools and technology of a leading TV station. You'll record and edit audio with WSHU, Long Island's NPR affiliate station, which is right down the hall from the School of Communication and Journalism offices. 
You will join some of the best student-journalists in the country, as evidenced by a growing number of awards from the Hearst Foundation, Society of Professional Journalists, and the College Media Association. 
About the program
Stony Brook's journalism program offers hands-on courses designed to prepare the next generation of media professionals to succeed as multimedia reporters. To succeed in the media, graduates need to be able to write for print and broadcast, take and edit photos and video, and string it all together to tell a meaningful story. In your classes, you will learn to do it all, developing and enhancing your skills throughout your Stony Brook careers.
Required courses include:
News Literacy

Introduction to Digital Journalism

Journalistic Reporting and Writing

Global Issues in Journalism
Elective courses include:
Science Reporting

Race, Class and Gender in Media

Reporting in New York City

Magazine Writing

Journalism without Walls
In addition to the major, you will complete a double major or minor in another discipline of your choice. Alternatively, you may select a concentration in science and the environment, diversity and American society, public affairs/public policy, or global issues and perspectives.
To see the full list of courses, visit the Stony Brook Course Bulletin.
Seamless transfer pathways
Students from Suffolk County Community College can transfer seamlessly into the Bachelor of Arts in Journalism at Stony Brook.
To learn more, contact your community college advisor orStony Brook Academic & Transfer Advising Services. 
To have your communication or communication-related courses evaluated, contact Undergraduate Program Director Irene Virag. 
Experiences Beyond the Classroom
As a journalism student at Stony Brook, you'll learn from Pulitzer Prize winners, former foreign correspondents, digital media experts, and others whose bylines appear around the region, state and nation. But your education will go far beyond the classroom. 
Life as a Reporter
Armed with a journalism degree from Stony Brook, you will graduate prepared to work in a variety of media organizations, telling stories that matter online, on the air, or in print.
Equipped with professional portfolios and experience, our previous graduates have gone on to work at a variety of traditional and new-media organizations, including Council on Foreign Relations, Madison Square Garden, News12 Long Island, the New York Times, Vice, and the Verge.
Others have chosen to continue their education through graduate school or journalism fellowships, including The New York Times Fellowship, NBCUniversal Page Program and Report for America.
Our award-winning students have become award-winning professionals, receiving recognitions including the Murrow Award for Excellence in Innovation and various Emmy Awards.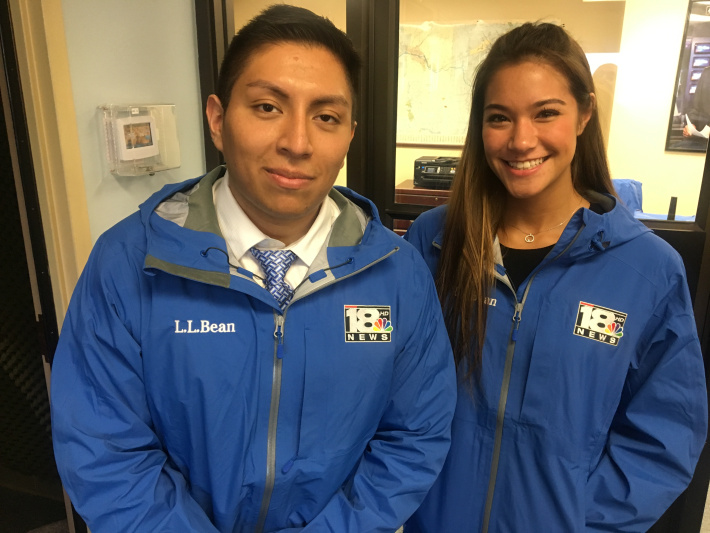 School of Journalism Alumni Julio Avila '16 and Nikita Ramos '17.