Skip Navigation

About the Marie Colvin Center
The Stony Brook University School of Communication and Journalism established a center for international reporting in memory of acclaimed war correspondent Marie Colvin in 2013 with the support of fellow journalists, her family and the News Corp Foundation.
The mission of the  Marie Colvin Center for International Reporting  is to nurture and grow the next generation of overseas reporters, to raise public awareness about the need for robust international coverage and to empower Colvin's legacy on behalf of current and future reporters everywhere.
Three key programmatic efforts are central to the Center's work. A scholarship and international reporting program –   Journalism Without Walls  – helps undergraduate students immerse themselves in an actual international experience. The annual  Marie Colvin Distinguished Lecture  exposes students, SBU faculty and the Long Island community to a well-known international reporter who shares their experiences and insights on reporting abroad. And, the  Journalist in Residence  program underwrites a sabbatical for an international journalist to complete a project, disengage from conflict zone reporting and work with journalism students on the practical issues of international reporting.
"MY JOB IS TO BEAR WITNESS"

- Marie Colvin
Spotlight on Reporting in Ukraine
Ukraine Teach-In at Stony Brook
Watch the conversation
Marie's Legacy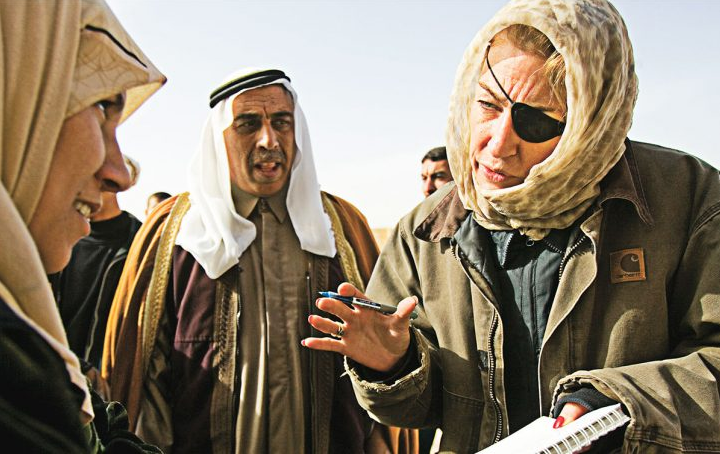 Marie Colvin was a Long Island native and acclaimed war correspondent, tragically killed in Syria on February 22, 2012, while covering the conflict for  The Sunday Times of London. She was known for her moving accounts of innocent civilians caught in the tide of war, and for her courage, tenacity and indefatigable commitment to truth-seeking.
Colvin's career spanned 30 years and took her to conflict zones around the globe, including East Timor, Zimbabwe, Libya, Tunisia, Chechnya, Kosovo, Iraq and Sri Lanka.
Energetic, passionate and wry, Colvin dedicated her life to giving voice to the voiceless. She was a two-time recipient of the British Foreign Correspondent Reporter of the Year Award, the recipient of the Foreign Press Association's Journalist of the Year award, and the International Women's Media Foundation award for Courage in Journalism for her coverage of Kosovo and Chechnya.
Colvin made international headlines in 1999 after refusing to evacuate a United Nations compound under attack by Indonesian-backed forces in East Timor. She stayed as other journalists fled. The stand-off brought attention to the plight of 1,500 women and children, who as a result were eventually evacuated to safety.
In later years, she was recognizable by a trademark black eye patch, which she wore after losing her left eye to shrapnel from a grenade fired by the Sri Lankan army.  Her life was marked by many such stories – from her access to Muammar Qaddafi and Yasser Arafat to an escape from Chechnya across an icy, 12,000 - foot mountain range - adding up to an astounding body of work and a singular legacy.
The Marie Colvin Center for International Reporting was established in the same spirit with which Colvin lived her extraordinary life - as an inspiration to young journalists and to young women in particular.