Skip Navigation
Directions to Classrooms, Parking, & Entrance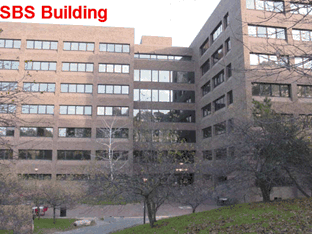 Classrooms are on the first floor of the SBS building at Stony Brook University. Take the Long Island  Expressway (LIE, I-495) to exit 62, and follow Nicolls Road (Route 97) north for 8-1/2 miles. The main entrance to the university is on  the left. (Note that there are three entrances to the university: south entrance, main entrance, and north entrance.) After going through the main entrance and crossing a traffic light, you will see a multi-tiered visitor's parking garage (administration garage) on your left.
There is no charge for the garage on weekends. There are two entrances to the garage, but only one is open on weekend. Park your car in the parking garage, and walk to Ward Melville Social Behavioral Science Building (SBS Building), which is right next to the parking garage.
The SBS building is a 7-story red-brick building. There are several entrances to the SBS building, but only one of them (the main entrance you see in the photo) is open on weekends. Our classrooms are on the first floor in the SBS building. There is a lounge with some vending machines in the middle of the building. The director (Eriko Sato) or a coordinator will be in Room N-101.
Please visit the following website for a map:
http://www.stonybrook.edu/sb/map/onlinemap.html 
* Tip: If you get lost, look for "Hilton Garden Inn Stony Brook" using GPS (1 Circle Road, Stony Brook, New York, 11794). Then, you will see the visitor's parking and the SBS building right next to it.