Skip Navigation
Latest News
Reviving the legacy of 'Christ in Concrete,' Pietro di Donato's besteller
Newsday,  January 3, 2022
Stony Brook University colleagues Simone Brioni, left, and Loredana Polezzi are working to complete acquisition of artifacts from the life of Pietro di Donato, whose 1939 bestseller about the immigrant experience still resonates in the lives of their students. 
Read the full Newsday Article here. 
Remembering Festa della Repubblica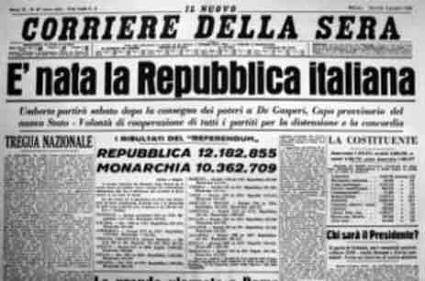 Festa della Repubblica (Italian  National Day and Republic Day) is celebrated on June 2 each year, with the main celebration taking place in  Rome.
The Festa della Repubblica is one of the  national symbols of Italy.
The day commemorates the institutional  referendum held by  universal suffrage in 1946, in which the Italian people were called to the polls to decide on the form of government following the  Second World War and the  fall of  Fascism.
This edition (above) of Corriere Della Sera, announcing the results of the election to make Italy a republic, was given to Richard Nasti,  Chairperson of the Center for Italian Studies Advisory Council,  during a tour of the Chamber of Deputies on a trip to Italy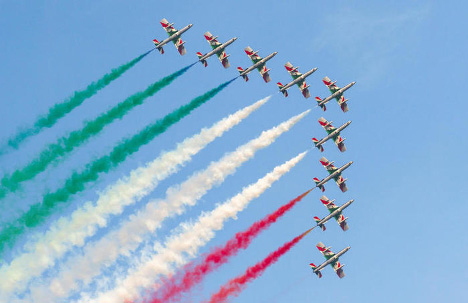 The ceremony of the event, organized in Rome, includes the deposition of a  laurel wreath as a tribute to the  Unknown Soldier at the  Altare della Patria by the  President of the Italian Republic and, a  military parade along  Via dei Fori Imperiali in Rome.  
Due to COVID-19 the normally lavish celebrations in the capital were reduced for the second year in a row, with the cancellation of the military parade, last held in 2019.
One of the most popular events associated with Festa della Repubblica in Rome has been and continues to be the Frecce Tricolori (above), a spectacular aeronautical display involving fighter jets flying in formation over the city centre, emitting red, white and green plumes, representing of the colours of the Italian flag.
View the 2021 ceremonies of this year's celebration:
Dr. Loredana Polezzi Named 
for 

Alfonse M. D'Amato Endowed Chair in Italian American and Italian Studies

January,  2021

Loredana Polezzi  joined Stony Brook as the new Alfonse M. D'Amato Chair in Italian American and Italian Studies in September 2020.

Originally from Tuscany, Dr Polezzi studied at the University of Siena, where she received a degree in Lingue e Letterature Straniere, magna cum laude. She then moved to the UK, where she obtained first an MA in Italian Studies and then a PhD in Translation Studies from the University of Warwick. Her research interests span post-unification Italian culture, the history of Italian migration and of Italian diasporic communities, travel writing, migrant and translingual writing, the history and theory of translation, and multilingual education.

Between 2014 and 2018, she was a co-investigator in two large collaborative research projects, ' Transnationalizing Modern Languages: Mobility, Identity and Translation in Modern Italian Cultures ' and ' Transnationalizing Modern Languages: Global Challenges', which received funding for more than two million pounds as part of the 'Translating Cultures' Research Theme, sponsored by the United Kingdom's Arts and Humanities Research Council and Global Challenges Research Fund.

Dr Polezzi has written extensively on Italian American writing, colonial and postcolonial literature, contemporary Italian travel writing, migrant and diasporic cultures, translingualism and self-translation. She is one of the founding editors of the ' Transnational Modern Languages' book series, published by Liverpool University Press, and co-editor of Transnational Italian Studies (2020) and Transcultural Italies: Mobility, Memory and Translation (2020). With Rita Wilson (Monash University, Australia), she is co-editor of the top-ranked academic journal The Translator and she serves on the editorial board of a number of other journals and book series.

Before moving to Stony Brook, Prof. Polezzi held positions in Italian Studies at the University of Birmingham and the University of Warwick. In 2015 she was appointed to a Chair in Translation Studies at University of Cardiff and she taught in the Welsh capital for the following five years. All three institutions are members of the prestigious Russel Group, which includes the top 24, world-class British universities.

While at Warwick, Dr Polezzi was Head of the Department of Italian, Director of the Humanities Research Centre and lead academic for the ' Connecting Cultures Global Research Priority', a cross-faculty initiative supporting interdisciplinary research. She was also director of the Warwick Venice Centre, located in the Cannareggio area of the Italian city, and was appointed Monash-Warwick Associate Professor in recognition of her leading role in establishing a global alliance between the University of Warwick and Monash University (Australia).

At Cardiff, Dr Polezzi was Deputy Head of School and Director of Research, as well as chair of the Research Ethics Committee, in the School of Modern Languages. She also collaborated with The Phoenix Project, a large public engagement initiative linking Cardiff University with the University of Namibia and other institutions in sub-Saharan Africa. The Phoenix Project is committed to poverty-reduction and supports research and training across the Medical, Social and Human Sciences.     

Dr Polezzi has a long record of public engagement and has given keynote addresses at a range of events and institutions, including Lisbon (Catolica), Oxford, Rome (La Sapienza), Salamanca, Sydney and Yale. She regularly reviews manuscripts for leading international journals and publishing houses. She has served on assessment, review, promotion and funding panels for a range of national and international bodies, including the national councils of Belgium, Ireland, Portugal, Sweden, the UK and others. She has supervised more than 20 doctoral theses and acted as external examiner at undergraduate, master and PhD level for more than 30 institutions, including the University of Cambridge, the Sorbonne Nouvelle in Paris, and the Universities of Bologna, Catania and Milan (Statale) in Italy. She was a founding member of the Cultural Literacy in Europe network and is the current President of the International Association for Translation and Intercultural Studies (IATIS).     

In 2017 Dr Polezzi was elected Fellow of the Learned Society of Wales in recognition of her services to research, teaching and public knowledge.

Recent talks by Dr Polezzi can be found at the following links: