Skip Navigation
Our Events
SPRING 2022 UPCOMING EVENTS 
---
PAST EVENTS
BOOK LAUNCH: THE OXFORD HANDBOOK OF GLOBAL DRUG HISTORY, EDITED BY PAUL GOOTENBERG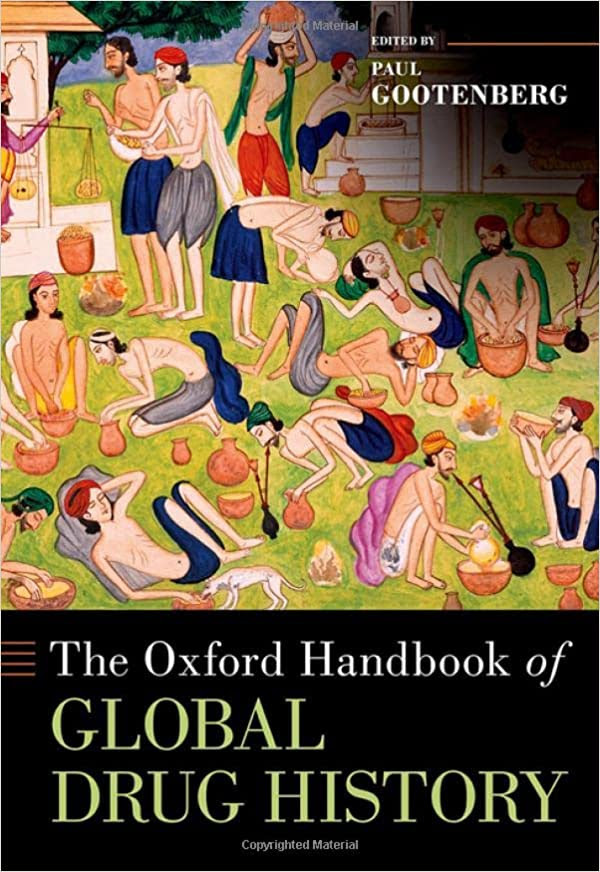 Paul Gootenberg   (SUNY Distinguished Professor of History & Sociology)
Thursday, April 14, 2022
You can view a recording of this event here.

Drugs and their illicit use have long fascinated writers and the public at large. Informed by new interdisciplinary perspectives, a growing number of academically trained historians are now approaching drugs as a wide-open topic for serious research. The Handbook of Global Drug History is the first major attempt by historians of drugs to take stock of the recent progress and directions of this field, utilizing both a global scope and long-term historical perspective. Thirty-five original essays simultaneously survey what is known historically about drugs across the world (in Europe, the Americas, Asia, and Africa) as well as illustrating their historical interconnections and implications today.
With Paul Gootenberg (general editor), SUNY Professor of History & Sociology, Chair of the History Department at Stony Brook University and current President of the Alcohol and Drugs History Society. Moderated by Liliana Dávalos (Stony Brook University), with commenters Peter Andreas (Brown University) and Erika Dyck (University of Saskatchewan.
---
POLICY APPLICATIONS OF CLIMATE MIGRATION RESEARCH 
Susana Adamo (Center for International Earth Science Information Network, The Climate School, Columbia University)
Wednesday, April 6, 2022
You can view a recording of the event here.
This is the third event in our Spring 2022 lecture series Climate Change and Global Migration Patterns. 
Research on climate mobility has increased and diversified significantly since the mid-2000s, in the context of growing awareness of the extent and impacts of climate change on human wellbeing, human mobility, and security concerns. Research results have highlighted the complexity and multidimensional nature of climate mobility and immobility, the intersectionality of social vulnerability, and how different forms of mobility relate to climate adaptation. This talk reflected on the policy applications of this constantly expanding knowledge base in areas such as human development, climate change, and migration, and at different levels (global, national and local).
---
CLIMATE CHANGE AND MIGRATION: EXPLORING HUMAN DISPLACEMENT AND THE GLOBAL CLIMATE CRISIS
Wednesday, March 9, 2022
You can view a recording of this event   here.
This interdisciplinary panel of four renowned scholars and activists will discussed human migration and forced relocations in response to climate disasters and ecological plight. Each panelist shared their perspective on climate change migration and their approaches to better understanding it and actualizing equity and justice.
Craig Santos Perez, (English, University of Hawai'i)
Aryaana Khan (Biology, CUNY)
Xiaojing Zhou (English, University of the Pacific)
Heidi Amin-Hong (English, UC Santa Barbara)
---
CLIMATE CHANGE AND HUMAN MIGRATION: RESEARCH AND PERSPECTIVES AT STONY BROOK
Wednesday, February 2, 2022
You can view a recording of the event  here.
The number of people forced to move—within their own countries and across political borders—by climate change is already at unprecedented highs and growing. An interdisciplinary panel of  Stony Brook faculty members shared their perspectives on climate change migration and their approach to better understanding it.
Co-organized and moderated by IGS Board Members: Nancy Hiemstra (Department of Women's, Gender, and Sexuality Studies) and Jeffrey Santa Ana (Department of English)
The panelists were:

Mark Chambers (Africana Studies)
Sara Hamideh (School of Marine and Atmospheric Sciences)
Gallya Lahav (Political Sciences)
Javier Uriarte (Hispanic Languages and Literature)
---
Approaches to Global and Environmental Issues
Thursday, November 18, 2021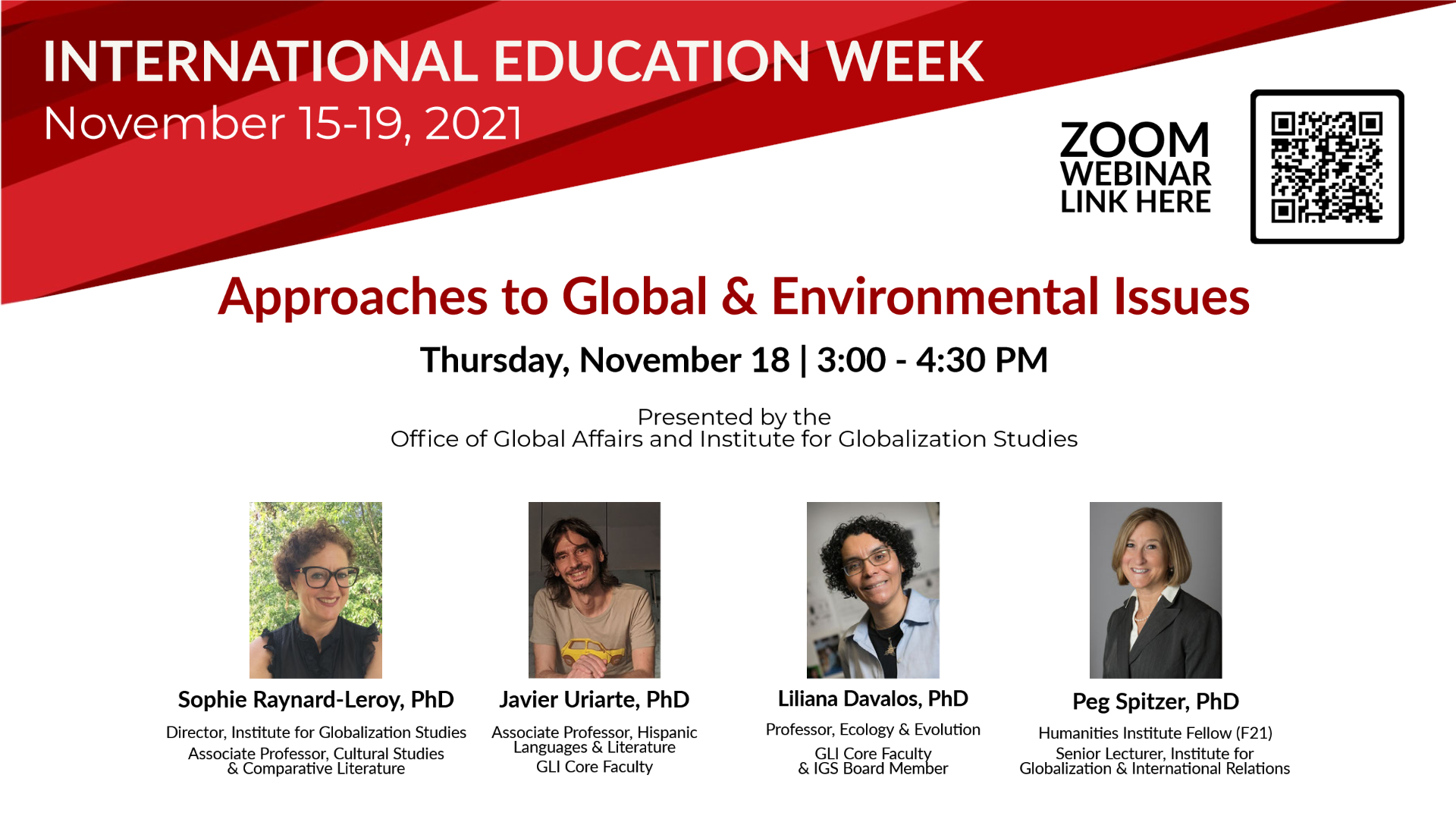 Following the United Nations Climate Change Conference, the Office of Global Affairs and Institute for Globalization Studies held an online panel discussion with Stony Brook faculty to discuss globalization and the environment from an interdisciplinary perspective.
Le Siècle D'Or Espagnol (The Spanish Golden Age)
Guillaume Kientz, Director, Hispanic Society of America
Monday, November 15, 2021, Melville Library Special Collections Seminar Room.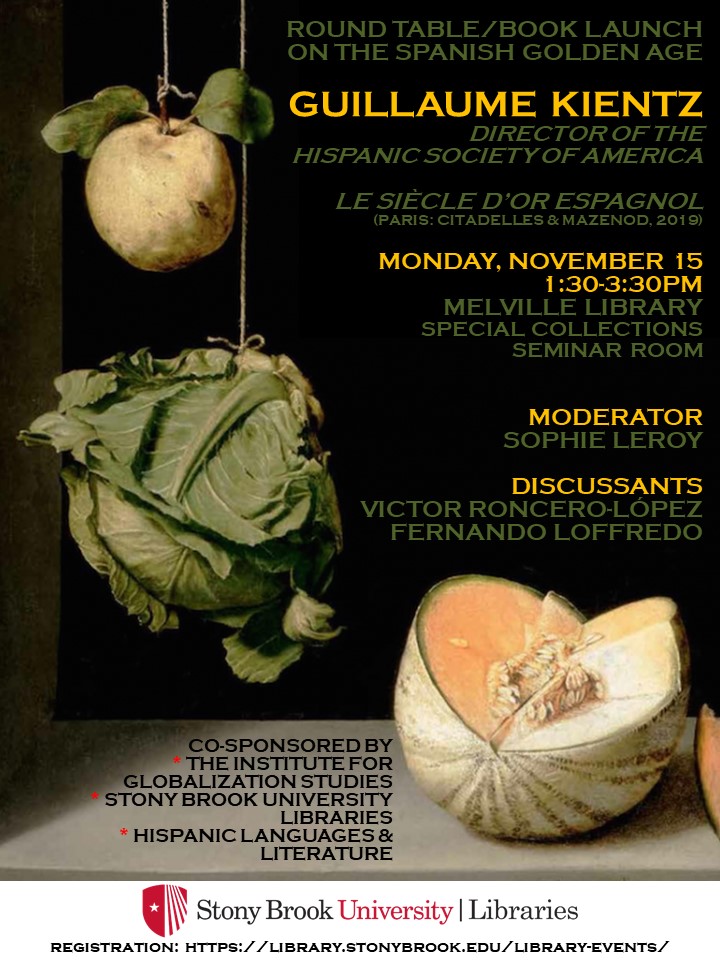 Guiilaume Kientze, of the Hispanic Society, discussed his book on the Spanish Golden Age, moderated by Sophie Leroy with discussants Victor Roncero-Lopez and Fernando Loffredo.
Transregional ties that bind: men of power and men of learning across early modern persianate asia
Friday, Nov 5, 2021
You can view a recording of the event  here.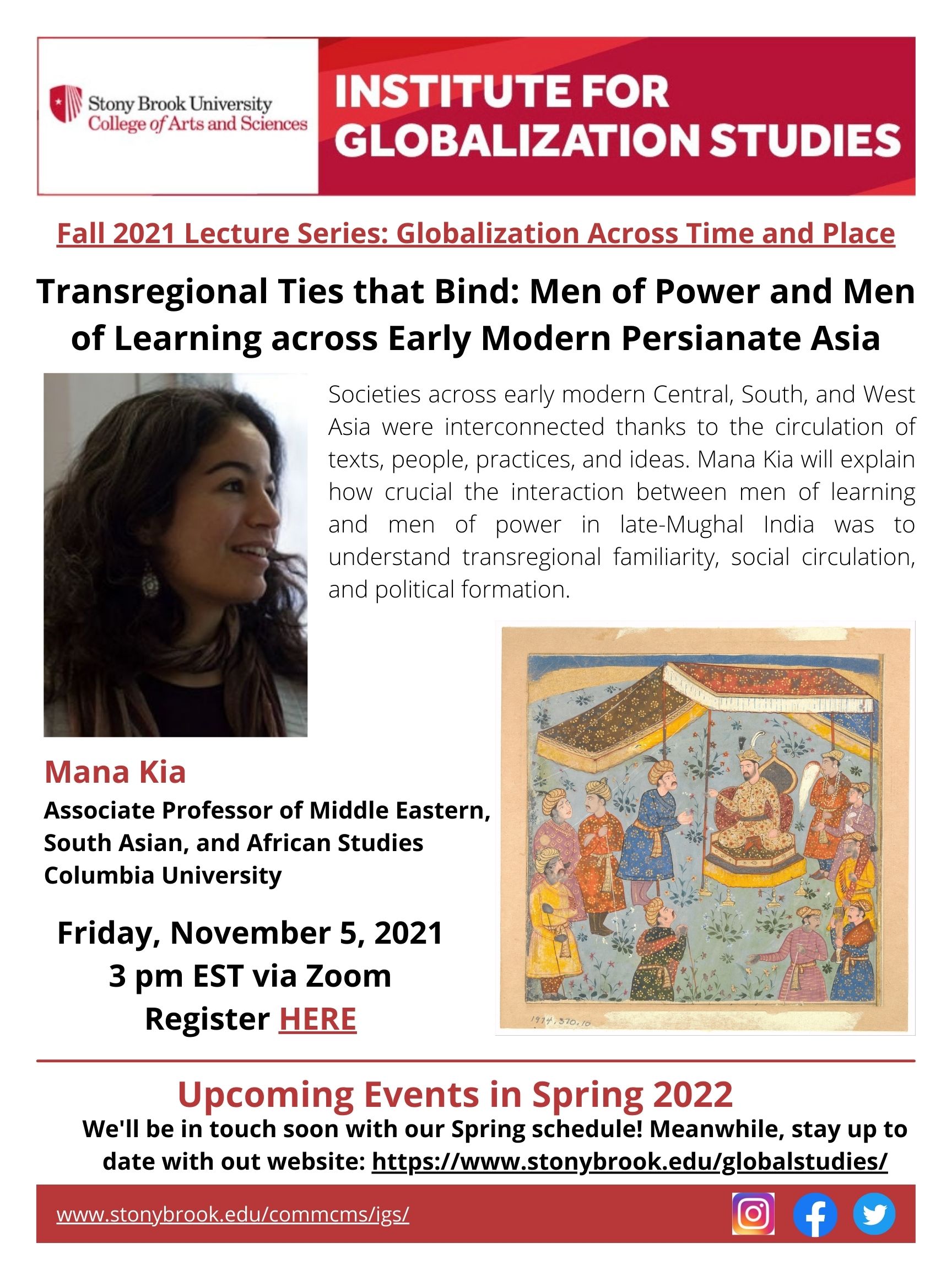 Mana Kia of Columbia University discussed how societies across early modern Central, South, and West Asia were interconnected thanks to the circulation of texts, people, practices, and ideas. The interaction between men of learning and men of power in late-Mughal India was crucial to understanding transregional familiarity, social circulation, and political formation.

Compendium of the world: Colonial manila and early modern worldmaking
Friday, Octber 8, 2021
You can view a recording of the event here.
Miguel Martínez from the University of Chicago discussed what the world looked like from Manila in the first decades of Spanish colonization. By examining seventeenth-century chronicles, sermons, poems, and urban festivals this talk explored the changing symbolic geographies that emerged in the colonial city, imagined as the center of a new world imagined anew.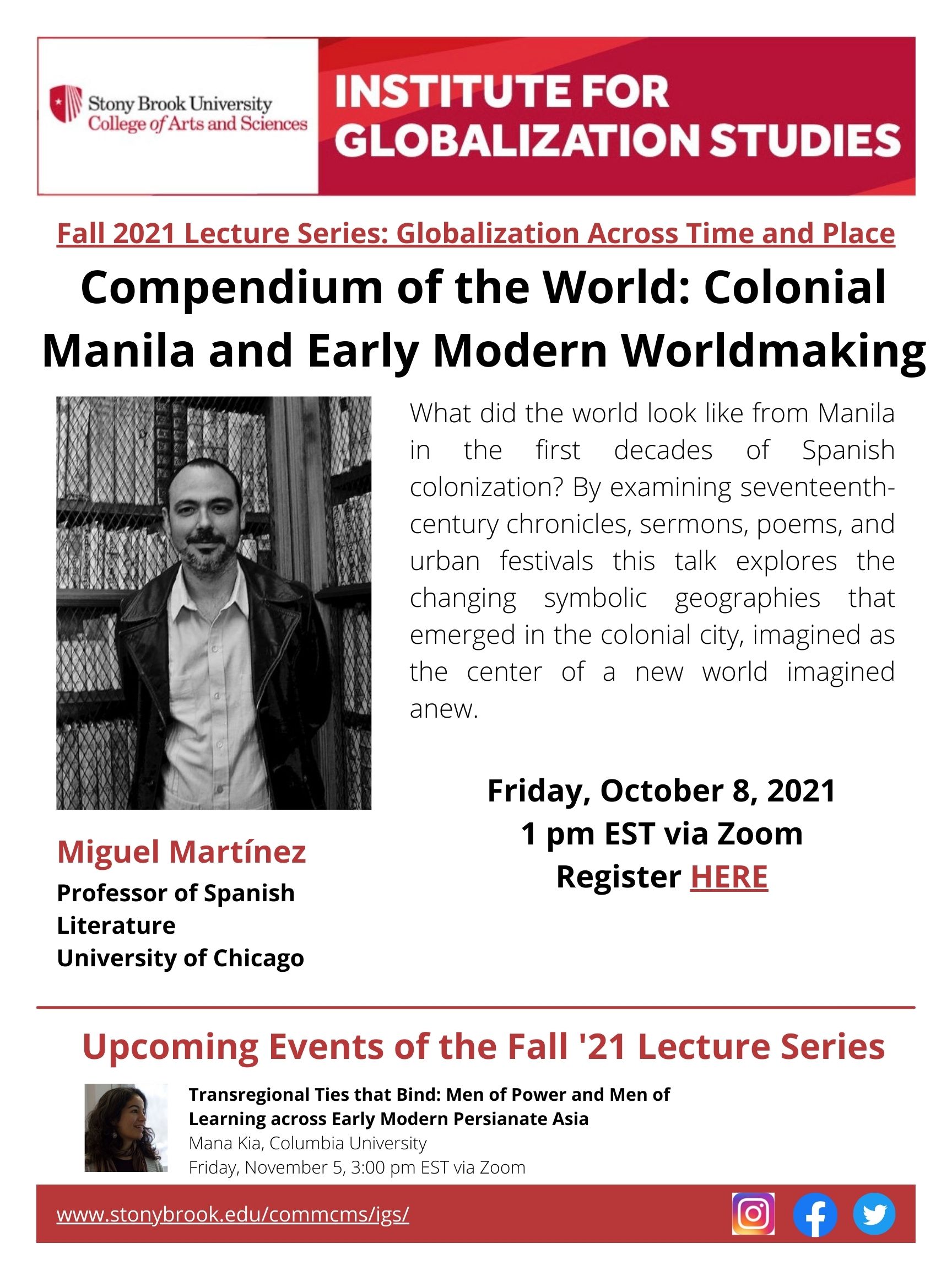 GLOBALIZATION IN THE YEAR 1000
  Friday, Sept 10, 2021
View  the recorded version of the talk here.
Distinguished Yale historian Valerie Hansen discussed her book The Year 1000: When Explorers Connected the World - And Globalization Began, in which she shows how bold explorations and daring trade missions first connected all of the world's societies at the end of the first millennium. Drawing on nearly thirty years of research, she presents a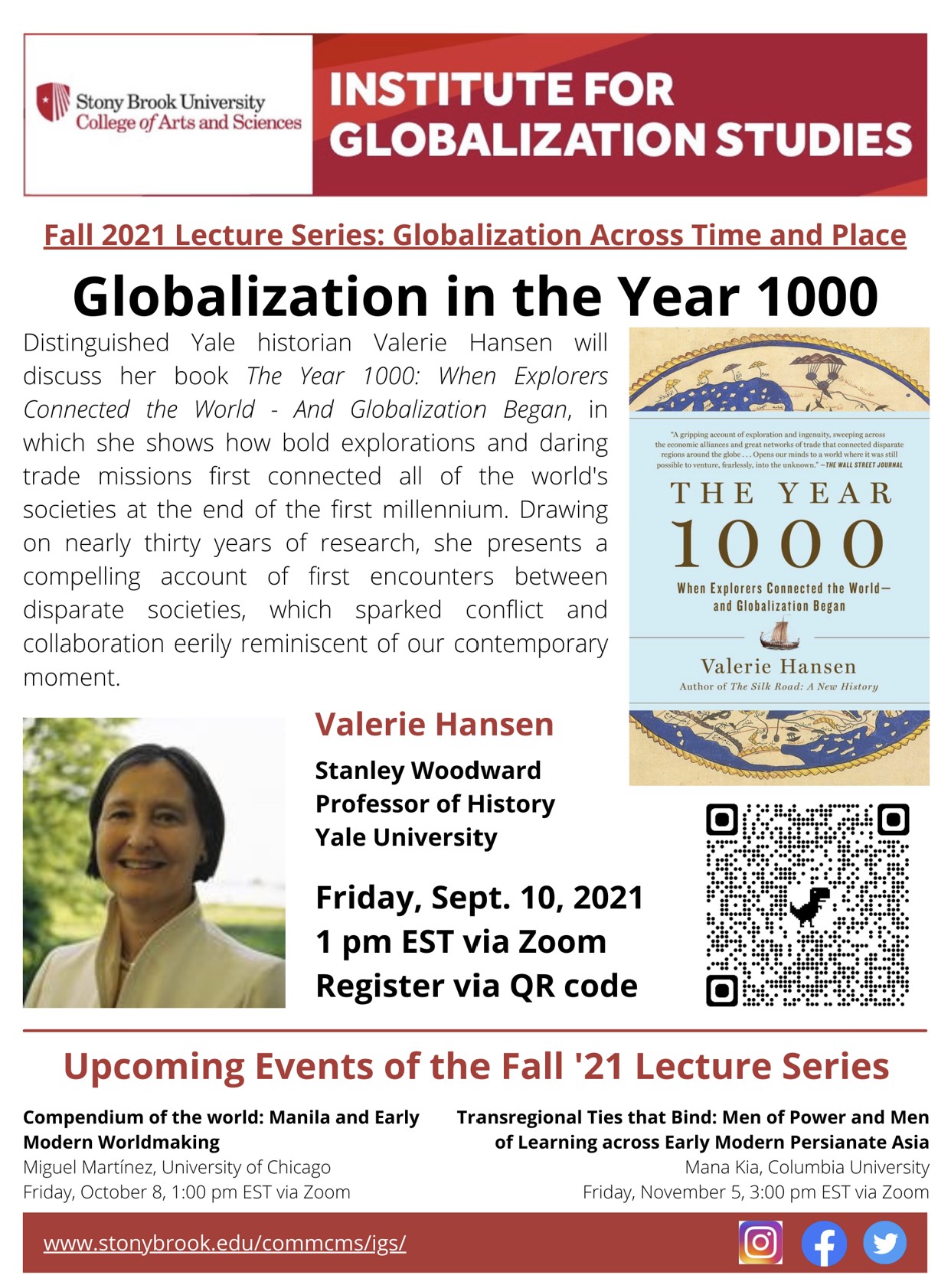 compelling account of first encounters between disparate societies, which sparked conflict and collaboration eerily reminiscent of our contemporary moment.
Affective justice:
toward a new geopolitics
Thursday, Apr 8, 2021
View  the recorded version of the talk here
Professor Kamari Maxine Clarke discussed her book,   Affective Justice, in which she explores the African Union's critique of the International Criminal Court (ICC) - which African leaders see as a modern version of colonial violence and control.
SBU ALUMNI PANEL:
MICROCREDENTIALS & INTERNATIONAL CAREER PATHS NOW POSSIBLE WITH GLI!
Wednesday, Mar 31, 2021
View  the recorded version of the talk here
We   featured three SBU alumni who went from graduating with an academic degree from our College of Arts and Sciences--History, Africana Studies, and Asian and Asian-American Studies--to pursuing an international career. How did they do that?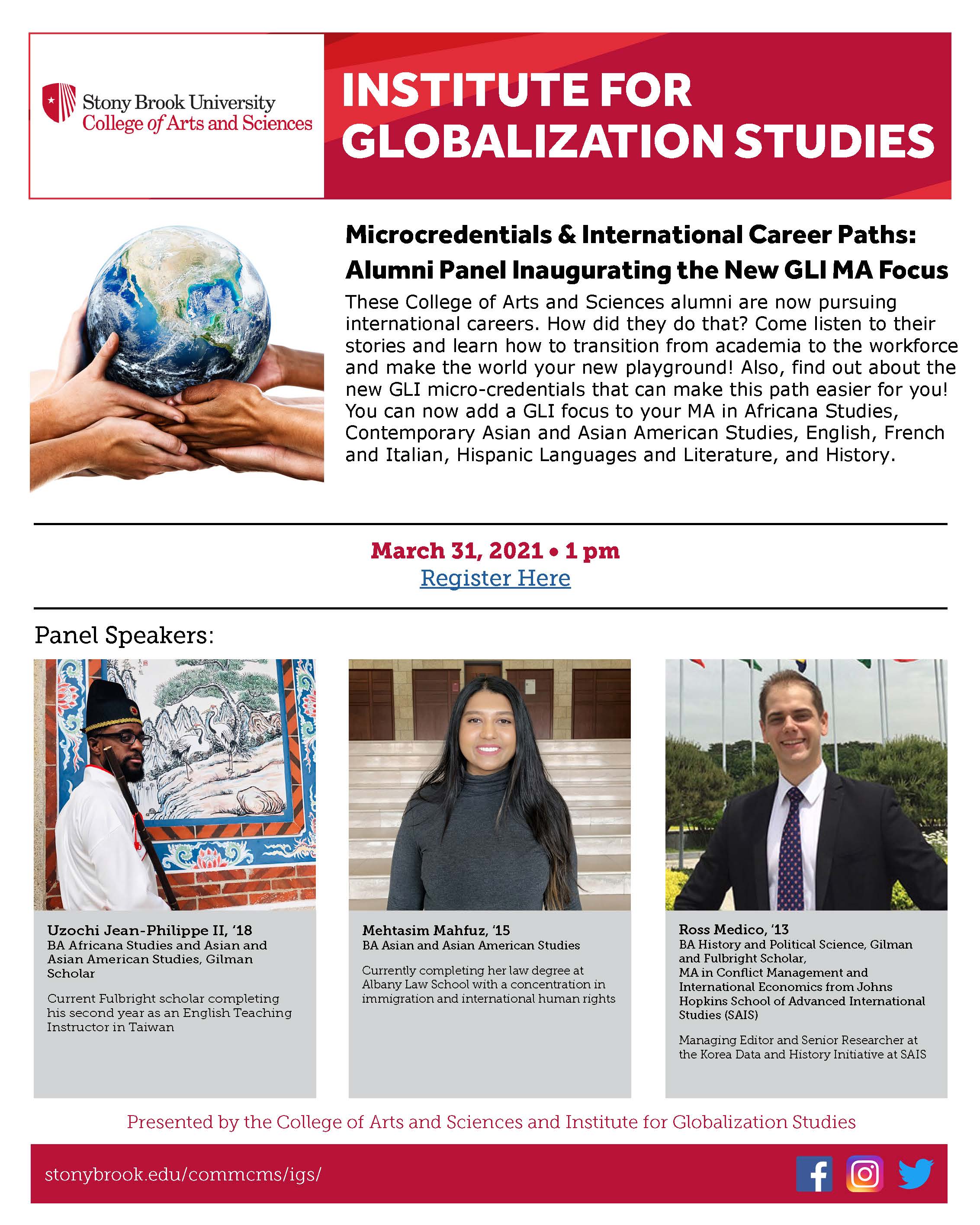 To learn how to transition from academia to the workforce and make the world your new playground, come and listen to their stories. Now with the GLI degrees, this path is made easier for you. With a BA in GLI or a GLI focus added to your MA in Contemporary Asian and Asian American Studies, Africana Studies, English, French and Italian, Hispanic Languages and Literature or in History, you will be prepared from the start!
"EXPLORING GLOBAL ENVIRONMENTAL (IN)JUSTICE IN CARCERAL SPACES"
Wednesday, Feb 17, 2021
View  the recorded version of the talk here
David Pellow is Professor of Environmental Studies and Director of the Global Environmental Justice Project at the University of California, Santa Barbara. In this lecture, he presents his work, "Exploring Global Environmental (in)Justice in Carceral Spaces."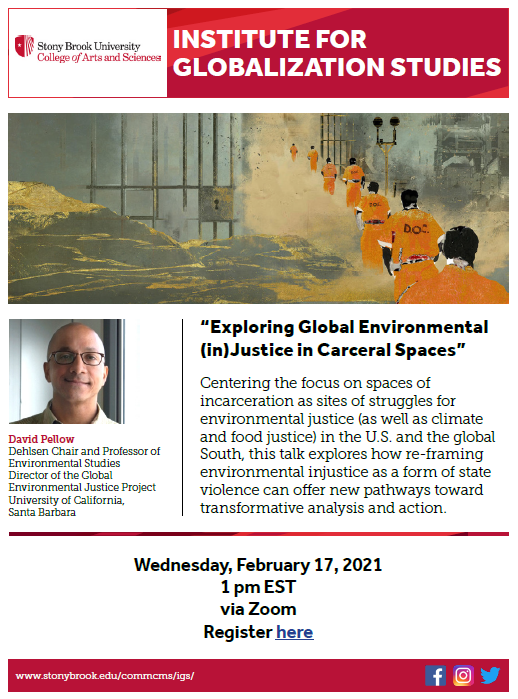 Graduate student panel:
"the united nations' sustainable development goals (sdgs) need you!"
Wednesday, Feb 10, 2021
View  the recorded version of the talk here
Join our panelists Fernando Amador, Maria Grima, Jessica Kim, and Xiaoning Wu for a discussion on the United Nations' Sustainable Development Goals.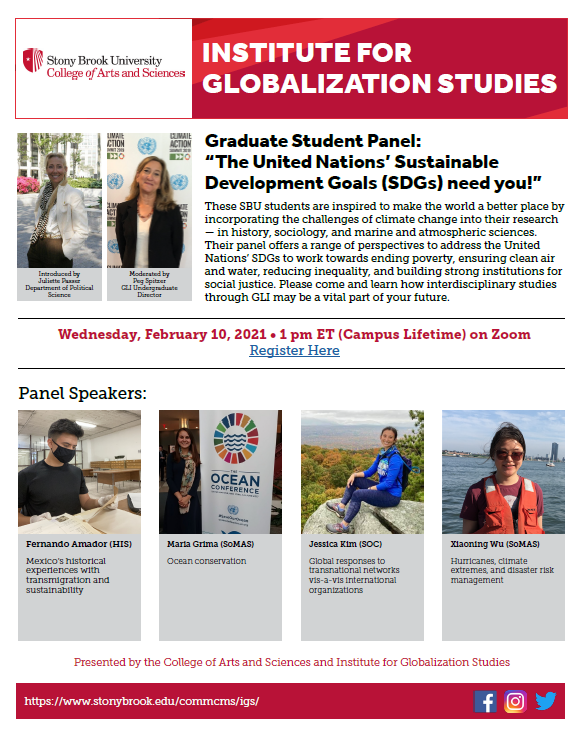 FACULTY ROUNDTABLE: "ISLAM AND MOMENTS OF GLOBAL CONNECTIONS"
Thursday, Nov 19, 2020 at 1 p.m.
View  the recorded version of the talk here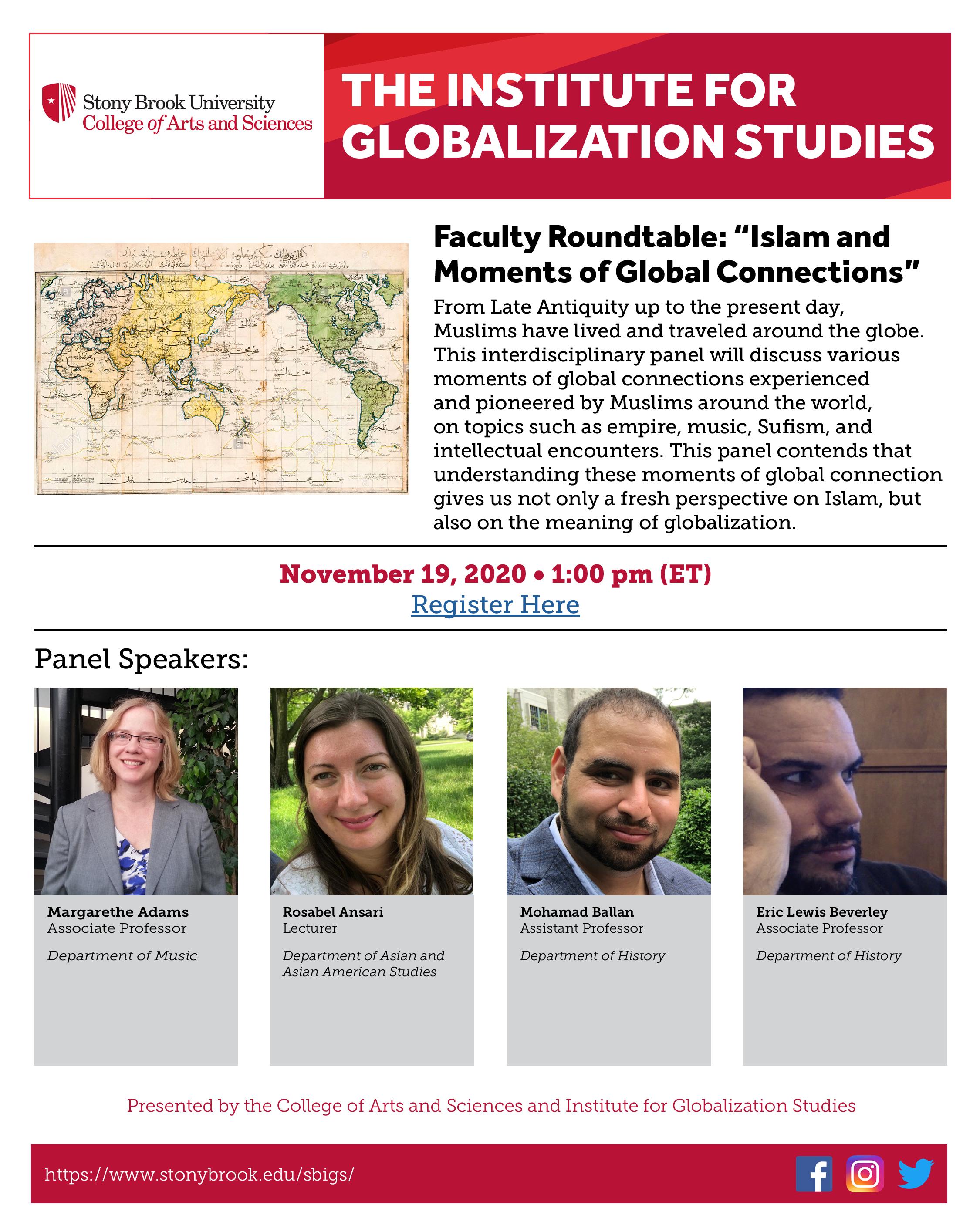 Join our panel  of experts, Associate Professor Margarethe Adams (Department of Music), Lecturer Rosabel Ansari (Department of Asian and Asian American Studies), Assistant Professor Mohamad Ballan (Department of History), and Associate Professor Eric Lewis Beverley (Department of History) for a discussion on Islam and moments of global connection. This event will take place on November 19 at 1:00PM (ET). 
IGS LECTURE INAUGURAL SERIES: "self-devouring growth"
Wednesday, Oct. 7, 2020 at 3 p.m.
View the recorded version of the talk here

Julie Livingston is a Professor of Social and Cultural Analysis and History at New York University. Her work combines history, anthropology, and public health and contemplates the moral conditions, social practices, and African thought. Livingston's talk on "Self-Devouring Growth", derived from her book, contests the assumption that economic growth is a foundation of well-being and highlights the economic systems of the southern African nation of Botswana as an example.
gli inaugural alumni panel
Wednesday, Sep. 23, 2020 at 3 p.m.
Online through Zoom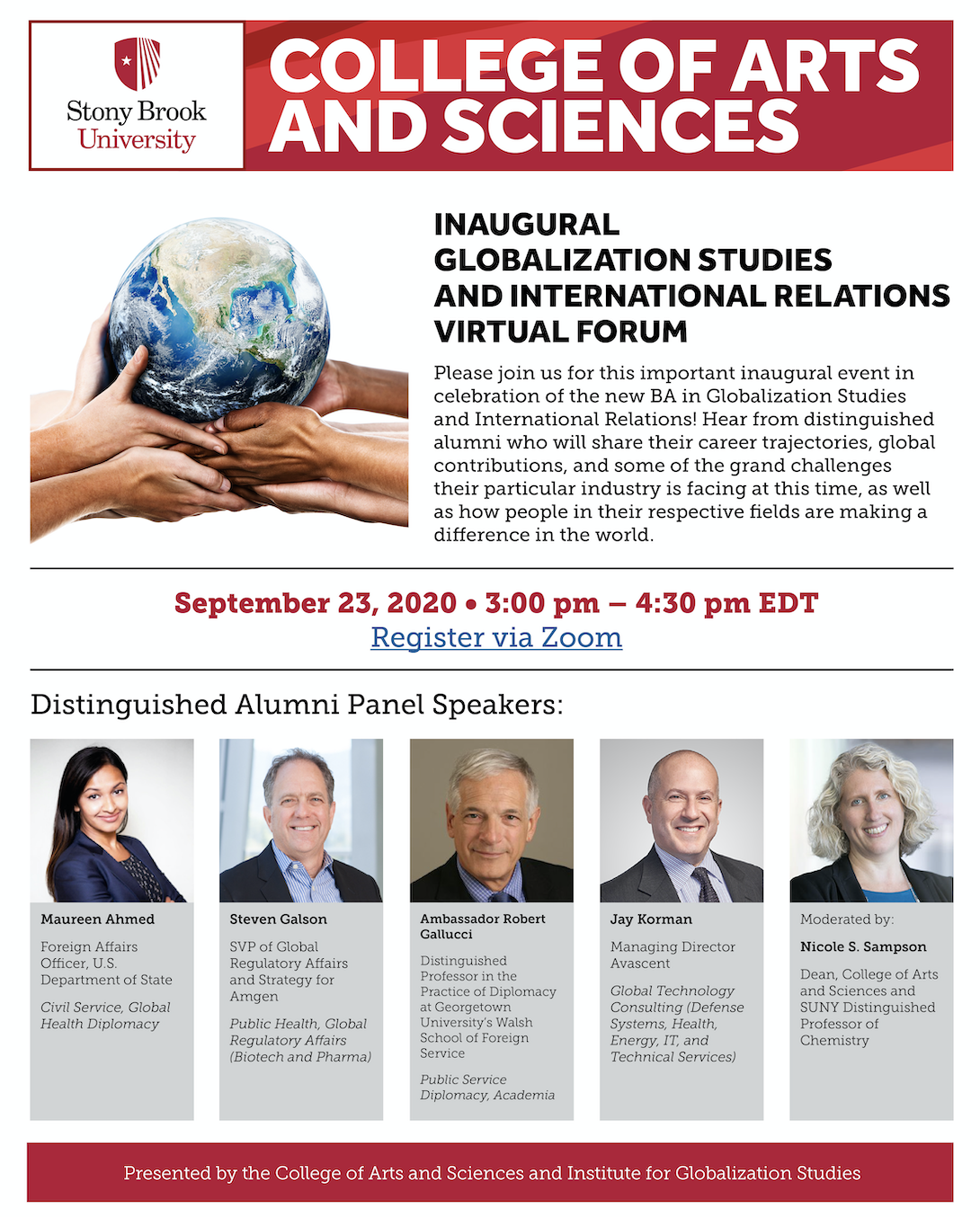 View the recorded version of the event  here
Hear from distinguished alumni who will share their career trajectories, global contributions, and some of the grand challenges their particular industry is facing at this time, as well as how people in their respective fields are making a difference in the world.
REVOLUTION: Structure and Meaning in World History
Wednesday, Oct. 16, 2019 at 5 p.m.
Social and Behavioral Sciences, Room N405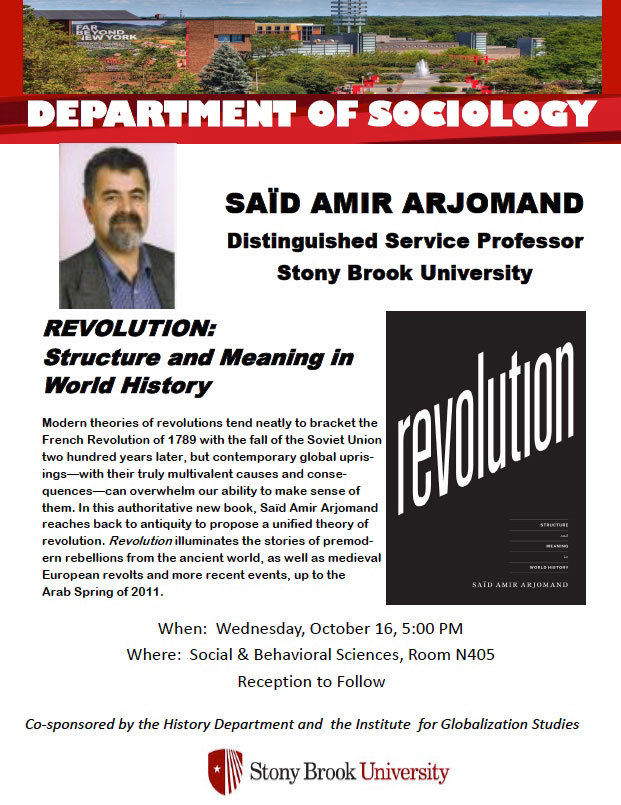 Said Amir Arjomand, Stony Brook University Distinguished Service Professor, presents Revolution, which illuminates the stories of premodern rebellions from the ancient world, as well as medieval European revolts and more recent events, up to the Arab Spring of 2011.
Co-sponsored by the History Department and the Institute for Globalization Studies. Reception to follow. Download the flyer.