Skip Navigation
THANK YOU!  ¡GRACIAS! THANK YOU!
We want to send out a sincere THANK YOU to everyone in the Stony Brook University campus community that participated in any way to the cultural grown and helped foster unity and diversity on campus.  Thank you to each of you that engaged in the many events and activities the committee put forth this year and joined us in celebrating Hispanic Heritage Month.  
STONY BROOK UNIVERSITY PROUDLY CELEBRATES HISPANIC HERITAGE MONTH - 2023 
Throughout Hispanic Heritage Month, Stony Brook University will showcase community leaders, faculty, staff and students around significant themes in Latinx culture.  Stony Brook University will be celebrating it's 34th annual celebration with this year's theme: "Driving Prosperity, Prower and Progress in America." 
TUESday, September 19, 2023
MEXICAN & CENTRAL American INdependence DAY CELEBRATION 


@ 9:00 PM SAC 302
Join LASO in celebrating Mexican and Central American Independence. Want to learn more about the history behind these two influential region's freedom! We want to hear what you have to say. Featuring candy and an amazing presentation brought to you by our E-board!
WEDNESday, September 20, 2023
BLACK DIASPORA WARS 


@ 8:00-9:00 PM SAC 302
Join the discussion regarding strategies for restoring the unity among the African Diaspora.  What can be done in order for us to come together? Be part of the conversation during the General Body Meeting on Wednesday, Sept 20. Organization membership is not necessary - All are welcome to participate.   This FREE event is collaboratively sponsored by the Black Student Union (BSU), Caribbean Student Organization (CSO), Haitian Student Organization (HSO), and Latin American Student Organization (LASO).
THURSday, September 21, 2023
HHM Jeopardy SHPE x COlorStack 


@ 6:00-7:00 PM SAC 306
We have a crazy fun event in store. Test your knowledge and celebrate the richness of our culture in a friendly game of 'Hispanic Heritage Month Jeopardy,' in collaboration with ColorStack. Come through for food and potential prizes! Event open to all! Come explore, learn, and have fun as we honor our traditions and history.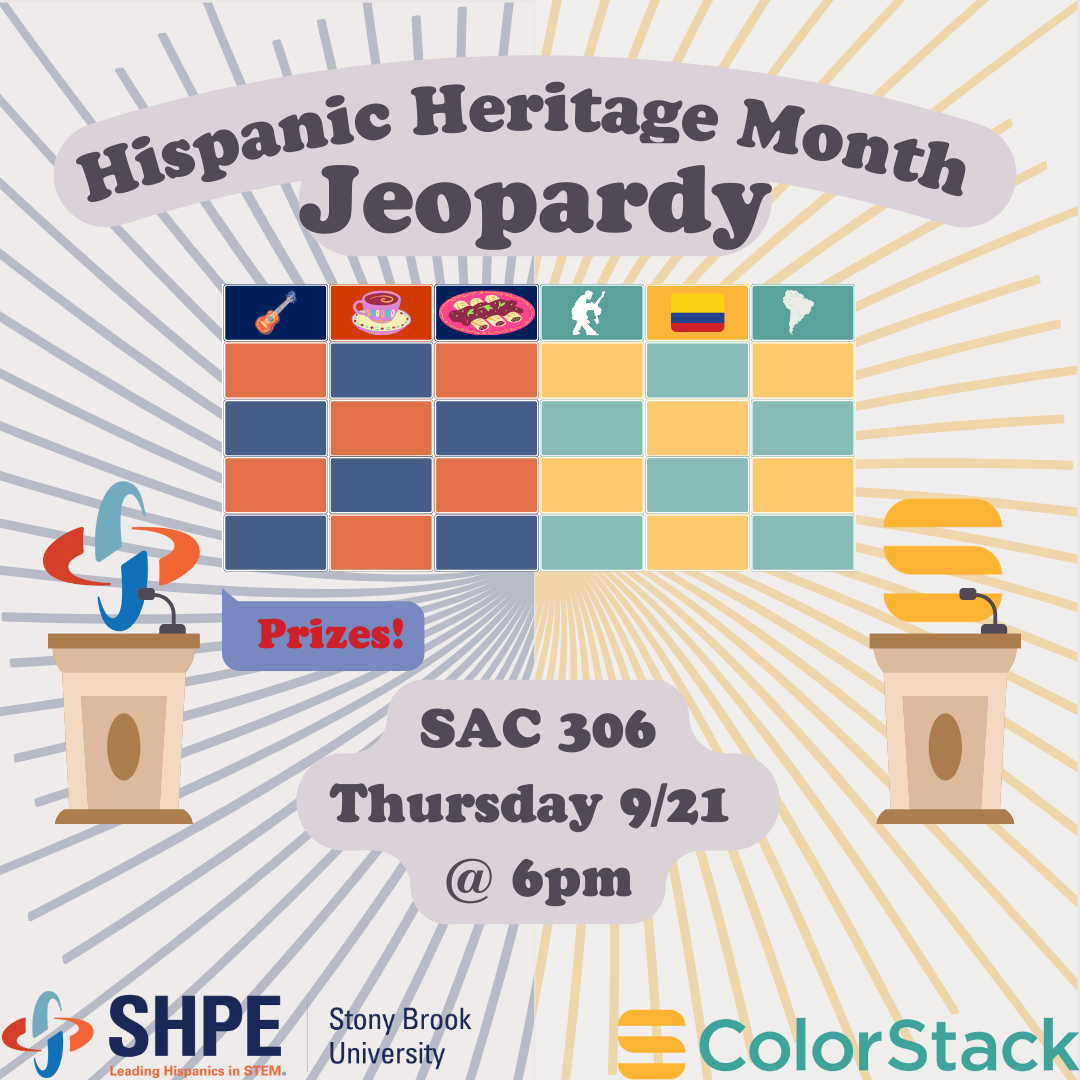 FRIday, September 22, 2023
SHPE TECHNOLOGY & Engineering MIXER 


@ 9:00-11:00 AM SAC 305 & 306
Come network with industry professionals and employers before the career fair!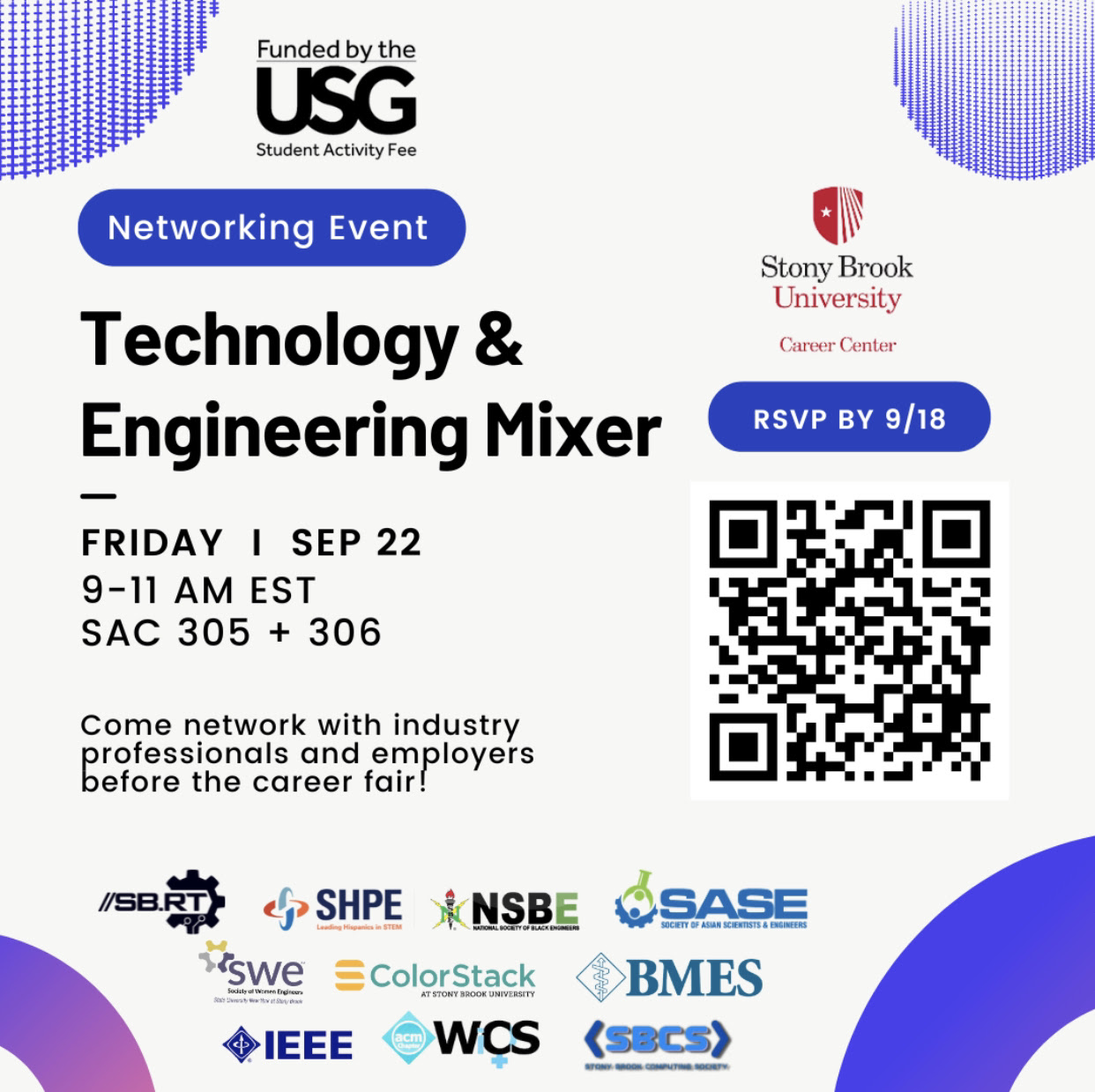 MONDAy, September 25, 2023
FROM beirut to santiago: the arab diaspora in chile during the 20th century

@ 1:00 - 2:15 PM,
SBS 3rd floor, n-320
Talk by Francisco Rodriguez, PhD student in the Department of History. All are welcomed. Lunch wll be provided.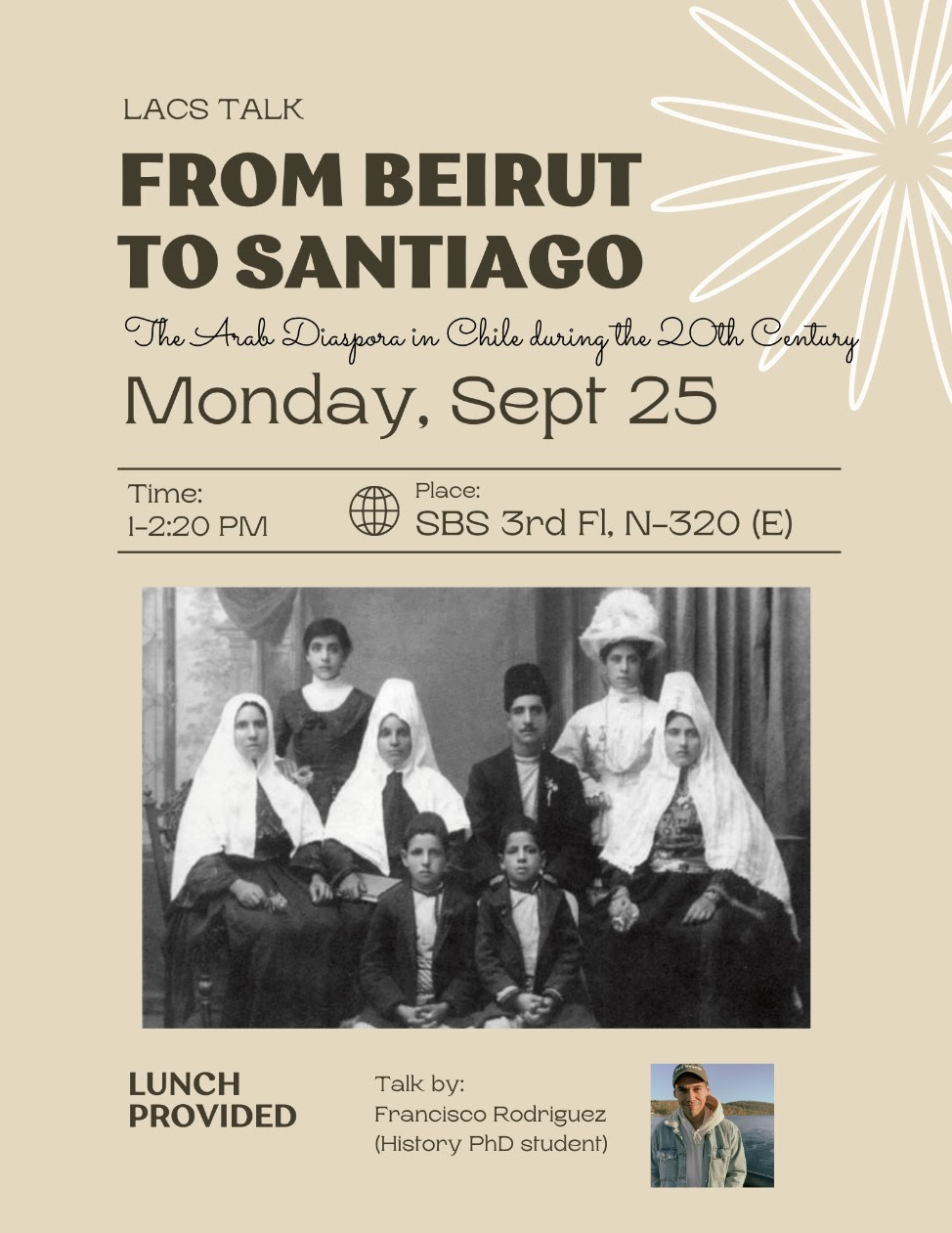 TUesDAY, SEPTEMBER 26, 2023




NOCHE DE LOTER

Í

A

 
@ 9:00 PM SAC 302

Come join LASO for Lotería Night.  It is a classic Latin American game.  Bring your friends and let's have some competition, see you there!
EMPANADAS and AGUAS FRESCAS


@ 11:59 PM, ALL ORDERS NEED TO BE BY 11:59 PM
Enjoy the last couple days of summer with La Familia. We got you covered with Empanadas & Aguas Fresca's.  Pre-order now to secure the flavor‼️ Chicken? or cheese? Want both? We got you!  Don't forget the beverage … treat yourself to some Agua Fresca de Sandia (a refreshing watermelon fruit drink). Click the link in our bio to order now! The form closes on Tuesday 09/26 at 11:59PM, don't miss out. 
WEDNESDAY, SEPTEMBER 27, 2023
LACS CAFÉ
 
@ 1:00-2:20 PM,
SBS 3rd floor, n-320
Come and share a nice time with the Latin/X community of SBU! Empanadas, coffee, and dessert will be provided.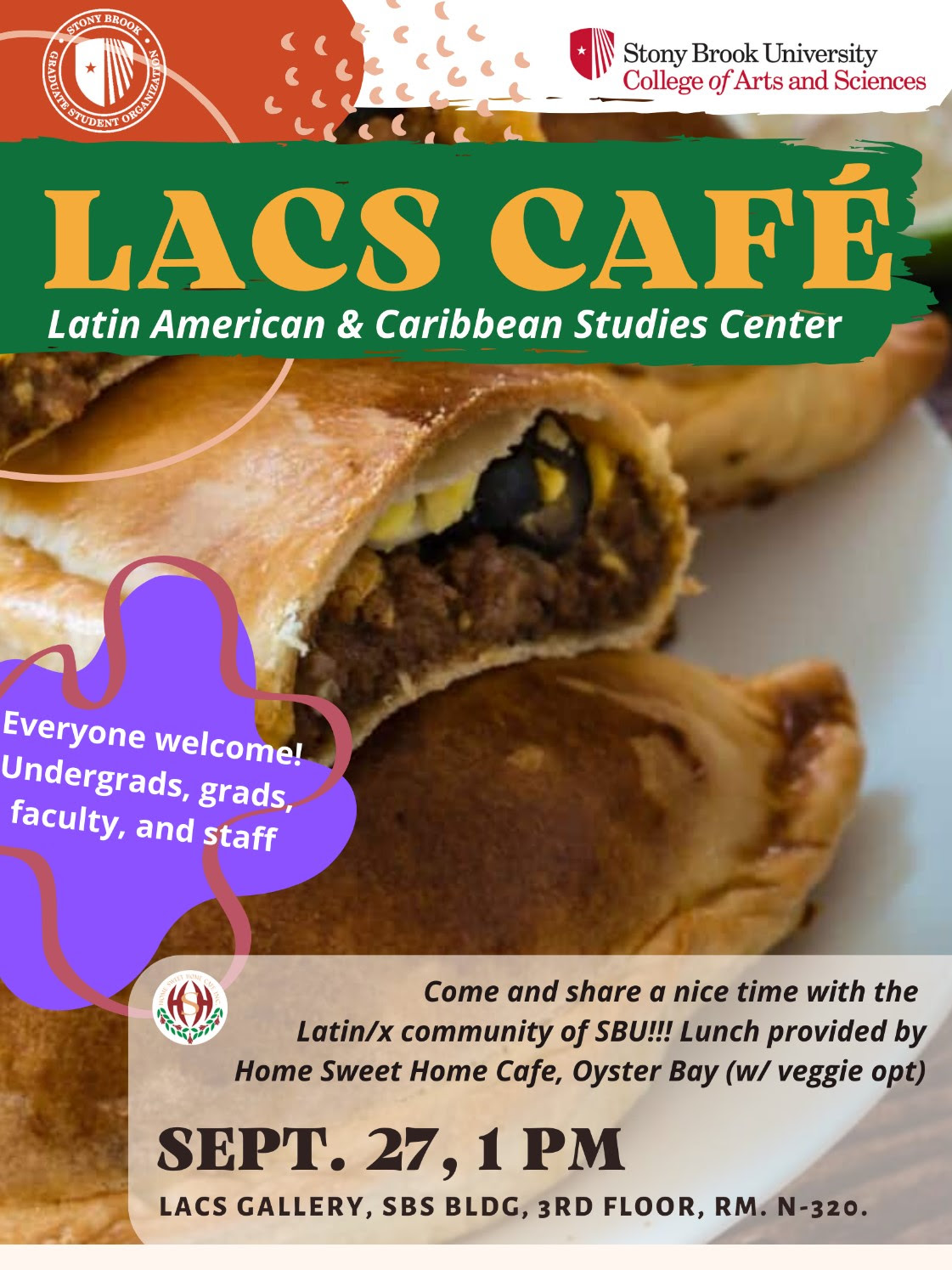 MondaY, OCTOBER 2, 2023
HISPANIC HERITAGE MONTH LUNCH   


@ 11:00 am-4:00 PM, Lunch at east & WEST Side Dine-In
Colombia:  Lechon ( Braised Pork Butt), Arroz Amarillo (Yellow Rice), Arepas con Queso (Corn Cakes with Cheese), Habichuelas Guisadas (Stewed Pinto Beans) & Maduros
wednesdaY, OCTOBER 4, 2023
annual hispanic heritage month opening ceremony


@ 1:00-2:30 PM, SAC BAllroom A
Please join us as we celebrate the 34th Annual Hispanic Heritage Month Opening Ceremony. This year we continue to highlight the many achievements and accomplishments of not just historic figures that have contributed to the rich cultures of Latinx Americans, but also the ones of our own faculty, staff, students, alumni, and partners through the 2023 national theme: "Todos Somos, Somos Uno / We Are All, We Are One".    Open to Stony Brook  University faculty, staff, and students .  
Enjoy the program which will include the reading of Stony Brook University's own Hispanic Heritage Month Proclamation, Latin American Flags display, performances, music, and food. The featured Keynote Speaker and 40 Under 40 Honoree Bergre Escorbores'00, '01 returns to campus to engage the audience oh his experience as a leader in the Long Island community and field of education.  All are welcome to attend this FREE event.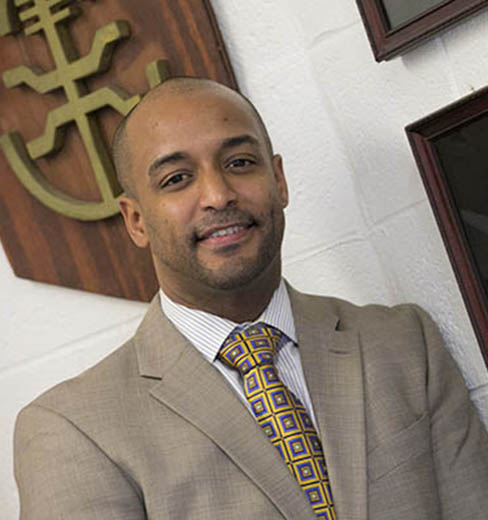 THURSDaY, OCTOBER 5, 2023
eXHIBITION tOUR & CRAFT nIGHT


@ 7:00 PM, GALLERY, FIRST FLOOR STALLER CENTER  
Meet up at the Zuccaire Gallery for a student-led tour (English and Spanish) of The View from Below and a craft related to personal and family narratives of migration. Limited to 20 participants. RSVP on link.
FRIdaY, OCTOBER 6, 2023
WiCS x SHPE GBM - A LOT(ería) 
@ 4:00 - 5:00 PM
, old CS 2120
Learn how to code your own Loteria gamein pure Javascript!  Are you a newbie to web programming and/or interested in making a fun web project to be included on your resume? WiCS got your back!  We will be collaborating with SHPE, the Society of Hispanic Professional Engineers, as we celebrate Hispanic Heritage Month. We will be introducing you to how to code a web game named Lotería, a game of chance similar to bingo. This will be coded based on basic HTML-CSS-JavaScript, and we highly encourage everyone to bring in their laptop to code while learning our event​​.  ​​
MONdaY, OCTOBER 9, 2023
DISNEY PIXAR - COCO LIVE to film concert


@ 4:00 PM, Staller Center - Main Stage  
A Holiday event for the entire family, don't miss this screening of the beloved Disney film COCO featuring a live performance of the Oscar and Grammy-winning musical score, performed by a live 20-member Latin ensemble. More info & purchase tickets; NOTE for SBU students, there are limited FREE SBU student tickets,  you do need to RSVP  your FREE tix!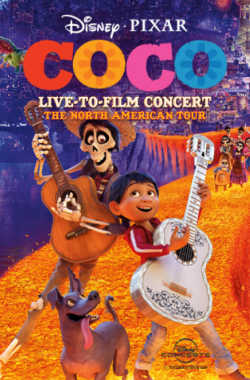 Thursday, October 12, 2023
Bachata Social
@ 7:30 PM-9:00 PM, UNItI Cultural Center- SB Union 113
Join RA Vanessa and RA Bri, in collaboration with Jubilé Latino and the UNITI Cultural Center, for a Bachata Social!  Come learn how to dance Bachata with the only Latinx-African infused dance team on campus while also learning about the origins of the once forbidden dance.  Food and refreshments will be provided.

MondaY, OCTOBER 16, 2023
HISPANIC HERITAGE MONTH LUNCH   


@ 11:00 am-4:00 PM, Lunch at east & WEST Side Dine-In
Peru: Arroz con Pollo (Chicken and Rice), Patacones (Fried Green Plantains), Ensalada de Papa (Potato Salad) & Flan 
TuesdaY, OCTOBER 17, 2023
GUEST CHEF JUAN GARCIA


@ 4:00-9:00 PM, Dinner at west Side Dine-In
Chef Juan Garcia of East Side Dining loves to prepare comfort foods such as traditional Rice and Beans and Pernil from his family's recipes in Puerto Rico. He has been a part of the SBU Eats culinary team for almost two years. He started cooking at a young age at a vocational school in high school and then continued his passion for cooking throughout college. He has worked in restaurants and hotels including Marriott, Sheraton, Lessings, and local country clubs. 
Menu: Pollo Guisado, Yellow Rice with Peas, Pork Chicharrón with Lime, Pickled Red Onions and Avocado Crema.
SATURDAY, OCTOBER 21, 2023
BALLET HISPANICO 


@ 8:00 PM, Staller Center - Main Stage 
One of America's cultural treasures and ambassadors of Latinx Dance for over 50 years. Use the code: HHM23 for a 50% discount on tickets!  More info & purchase tickets
Now FREE for SBU Students- Sign up on SB Engaged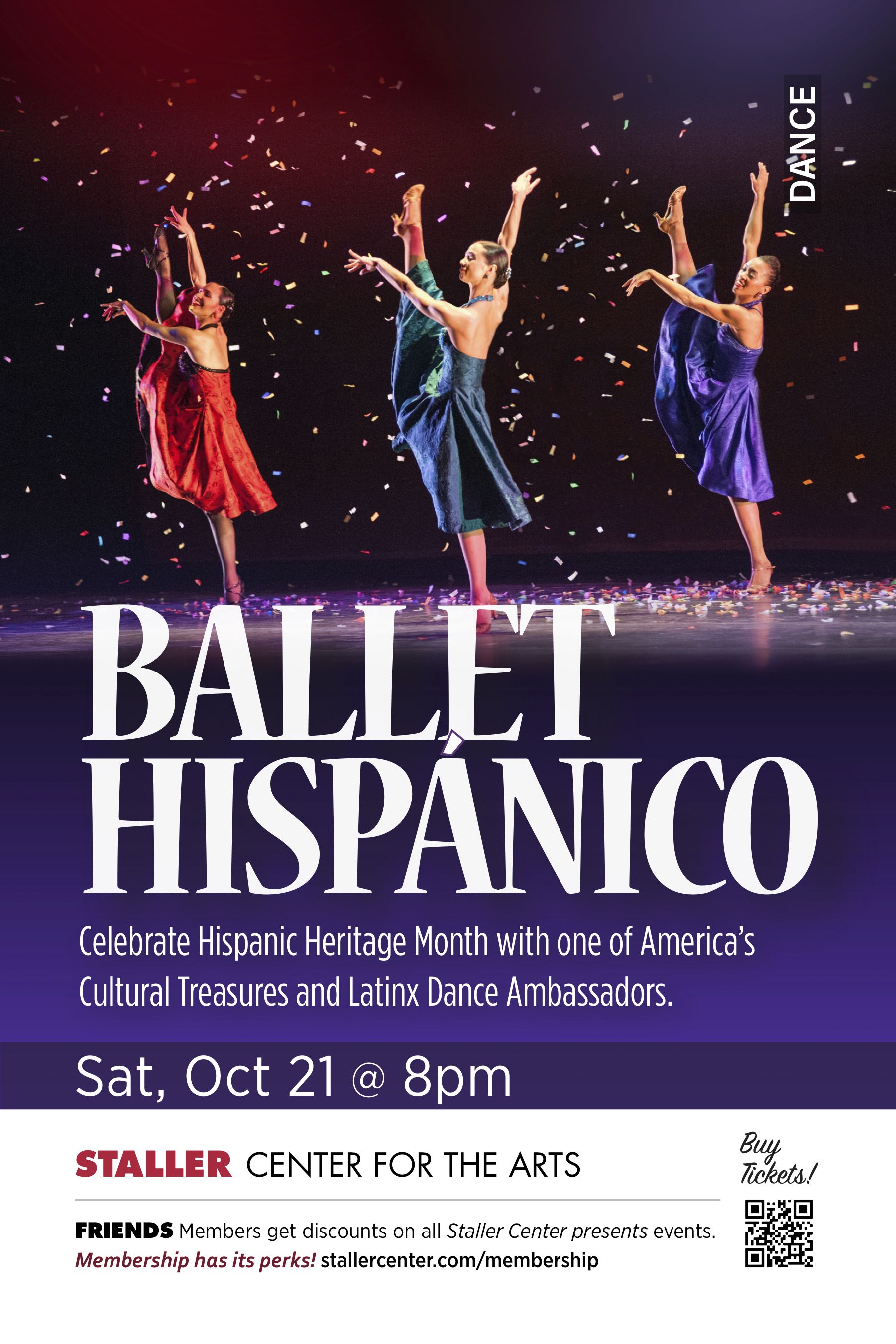 MondaY, OCTOBER 23, 2023
HISPANIC HERITAGE MONTH LUNCH  


@ 11:00 am-4:00 PM, Lunch at east & WEST Side Dine-In
Costa Rica: Chifrijo (Fried Pork Belly and Stewed BlacK Beans), Arroz Blanco (White Rice), Carne Guisada (Beef Stew) & Yucca Fritta (Fried Yucca) 
Monday, October 23, 2023
Burritos and Bachata
@ 7:00 PM-9:00 PM, Alan S. deVries Center 
In honor of Hispanic Heritage Month, USG is collaborating with Jubilé Latino and the Latin American Student Organization to host an exciting "Burritos and Bachata Night." This event will take place at the Alan S. deVries Center on October 23rd, running from 7:00 PM to 9:00 PM. Members from Jubilé Latino will lead dance workshops, introducing students to bachata and other Latino dance styles. In addition to the dance lessons, we will offer burritos to all attendees.  Join us for a night of vibrant cultural celebration, where you can savor tasty burritos and learn new dance skills. We can't wait to see you there!
Directions:  Alan S. deVries Center 400 Circle Rd, Stony Brook, NY 11794 


wednesDAY, OCTOBER 25, 2023
HHM AWARDS & SCHOLARSHIPS
APPLY ONLINE!
DEADLINE  - EXTENDED to Wednesday, October 25th
WEDNesdaY, OCTOBER 25, 2023
Marigold Garland Crafting: Celebrating Dia de los Muertos  


@ 8:00 - 9:00 PM, Wagner Hall Main Lounge 
Celebrate Dia de los Muertos at Wagner Hall! Join us for a marigold garland-making event where you'll learn about the significance of this Mexican holiday. Dia de los Muertos is a time-honored tradition that honors departed loved ones through colorful ofrendas and art. Come create marigold garlands, and immerse yourself in the beauty and meaning of this special day. As well come try Mexican candy and watch the movie Coco as we make the garlands.
THUrsdaY, OCTOBER 26, 2023
FIESTA Y SABOR 


@ 7:30 PM-8:30 PM, YANG HALL Ground Lobby 
Savor the Sounds and Flavors of Hispanic Heritage Month with RA Destiny and RA Lilian as you pass by us in the Yang lobby for some delicious treats including empanadas, Hispanic music, and pamphlets with essential info on some Hispanic artists who have truly changed the game in music. (diversity and inclusion)
FRIdaY, OCTOBER 27, 2023
FUNDRAISER: BASKET RAFFLE - DONATIONS NEEDED! 
Proceeds support HHM events and SBU student scholarships. We would like your support for Hispanic Heritage Month at SBU by donating items or full baskets for our traditional Raffle Basket that will take place during the Closing Celebration. We have been so grateful for the generosity of so many year after year, and look forward to whatever you can offer.  Single items/full baskets are welcome. Some example baskets include Spanish Dinner, Chocolate Lovers Delight, Elegant Eating, Best Selling Authors, $1 & A Dream Lottery Scratchers, Fitness Memberships, Restaurant Gift Cards, Spa & Pamper Me, Movie Night, Wine Taster, Board Games, and Summer Camp.   
Donations and baskets may be dropped off by Friday, October 27th in the Office of Student Life (SB Union 205). Google Maps Directions.   Pick-up options from SBU offices are available by appointment. For more information contactangela.agnello@stonybrook.eduin Faculty Student Association (FSA) or judy.jaquez@stonybrook.eduin Diversity, Intercultural, and Community Engagement (DICE). Thank you in advance and see you at the Annual Closing Celebration!
MondaY, OCTOBER 30, 2023
HISPANIC HERITAGE MONTH LUNCH 

@ 11:00 am-4:00 PM, Lunch at east & WEST Side Dine-In
Puerto Rico: Puerto Rican Pork Shoulder, Yellow Rice, Ham with Pigeon Peas, Sautéed Chayotes with Tomato, Sofrito & Tres leches cake
WEDNESdAY, NOVEMBER 1, 2023


DIA DE LOS MUERTOS celebration/altar

 

  


@
 1 - 2:20 PM, LACS GALLERY
SBS 3rd floor, n-320
Join the Latin American and Caribbean Studies Center as we celebrate el Dia de los Muertos with tamales, pan dulce, and Long Island Farmworker Flower Co-Op Marigolds for sale!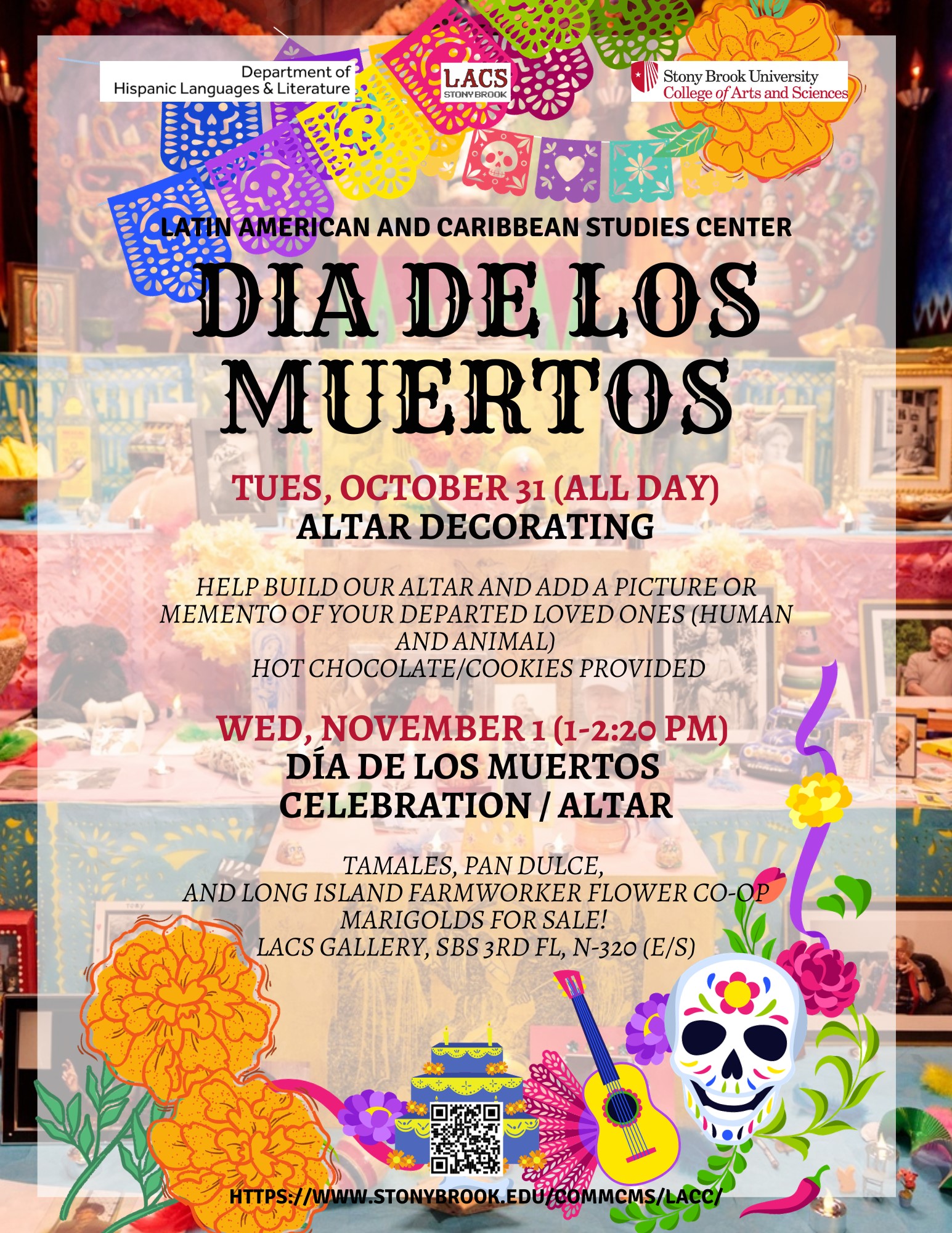 WEDNESdAY, NOVEMBER 1, 2023


HISPANIC HERITAGE MONTH CLOSING CEREMONY 34th ANNUAL AWARDS

 

  


@
 4:30 PM, Student activities center, Ballroom A  
The Hispanic Heritage Month (HHM) Committee at Stony Brook University cordially invites our Seawolves community to attend the 34th Annual Closing Celebration on Wednesday, November 1, 2023, from 4:30 pm to 6:30 pm at the Student Activities Center, Ballroom A.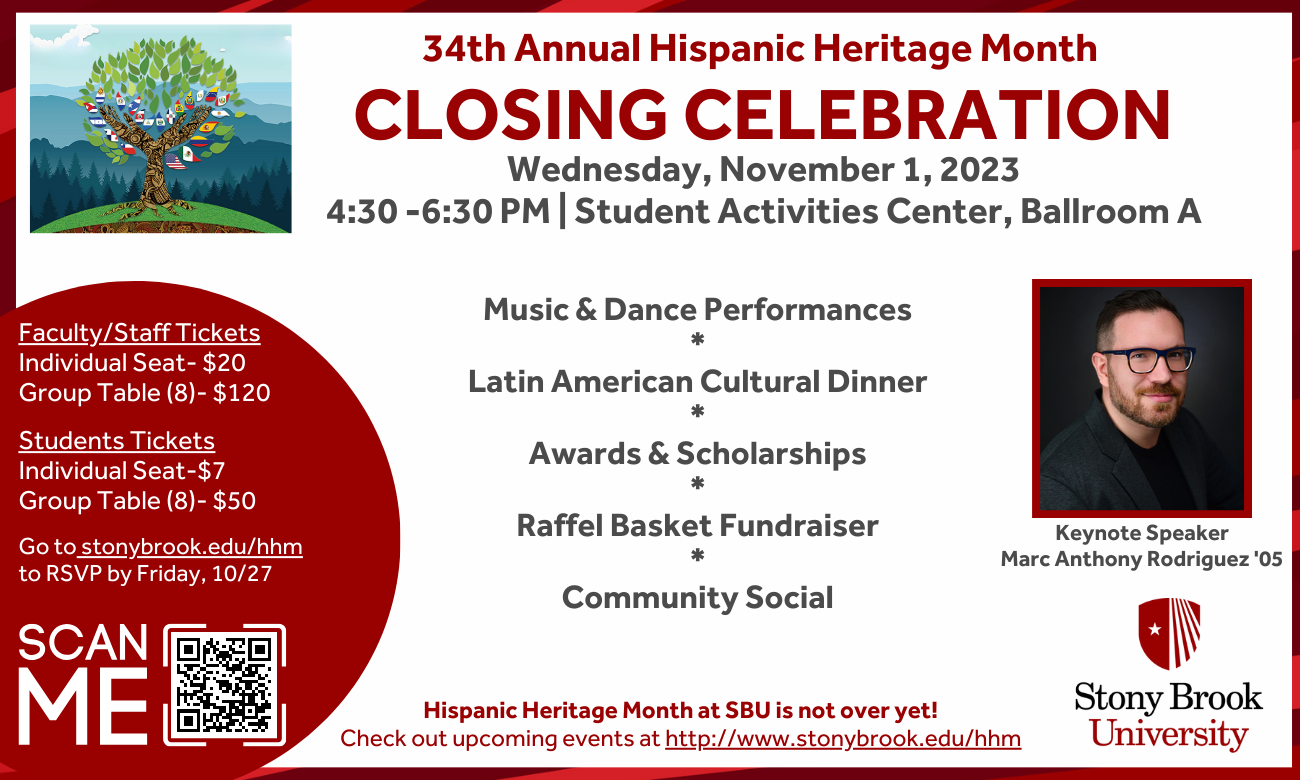 This celebration will include the presentation of awards and scholarships, performances, a Latin American traditional dinner, and a basket raffle fundraiser, as well as the featured Keynote Speaker, Marc Anthony Rodriguez '05, Co-Founder and Chief Operating Officer of VoxPop Games, Inc. 
Where to Buy Department Tables:  Please consider buying a department table for your staff and students. If your department is unable to attend, but would still like to purchase a table for students, please reserve a table using the HHM Closing Celebration Dinner- RSVP Formby Friday, October 27th.  All checks are made payable to Hispanic Heritage Month.  To make payment via P.O. or Journal Transfer, Reference State Account: # 91007300 or FSA Account: # 726.  For any questions please contact Dorothy Corbett via email: dorothy.corbett@stonybrook.edu
Come enjoy  a traditional dinner as we celebrate and recognize the achievements and contributions of Faculty, Staff, and Students.  Event is open to all.