Skip Navigation
Letter from President Samuel L. Stanley Jr., MD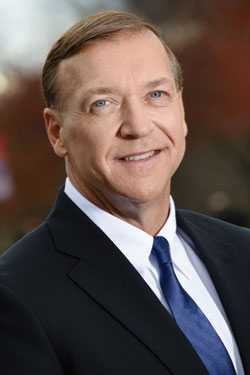 Welcome to Healthier U!
Healthier U is a new employee wellness program that will combine the unique talents and abundant resources found throughout Stony Brook University to offer an innovative and comprehensive wellness program for all university employees. This exciting initiative is designed to address our employees' total well being — mind, body and spirit. The goal of this program is to create a happier and healthier university workforce by educating, encouraging and, ultimately, facilitating healthier lifestyle choices.
This initiative began with a survey in which more than 600 employees indicated a great interest in having an employee wellness program and the potential benefits it could offer. We are pleased to kick off this program with the launch of the Healthier U Walking Club and the Healthier U Web site, which will serve as the information resource center for all university and local wellness activities.
I have charged a diverse group of professionals throughout the University community to serve on the Healthier U Committee. The committee members will work collaboratively to research, evaluate and implement the best wellness program practices that Healthier U can adopt, develop and offer campus employees.
As a physician, the Healthier U initiative is particularly important to me. I have seen the negative consequences that stress and other life challenges, caused by professional and personal obligations, can have on a person's overall well-being. The impact of these consequences is even more dramatic within workforce environments in which there are no accessible opportunities for healthy lifestyle education and practice.
I am proud to support this program, which is sure to promote a healthier campus community. I encourage you to take advantage of all that Healthier U has to offer and to continue to give us your feedback and ideas to help this program grow. A healthier university begins with a Healthier you!
Samuel L. Stanley Jr., M.D.
President