Skip Navigation
FAQs for State and Local Government Lobbying and Gifts


Who can lobby on behalf of Stony Brook University (SBU) and Stony Brook Medicine (SBM)?
Executive officers, deans, senior directors, state relations staff, student leaders, and any designated faculty or staff approved by Stony Brook's Office of Government and Community Relations are authorized to lobby on behalf of the University and Hospital.
What do state and local lobbying activities include?
Communication (in person, written or by phone) with any state or local elected official, staff, or agency personnel with the attempt to influence government decision-making. Legislative Law Article 1-A, also known as the " Lobbying Act ," requires the registration and reporting of individuals and organization that either spend, or anticipate spending, more than the lobbying threshold on efforts to influence certain government activities including legislation, executive orders, regulations, and governmental procurements. Stony Brook University and Stony Brook Medicine meet this threshold.
Activities NOT considered New York State or local government lobbying: 
Testimony at a public hearing unless you are speaking for/against legislation
Submitting a bid or proposal
Factual information in response to an inquiry by a public official
Do I have to report state and local lobbying activities?
Yes. Unlike federal lobby law reporting requirements, it's easy to meet the minimum requirements of state and local lobby law reporting.  ANY individual who performs state or local advocacy on behalf of SBU must report their time and expenses. Expenses include compensation for the individual lobbyist, support staff, reimbursed travel expenses, phone calls, photocopies, faxes, postage, development and maintenance of advocacy website, advertisements with advocacy message, and any other expenses incurred to support the advocacy effort.
What are the gift rules for state and local elected officials and staff?
State and local officers and employees generally are prohibited from soliciting or accepting gifts of more than  "nominal value" from individuals and entities that do business with the State. "Nominal value" is not specifically defined. JCOPE will generally consider something that has a fair market value of $15 or less to be of nominal value.
What is a gift? What is not a gift?
JCOPE will generally consider something that has a fair market value of $15 or more to be a gift.  A gift includes, but is not limited to, money, services, loans, travel, lodging, meals, refreshments, entertainment, forbearance (agreeing to change the terms for repayment of a debt), or a promise having a monetary value.
Do state and local elected officials and their staff have to pay for tickets to SBU events?
State and local elected officials and their staff may not have to pay for a ticket to an SBU event if the event is considered a widely attended event . A widely attended event has in attendance at least 25 people other than elected officials and their staff, and is open to individuals from throughout a given industry or profession. The invitation must come from the event's sponsor (contributors are not sponsors); AND the attendance must be related to the person's official duties . A widely attended event includes a reception, convention, conference or briefing. There is no limit on the cost of the meal as long as it is not lavish, unsolicited and from the sponsor of the event. They may also attend receptions offering "food or refreshments of nominal value."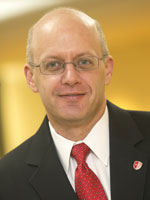 FOR QUESTIONS CONTACT:
Michael Arens
Asst. Vice President of Government and Community Relations
Stony Brook University
Desk: 631.632.6624
Cell: 631.682.3629