Skip Navigation
Eligibility Requirements
Applications for EOP/AIM are processed through the Office of Admissions. Applicants must qualify both academically and economically under the specified guidelines. To be eligible for consideration, applicants must meet the following criteria:
Eligibility
To be eligible for admission to EOP you must be: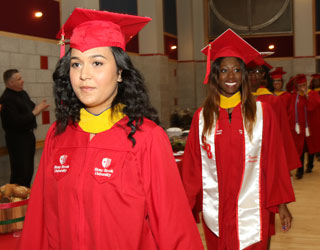 A New York State resident for 12 months prior to enrollment.
Ineligible for admission under traditional standards, but demonstrate potential for completing a college program; and
In need of financial assistance within legislated income guidelines. In selecting students for the program, priority is given to applicants from historically disadvantaged backgrounds. If in the year prior to enrollment your family income falls within EOP guidelines due to unemployment, separation, divorce or death of a parent, etc., you may still not qualify for EOP if you are not from an historically disadvantaged background.
Be a U.S. citizen or a permanent resident.
Have received a New York State high school diploma or its equivalent.
Meet the Income Guidelines specified in the column below (priority will be given to "applicants from families characterized by historical, educational, economic and cultural disadvantagement").
Freshman Academic Guidelines
Must complete three years of high school science and three years sequential math, minimum grade point average of 82, satisfactory scores in either the SAT or ACT.  NEW SAT (March 2016 and later) total score of 980 (minimum Reading Test score of 25 and Math Test score of 24.5).  ACT Composite Score of 19 (minimum scores of 19 in English and Math).
Required Records
As part of the EOP admission process, your high school record and test scores (if needed) will be reviewed, as well as information about clubs, hobbies, jobs and any other experiences which made an impact on your education. This information will help college counselors evaluate your potential for success in a college program.
Transfer Academic Guidelines
A 2.8 grade point average AND a minimum of 18-24 academic credits at another accredited institution.
Transfer students are eligible for admission provided they have been enrolled in EOP, College Discovery, HEOP (Higher Education Opportunity Program), SEEK (Search for Education, Elevation and Knowledge) or a similar academic and financial support program at your previous college.
ECONOMIC ELIGIBILITY REQUIREMENTS
The table below lists the income guidelines for EOP admission for the 2017-18 academic year. For each additional family member beyond 8, add $7,696.
| Household Size | Income |
| --- | --- |
| 1 | $22,311 |
| 2 | $30,044 |
| 3 | $37,777 |
| 4 | $45,510 |
| 5 | $53,243 |
| 6 | $60,976 |
| 7 | $68,709 |
| 8 | $76,442 |
Income Guidelines Do Not Apply If...
The student's family is the recipient of Family Assistance or Safety Net payments through the New York State Office of Temporary and Disability Assistance or through a county Department of Social Services; or of Family Day Care payments through the New York State Office of Children and Family Assistance or a county Department of Social Services;
The student lives with foster parents who do not provide support for college and the student's natural parents provide no such support;
You are a ward of the state or county.
For more information, please visit Financial Aid.