Skip Navigation
For Prospective EOP/AIM Students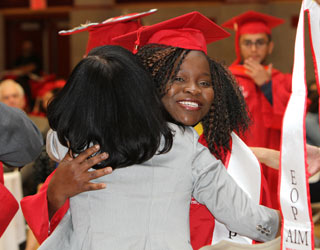 What is EOP?

EOP is the abbreviation for the Educational Opportunity Program of the State University of New York. The Educational Opportunity Program was created by the New York State Legislature "to provide, in part, educationally-related supportive services and supplemental financial assistance to those students whose educational and economic circumstances have limited their post-secondary educational opportunities."
Only students who have demonstrated the potential to graduate are admitted to Stony Brook through EOP.
What is AIM?
AIM is the acronym for the Advancement on Individual Merit program of the University at Stony Brook. AIM is the campus name for EOP. In order to reduce confusion and to maintain tradition, the Educational Opportunity Program at Stony Brook is referred to as the EOP/AIM.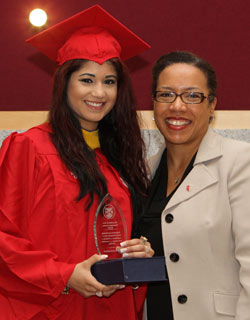 EOP/AIM Pre-Freshman Summer Academy
This five-week summer program of intense academics is an integral part of the EOP/AIM program at Stony Brook. All EOP/AIM students are expected to earn a minimum cumulative grade point average of 2.0 during the summer program. The program provides a richly rewarding academic experience for participants. The courses of study are Mathematics, Africana Studies, Philosophy and Writing.
Some students enter the summer program with apprehension, perhaps because they would prefer to stay home and work. However, most students look back over the five weeks and realize the enormous academic and social benefits they received from the summer program experience. These benefits carry over into the academic year. Our research shows that summer program participants tend to perform better than non-participants.
Summer Program Cost: The program is free of charge to participants, and includes housing, food, and books.
The 2018 Summer Academy will run from Sunday,  July 8 through Friday, August 10, 2018.
Program Staff
The program staff throughout the academic year consists of one director, six counselor/academic advisors, one office manager and one secretary. In addition to the regular staff, summer program staff includes student residential peer advisors, teaching assistants and adjunct instructors.
Mandatory Meetings
All summer program participants are assigned a counselor, who meets with them during the summer. These meetings provide an opportunity for students and counselors to become better acquainted and to establish working relationships. It is also an ideal time for students to get answers to questions about financial aid, course selection, housing and so on.
Students remain with the same counselor throughout their stay at Stony Brook, unless personnel changes dictate otherwise. Each semester students schedule individual appointments with their counselor during four mandatory counseling periods. These meetings provide an opportunity for intensive academic advising and career counseling, financial aid monitoring, and personal interaction. Most students seek out their counselor between mandatory meetings to solve problems as they arise.
Spring 2018 Mandatory Meeting Dates
Mandatory I: Monday, January 22 - Friday, February 2, 2018
Mandatory II: Monday, February 5 - Friday, February 23, 2018
Mandatory III: Monday, March 3 - Friday, April 13, 2018
Mandatory IV: Monday, April 23 - Friday, May 4, 2018
The EOP/AIM Office
The EOP/AIM office is located in the Frank Melville, Jr. Memorial Library (main library) on the third floor in room W-3520. The office is open from 9 a.m. to 5 p.m. daily. The telephone number is (631) 632-7090. The fax number is (631) 632-7153.