Skip Navigation
Source: Nationalgrid.com  https://www.nationalgrid.com/stories/community-spirit-stories/inside-track-internships
We spoke to two of our US interns, who we call Gridterns, to get their tips on how to land an internship, why they think interning is a great way to learn on the job and how the experience they're gaining will help them in their future careers.
On   World Youth Skills Day  we asked our Gridterns to give us the inside track on interning with National Grid, including advice on how to apply for an internship and the benefits they've gained during their time working with our teams in New York.
 
"A great way to get your foot in the door"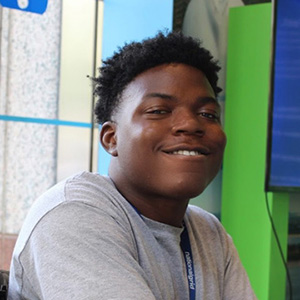 Abdulhazeez Adeniji, 21, is studying chemical engineering, minoring in energy science and technology at Stony Brook University. Originally from Queens, New York, he is interning with the   Sustainability Hub, a community partnership focused on developing a local green economy and delivering smart energy solutions that benefit customers. When he graduates, he's hoping to become an engineer at National Grid's plants.
Q. How did you become a National Grid intern?
A. Last year, one of my friends had forwarded the opportunity for the Sustainability Hub Internship at Brooklyn. I always wanted a job in the energy industry, so I felt like it'd be a great way to get my foot in the door. I was excited when I got the opportunity. I came back this summer because I absolutely loved the culture here and hope to work here in the future.
Q. Why did you want to do an internship?
A. I wanted to do an internship to gain experience in a work environment. I hope to learn a lot about National Grid, from the business side to operations. I also want to use the internship to make as many connections as possible.
Q. What tips would you give about making a successful application for an internship?
A. Deadlines; deadlines are important, so make sure you give yourself at least a week to finish whatever is needed to complete the application. Ensure that your resume has been updated and reviewed. Make sure you prepare adequately for your interview.
Q. What's different about this year's internships?
A. One major difference between last year's and this year's internship is the location; unlike last year, this year's internship is virtual. It's been great seeing how the program has done such a good job to ensure that Gridterns get the best out of the internship.
Q. What have been the high points of your internship?
A. So far, the high point of the internship was speaking to my assigned mentor. I think that giving us mentors was an amazing idea. I was able to bond with a fellow chemical engineer and ask him questions.
Q. What will you take away from your experience into your future career?
A. The ability to work as a team, communicating with fellow co-workers, always asking questions and knowing that most people are willing to work.
Q. What three reasons would you give to do an internship?
A. Experience, connections and knowledge.