Skip Navigation
As new manufacturing center rises, AERTC's Orlov sets lasers to stun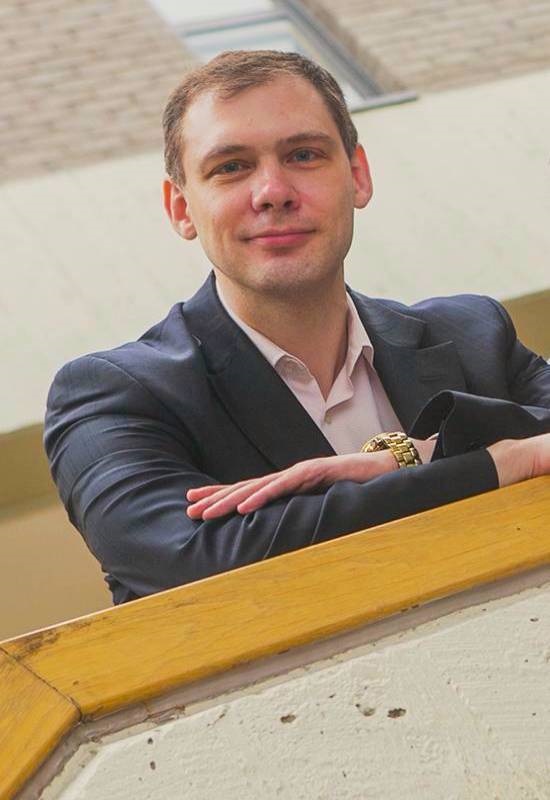 Next-level laser manufacturing – using energy beams not to cut, but to alter materials at molecular levels – is in Stony Brook University's sights.
In fact, it's coming soon, when SBU's new Center for Laser Manufacturing becomes a tenant of the new $60 million Stony Brook Innovation and Discovery Center (IDC), rising alongside the Center of Excellence in Wireless and Information Technology and the Advanced Research & Technology Center (AERTC).
Leveraging $1.5 million in fresh New York State funding, the new laser center will fit right in at the IDC, according to Alexander Orlov, an associate professor in SBU's Materials Science & Chemical Engineering Department.
The good doctor, a familiar face at the AERTC, should know. His startup, AERTC resident Fluxion Technology, focuses on new battery performance and safety designs, while his NanoEnergy Technology Laboratory, located within the AERTC, frequently explores new nanostructures and novel catalytic materials for environmental and energy applications.
Such pursuits often invoke laser tech – leading Dr. Orlov and fellow AERTC regular Dr. David Hwang, head of AERTC's Laser Solar Photovoltaic Laboratory, to petition Albany for a laser-center contribution.
"The new IDC will house a number of companies and faculty members, including the Center for Laser Manufacturing, which is dedicated to collaborating with industry," Dr. Orlov says. "It's a new chapter for manufacturing initiatives at Stony Brook, involving companies active in laser manufacturing."
These are familiar topics for the scientist, whose groundbreaking AERTC-based research into the development of novel materials – specifically for use in renewable-energy applications – has earned more than $4.5 million in state and federal grants.
Novel materials are at the heart of the laser-manufacturing evolution, which sees the high-intensity light beams growing beyond their precision-carving functions.
"In manufacturing, lasers were mostly used for cutting," Dr. Orlov notes. "If you have a piece of glass or metal, lasers can cut it to a particular shape.
"This has been around for a bit – but the new area for manufacturing is taking a laser and, instead of destroying material, modifying it," he adds. "You install new electrical, optical and mechanical properties."
The researcher found the perfect collaborator for the Center for Laser Manufacturing in Dr. Hwang, a fellow associate in SBU's Mechanical Engineering Department currently focused on advancing solar-cell technologies.
"My area is materials science, where we're characterizing the properties and structures and trying to understand how lasers can improve those properties," Dr. Orlov says. "The idea for this center is to capture some of the innovation happening at the university and elsewhere, and to help different companies solve their manufacturing problems."
When its doors open later this year, the Center for Laser Manufacturing will be stocked with an array of cutting-edge equipment, including optical instruments and other state-of-the-art gear donated by IPG Photonics, a Massachusetts-based manufacturer of high-performance fiber lasers and amplifiers for diverse industrial applications.
The center should be "ready to be occupied" by the fall, according to Dr. Orlov, a fellow of the UK Royal Society of Chemistry, Sigma Xi Distinguished Lecturer and winner of multiple U.S. National Academy of Sciences awards – as well as the SUNY Chancellor's Award of Excellence in Scholarship and Creative Activities, a 2017 American Chemical Society Award and more than 20 other teaching and research merits.
In addition to AERTC resident Fluxion Technology, the renowned researcher also founded SuperClean Glass, a client of the university's Clean Energy Business Incubation Program (CEBIP) that uses patent-pending transparent electrodes to clean solar panels, improving their efficiency. 
The advantages provided by the AERTC and CEBIP programs were instrumental to his entrepreneurial efforts, Dr. Orlov notes, and to the success that helped him land the state funding for the new laser-manufacturing center. 
"They provide mentorship and other business resources," he says. "They provide great working space and equipment and a lot of other support.
"And the AERTC was instrumental in supporting our funding applications."
(From: AERTC Newsletter, Winter 2020)