Skip Navigation
Campus Appreciation Day
May 4, 2022  •  12pm to 2:30pm  •  East Side Dining Boulevard
---
Strawberry Festival


East Side Dining Boulevard • 12pm to 2:30pm

Join us for a Campus Appreciation Day event from 12pm to 2:30pm at the Boulevard inside East Side Dining, which includes a free Strawberry Fest lunch sponsored by the President's Office!



Menu:
Pan Roasted Strawberry Glazed Shrimp on a bed of Broccoli slaw with Red Onion, Arugula and Jalapeño (Grilled Tofu available upon request)
Nachos with Citrus Strawberry Salsa
Smoked Pulled Chicken Mini Burrito with Strawberry Balsamic BBQ Sauce
Strawberry Shortcake frozen novelty bars
Strawberry Soda
To avoid overcrowding, students on a meal plan can enjoy Strawberry Fest at West Side Dine-In.
Diversity Day


SAC Auditorium • 12pm to 2:30pm

Diversity Day will be held inside SAC Auditorium with the music and activity/tabling beginning at 12pm and the performances beginning at 1pm.

Diversity Day brings individuals of different backgrounds together for a day of celebration and togetherness, sharing many dimensions of our heritages and lifestyles through music and dance performances, creative arts, and cultural trivia. Cultural student organizations and individual students will be performing at the Diversity Day Cultural Showcase!

Countdown to Strawberry Festival & Diversity Day
May 4, 2022
Strawberry Festival and Diversity Day Flickr album
Spring 2019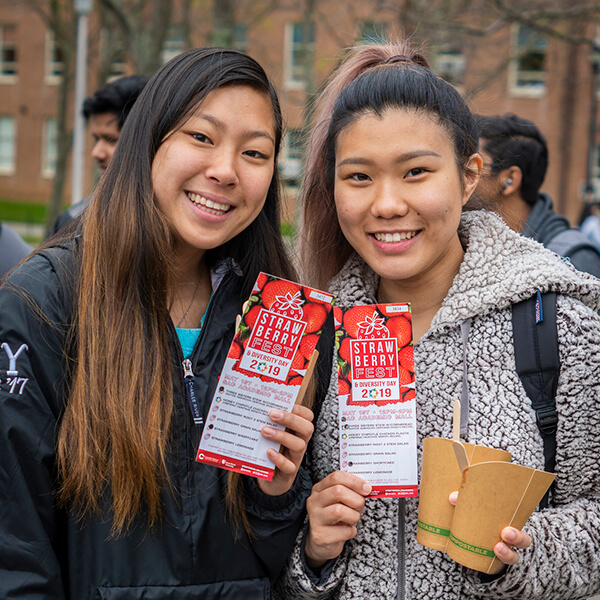 Strawberry Festival and Diversity Day video recap
Spring 2019