Skip Navigation
 CANDIDATE CHECKLIST
If you have questions regarding your academic status, please contact Registrar at 631.632.6175 or via email at  ug_graduation_west_campus@stonybrook.edu
For information regarding graduation applications and the awarding of degrees, please go to:  www.stonybrook.edu/commcms/registrar/graduation/graduation.html
If you require an accessibility accommodation for a ceremony, please call 631.632.1118.
Apply to Graduate and Register for Commencement
The deadline to Apply to Graduate on SOLAR  is Wednesday, April 17, 2019.
Apply for Graduation & Register for Commencement
*Candidates will now apply to graduate as well as register for the ceremonies of their choosing in one step on their SOLAR accounts. Please see sample screenshots of the process below.*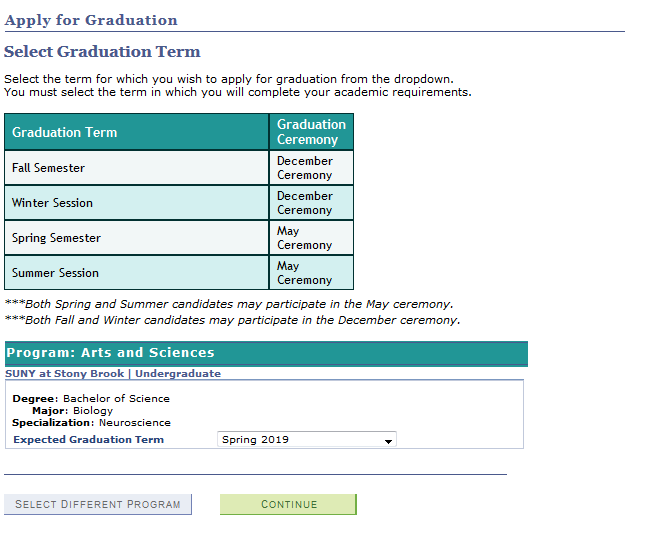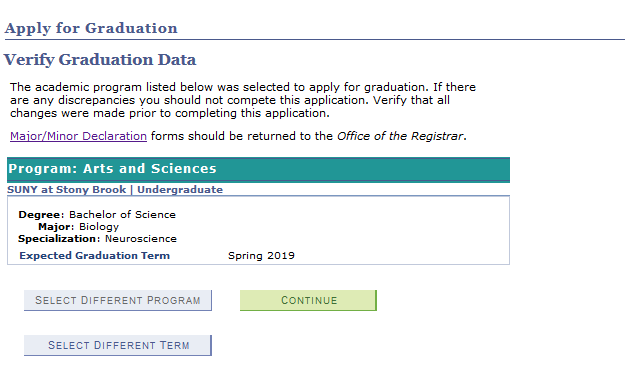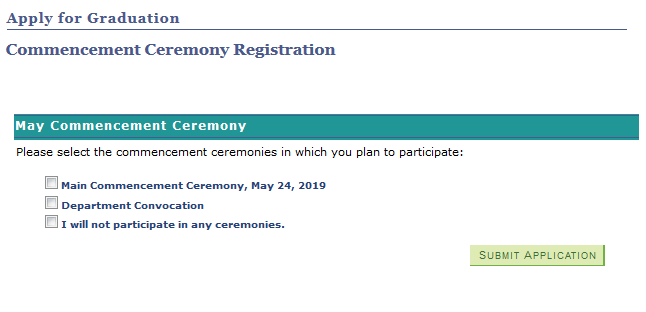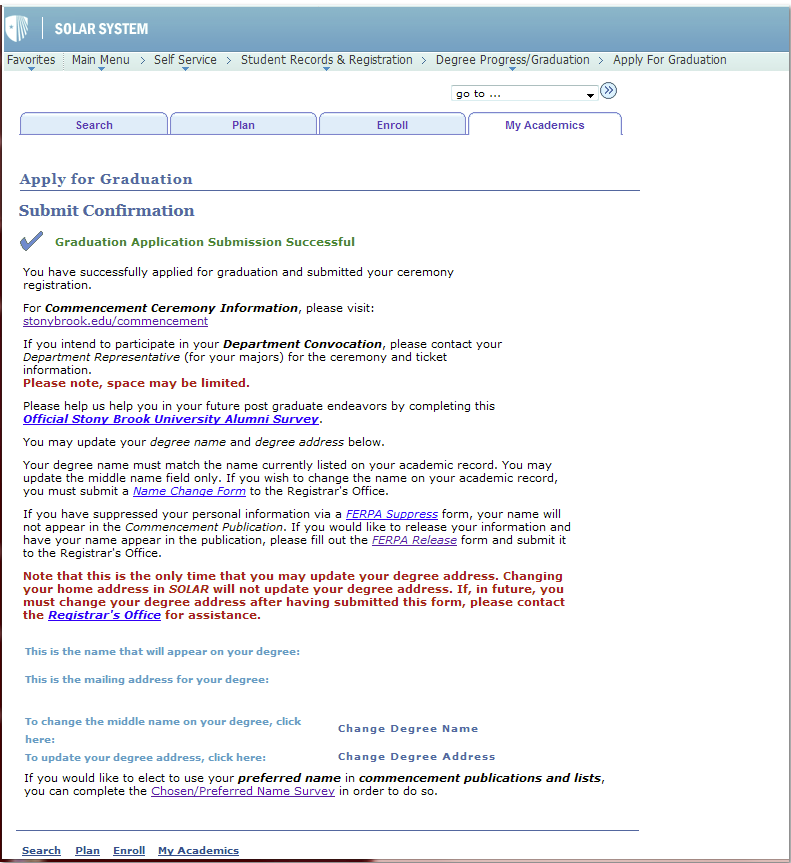 For further information, please visit the  Office of the Registrar.
PLEASE NOTE: Applying to graduate after this deadline WILL NOT guarantee that your name will appear in the printed Commencement program.
Senior Class Portraits
A portrait photographer from Thornton Studios will be on campus for your formal regalia portraits and professional head shots.
Schedule your appointment today!
Step One: Visit their website at www.thorntonstudio.com
  Step Two: Select 'Schedule Appointment'
  Step Three: Enter School Code:  02838
 For more information, please call 800-883-9449 Ext: 1758
PORTRAIT DATES
Charles B. Wang Center, Room 102
11 AM – 7 PM
Monday, April 15
Tuesday, April 16
Wednesday, April 17
Thursday, April 25
Friday, April 26
Monday, April 29
Tuesday, April 30
Thursday, May 2
Monday, May 6
Saturday Option: April 27 | 12 PM – 5 PM
There is no sitting fee and proofs will be viewable online!
Candidates will each receive one LinkedIn, thumbnail sized photo of their choice,
courtesy of the Alumni Association.
Portrait Tips and Tricks
Portraits are from the waist up. We recommend you dress as you would for a job interview or business portrait.
Long sleeves and solid colors look best!
Bring a comb or brush.
Check your nails; your hands will show in several poses.
For your convenience, Academic Regalia and Undergraduate Honors stoles will be provided by the portrait photographer.
You may bring your own University stoles and cords.
Questions?
Contact Thornton Studios at info@thorntonstudio.com using subject line: Stony Brook
Candidates are required to wear academic regalia to attend the University's Main Commencement, Doctoral Hooding Ceremony and Department Convocations.

 
Bachelors and Masters Candidates can purchase their academic attire  online!
Ship to Shop Red West | ONLINE DEADLINE: March 5, 2019
*Pick up for orders sent to the store begin on April 16th
Ship to Home | ONLINE DEADLINE: May 3, 2019
COST
Bachelors Regalia: $78.00 + Tax 
Masters Regalia: $84.00 + Tax 
Click here to order your regalia today!
Academic attire can also be purchased at Shop Red West beginning  Tuesday, April 16, 2019 up until the day of Commencement, May 24th.
---
  Doctoral Regalia is now available online! 
Order online until April 17, 2019
Candidates who do not order online before April 17, will need to visit Shop Red West or Shop Red East to obtain or order regalia.
Delivery & Returns
Candidates who order online by April 17 will be able to pick up their regalia beginning May 10 at Shop Red West.
All rented Regalia must be returned to Shop Red West or Shop Red East by May 31at 4:00 PM.
For further questions please call Shop Red West at 631.632.6543. 
Candidates who have applied to graduate and registered for the University's Main Commencement Ceremony by Wednesday, April 17 at midnight on SOLAR will recieve an email to their Stony Brook University account on  Monday, May 13 with access to the Online Ticket Portal. All Candidates will recieve (3) Guest Tickets to the University's Main Commencement Ceremony at that time. 
Tickets are now through the Athletics ticketing system. 
Steps to Accessing Tickets for University Commencement 
Create a new account using your @Stonybrook.edu email address

Follow all prompts (i.e. enter address, etc.)

Confirmation page

A confirmation email will be sent followed by a second email containing a PDF of your 3 guest tickets
*NOTE THAT YOU WILL NOT BE CHARGED FOR TICKETS. TICKETS ARE ALWAYS FREE.
Ticket holders must present a printed ticket to be scanned for entry. Tickets are unique by barcode and admit one. Duplicate tickets will not scan and will not provide entry into the Ceremony. Violations are subject to disciplinary action.
Attention, Graduates! 
Join us as we kick off our Commencement countdown with a two-day fair designed to assist you with in preparing for the big day. Find all the information you need for graduation and beyond. 

CEREMONY AND TICKET INFORMATION  ★   CAPS AND GOWNS  ★   GRADUATION PORTRAITS  ★   CLASS RINGS
CAREER SERVICES   ★   ALUMNI ASSOCIATION  ★   SENIOR CLASS GIFT

  TWO DAYS ONLY
April 16, 2019 & April 17, 2019 
11 AM - 6 PM
Shop Red West, Lower Level, Melville Library
★ ★ ★
University's Main Commencement is Friday, May 24, 2019 at 11 AM  
Department Convocations Schedule
Day of Commencement Information
Commencement Brunch

 
All-you-care-to-eat Commencement Brunch featuring Nutella banana crepes, egg boats, carving station, Chef's Table, full salad bar, pancake sampling, assorted fresh baked specialties, and much more. Students may use meal plan or Wolfie Wallet at the door on the day of the event.
Where:
  East Side Dining Dine-in
When: May 24, 2019 from 12:00 PM - 4:00 PM
Candidates with International Guests
Candidates with International Guests 
International students or domestic students wishing to invite international family, please visit:
Visa and Immigration Services 
Stony Brook University 
E5310, Melville Library 
Stony Brook, NY 11794-3393
Telephone: (631) 632-4685
Fax: (631) 632-7064
Email: VIS@stonybrook.edu

Pay it forward. Start your legacy. Be recognized.
Join other students from this year's class by making your senior class gift online today at seniorclasslegacy.stonybrook.edu