Skip Navigation
Student Competitions 
Every year, ASCE sponsors two student-led competitions, the concrete canoe and steel bridge competitions.  Stony Brook's ASCE chapter has established a concrete canoe club - anyone can join, so long as they are also a member of the  Stony Brook ASCE chapter.
Concrete Canoe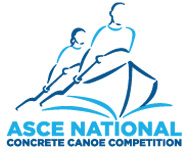 ASCE Student Organizations have been involved in constructing and racing concrete canoes on the local and conference level since the early 1970's. The first National Competition came to fruition in the summer of 1988 after almost two years of discussion between representatives from the American Society of Civil Engineers (ASCE) and Master Builders, Inc. 
Each spring, the ASCE Metropolitan (Metro) Conference is held at a student chapter in the New York/New Jersey Metropolitan Area.  Winners from the regional competitions advance to the National Competition.  Stony Brook University's ASCE Concrete Canoe Team is excited to compete in the regional competition with the chance of advancing to Nationals!
Steel Bridge Competition
The ASCE Student Chapter is currently looking for students interested in establishing the steel bridge club, please reach out to Ms. Kaitlin Brown ( kaitlin.brown@stonybrook.edu) for more information.