Skip Navigation


IRACDA Scholar: Beatriz Otero Jiménez, Ph.D.
Beatriz Otero Jiménez                                                               
PhD: Ecology and Evolutionary Biology, University of Michigan, Ann Arbor, MI
NY-CAPS Placement:  Department of Ecology and Evolution & Institute for the Conservation of Tropical Environments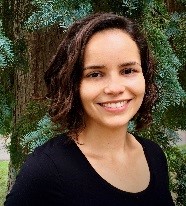 Email:  beatriz.oterojimenez@stonybrook.edu 
Beatriz fell in love with nature growing up and exploring the island of Puerto Rico. She completed my undergraduate degree in Environmental Sciences and Integrative Biology at the University of Puerto Rico. Where she worked with frogs and birds in tropical landscapes. For her graduate degrees she attended the University of Michigan where she was trained in molecular techniques and their applications to study populations. In her research she became  interested in exploring the responses of wildlife populations to environmental changes, especially at the genome level.   She is also interested in sustainable agriculture, food sovereignty and food justice. As a graduate student she fell in love with teaching and this made her be active in K-12 science education and outreach, and diversity, equity and inclusion.
  Why I chose to join IRACDA NY-CAPS:  I am passionate about inclusive and equitable education and wanted a postdoctoral opportunity that would allow me to keep growing as both an educator and a researcher.