Skip Navigation
IRACDA Scholar: Tracy Callender, Ph.D.
Tracy Callender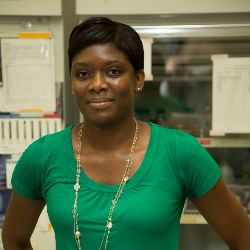 PhD: Molecular and Cellular Biology, Stony Brook University
NY-CAPS Placement: Department of Biochemistry and Cell Biology, Hollingsworth Lab
NY-CAPS Research Mentor: Dr. Nancy Hollingsworth
E-mail:  tracy.callender@stonybrook.edu
Tracy Callender earned her B.A. in Biological Sciences from Hunter College, City University of New York (2003), where she was an MBRS-RISE Scholar. In 2010, she completed a Ph.D in Molecular and Cellular Biology from Stony Brook University, where she was a Dr. W. Burghardt Turner Fellow.  Her mentored research activity is in the Biochemistry and Cell Biology department at Stony Brook University, in the laboratory of Nancy Hollingsworth.  Tracy is specifically interested in reproductive biology and understanding the mechanisms underlying meiotic recombination and chromosome behavior. The goal of her current research uses genetic and biochemical approaches to investigate the function of several meiosis-specific proteins, one of which is a small inhibitory protein, Hed1, known to interact with the widely conserved RecA-like recombinase, Rad51, in creating a template bias for DNA repair in meiosis. Tracy is also passionate about teaching and mentoring students from underrepresented communities in hopes of increasing their awareness and interest in science and research.
Why I chose to join IRACDA NY-CAPS 
IRACDA has allowed for the opportunity to get valuable teaching experience and training, therefore allowing me to achieve my goals as a science educator, while being a postdoctoral fellow and continuing with an active research program. The program also will allow for many opportunities to network with scholars and faculty all over the country.
Back to Who's who page