Skip Navigation


IRACDA Scholar: Kaitlyn Koenig Thompson, Ph.D.
Kaitlyn Koenig Thompson                                                             
PhD: Molecular and Cellular Pharmacology, Stony Brook University
NY-CAPS Placement:  Department of Pharmacological Sciences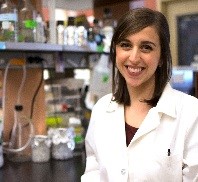 Email:    kaitlyn.koenig@stonybrook.edu 
Kaitlyn obtained her Bachelor's degree in Chemistry from Quinnipiac University and went on to attend Stony Brook University for a Master of the Arts in Teaching. After teaching high school Chemistry for a year, her desire to incorporate both scientific research and science education into her career led her back to school to obtain a Master's in Environmental Toxicology from NYU. She then pursued her Ph.D. in Molecular & Cellular Pharmacology at Stony Brook University in the lab of Dr. Stella Tsirka. Her doctoral work focused on the pharmacological manipulation of microglia (the immune cells of the brain) for the treatment of multiple sclerosis. Under the continued mentorship of Dr. Tsirka, Kaitlyn is now transitioning to a project that will explore the role of microglia in breast-to-brain metastasis. 
Why I chose to join IRACDA NY-CAPS: I have always been passionate about science education at all levels and as my love for both research and teaching continued to evolve I came to realize that undergraduate education is my ideal career. The IRACDA NY-CAPS program is a perfect postdoctoral experience to prepare me to be an effective undergraduate educator through pedagogical training as well as balance the demands of conducting research and teaching courses through in-class experiences.