Skip Navigation
IRACDA Scholar: Gretchen Y. López-Hernández, Ph.D.
Gretchen Y. López-Hernández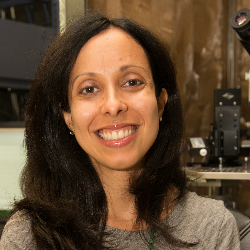 Education: PhD in Biology from University of Puerto Rico, Rio Piedras
Current NY-CAPS Research Placement: Department of Neurobiology and Behavior, Role Lab
NY-CAPS Research Mentor: Dr. Lorna Role
E-mail:  gretchen.lopez@stonybrook.edu
Gretchen earned her B.S. and Ph.D. degrees in Biology from the University of Puerto Rico. As a graduate student under the guidance of Dr. José A. Lasalde-Dominicci she studied the molecular basis for nicotine-induced up-regulation of nicotinic acetylcholine receptors (nAChRs). She then undertook a more pharmacological approach and continued to study nAChRs in the lab of Dr. Roger Papke at the University of Florida. To further pursue her growing interest in cholinergic modulation of synaptic mechanisms and circuit activity in normal and in neurodegenerative conditions, Gretchen joined the Role lab at Stony Brook University in 2010. The goal of her current work is to examine the effects of endogenously released acetylcholine (ACh) on excitatory and inhibitory synaptic inputs to brain areas associated with cognition. Her studies use optogenetic and electrophysiological approaches in transgenic mouse lines to specifically label and activate cholinergic neurons and their projections, and to evaluate the effects of ACh release on synaptic transmission and plasticity in both normal and pathological conditions. The ultimate goal of her work is to contribute knowledge that will aid in the development of novel therapies for the treatment of neurological disorders. As an IRACDA scholar, Gretchen is focusing on extending both her research and teaching training, which will enable her to contribute to the recruitment and training of students from underrepresented minority groups interested in pursuing science careers.
Why I chose to join IRACDA NY-CAPS
As a native Puerto Rican, I identify with IRACDA NY-CAPS' initiative of promoting diversity in the biomedical sciences workforce. I feel compelled to contribute to its mission by being an example to members of my community and by engaging students from underrepresented minority groups to actively participate in biomedical research. IRACDA NY-CAPS provides excellent professional development skills, scientific and teaching mentoring that ultimately will be instrumental in my success as an independent researcher.
Back to Who's who page