Skip Navigation
IRACDA Scholar: Emmanuel Asare, Ph.D.
Emmanuel Asare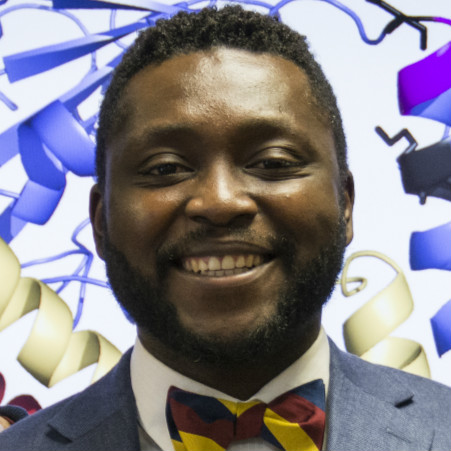 PhD: Genetics, Stony Brook University
NY-CAPS Placement: Department of Genetics
E-mail:  Emmanuel.Asare@stonybrook.edu
Link:  https://www.stonybrook.edu/commcms/cie/ciestudentspotlight/easare2015
Emmanuel Asare was born in Ghana and migrated to the Bronx, NY. He attended Clarkson University, where he graduated from the honors program with a B.S. in Biology. He was awarded the Bridges to Doctorate fellowship to the Genetics program at SUNY Stony Brook in New York, for his PhD. In his undergraduate summers, he participated in REU programs at Fordham University, Clarkson University (McNair), and the American Museum of Natural History. Dr. Asare's graduate work focused on the morphogenesis and encapsidation of poliovirus, particularly on the role of non-structural protein 2CATPase in those processes. He currently transitioning his study from genetics to the broader behavior of the viral proteins during infection. Dr. Asare's current research focuses on the localization and migration pattern of poliovirus capsid proteins during infection. Poliovirus belongs to the Piconarviridae, which are socioeconomically important family of small positive stranded RNA viruses that infects both humans and animals. Poliovirus's infectious viral RNA molecule is protected by a protein shell that is expressed along with viral replication enzymes on a single polyprotein, which are separated via cleavage into mature proteins after translation. To further study the role of the structure and non-structural components of the polyprotein, he will use super-resolution microscope (SIM) to study the localization and migration patterns in great detail. To accomplish this, he will utilize cell lines that expresses poliovirus structural protein along with poliovirus replicon RNA that has all the replication protein and a reporter protein. Emmanuel is currently being advised by Dr. Eckard Wimmer, a distinguished Professor in the department of Molecular Genetics and Microbiology, and a world renowned Enteroviruses expert.
Why I chose to join IRACDA NY-CAPS
I have always enjoyed teaching science at the undergraduate level. However, I observed two different teaching styles from my undergraduate and graduate institutions that varied greatly. I appreciate the preparatory components of the IRACDA NY-CAPS program, via pedagogy courses and in-class experiences. I hope to learn the science and acquire the training that would prepare me for any institution I choose to teach here after.
Back to Who's who page