Skip Navigation
Welcome Tianchi!
热烈欢迎莫天池同学来到石溪大学!
           On August 9, 2018, Tianchi Mo and his father arrived at JFK airport at 5 am. The China Center at Stony Brook University and volunteers from the Chinese Students and Scholars Association were on hand to offer positive assistance and a warm welcome for their arrival, as well as transport them to campus. Upon arrival at Stony Brook, Campus Residences had already completed their check in procedures, helped them carry luggage, and arranged their room according to Tianchi's needs.  Additionally, Stony Brook prepared a welcoming breakfast for Tianchi and his father at the Simon Café to introduce them to Stony Brook's campus and familiarize them with the university.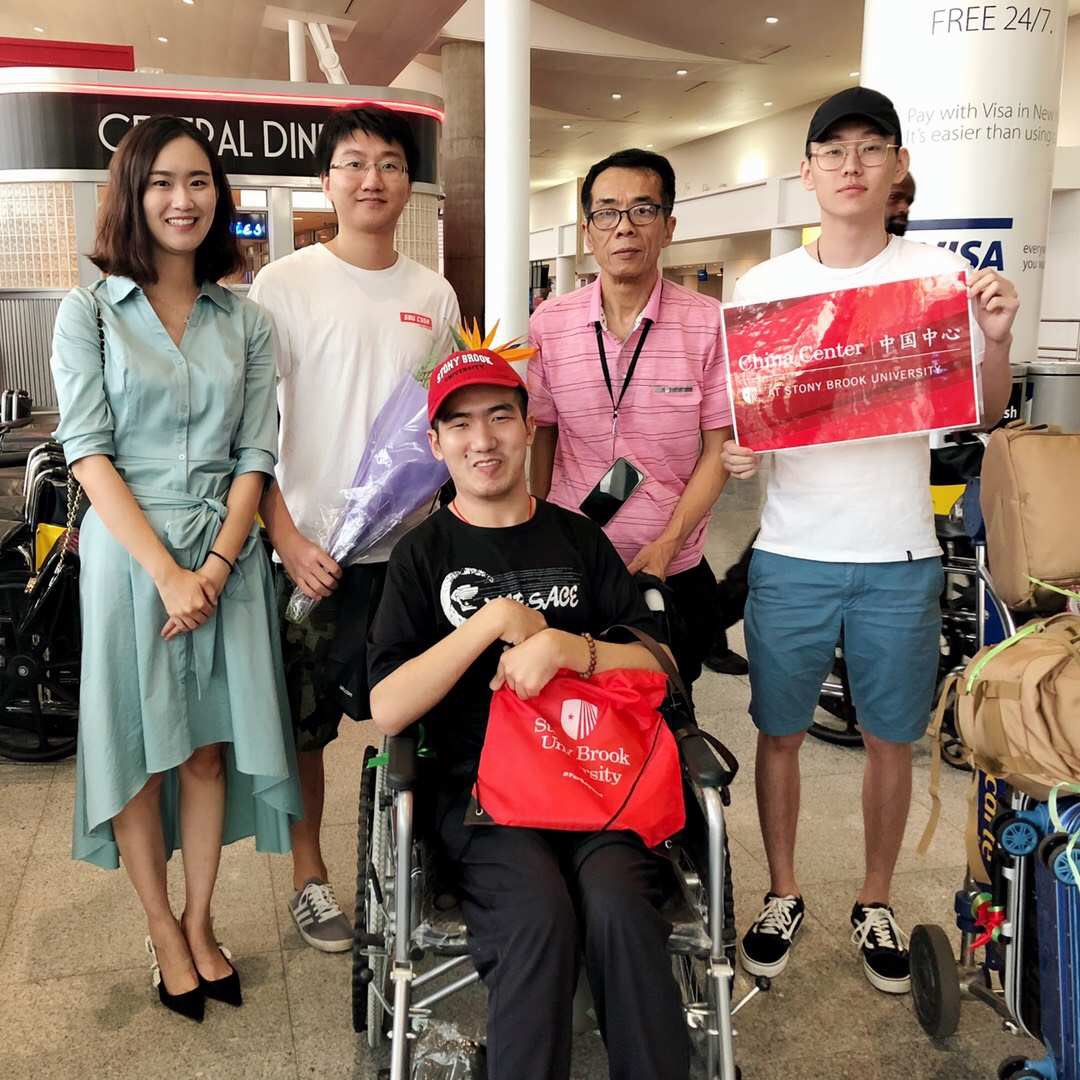 Stony Brook's Vice Provost for Global Affairs, Dr. Jun Liu also arrived at the dorm to welcome Tianchi and his father, and discussed Tianchi's academics, daily life, and needs. Upon understanding Tianchi's needs, Dr. Liu immediately organized various offices in the university to assist Tianchi with any challenges he may face.
          University offices are actively working to provide support to Tianchi during his studies at Stony Brook.  He has been placed in an accessible dorm and advised on the special purpose shuttle that will aid him in his daily commute. The Student Accessibility Support Center arranged a dedicated advisor for Tianchi to counsel him on his academics and daily life, and has also arranged staff to help him with notes and other academic activities.
           Tianchi and his father were deeply affected by the warmth and support from Stony Brook's staff. Being the first time in a foreign country, they felt surprised and moved by the care and assistance everyone offered.
           The China Center will continue to update on Tianchi's life and academics.
           2018年 8月 9日,莫天池同学和他的父亲早上 5点抵达纽约肯尼迪机场。石溪大学各个部门对于莫天池父子的到来给予了热烈的欢迎和积极的帮助,石溪大学中国中心特意派工作人员,与中国学生会 CSSA志愿者们一起来到机场,迎接莫天池父子的到来,并为其提供免费的接机服务;到达校园后,宿舍的工作人员已经为他们准备好了入住手续,帮助他们搬运行李,并根据他们的需要重新调整了卧室布局。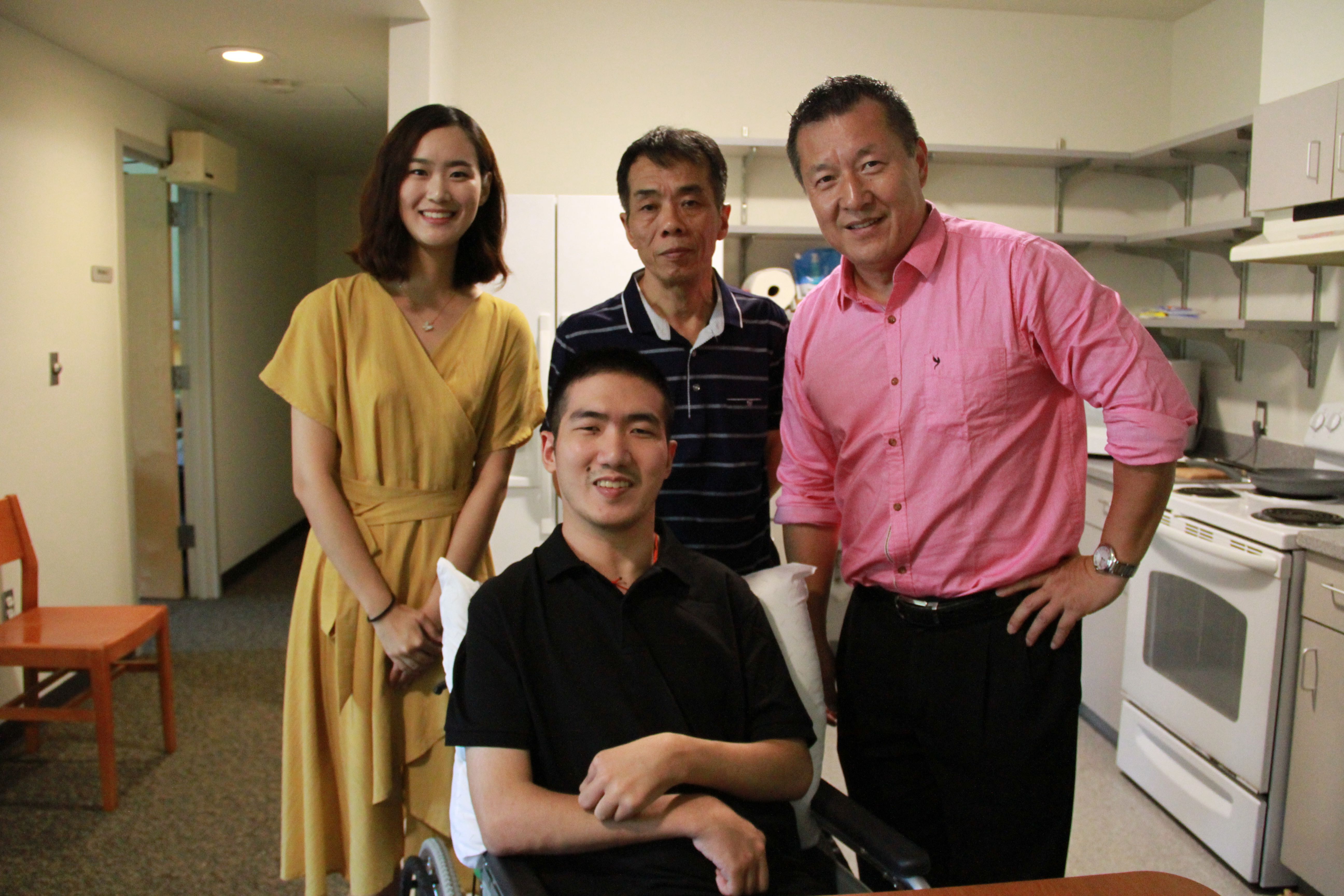 学校为天池同学专门提供了无障碍宿舍,为了方便他的出行,还提供了专门的校车负责日常接送;学生服务中心为他配备了专门的指导老师,为他提供学习和生活方面的专业指导;因为他特别的身体情况,学校还会派专员来帮助他记录学习笔记及处理其他学业方面的事项。
           学校特意为天池和他的父亲在 Simons Center 准备了欢迎早餐,并为他们简单介绍了学校的概况,帮助他们尽快熟悉学校的环境。
           石溪大学主要负责国际事务的副校长刘骏教授也在第一时间来到宿舍,迎接莫天池父子并与其在生活、学习各方面的情况进行了深入沟通,在了解到了天池父子面临的各方面的困难后,马上组织学校各部门进行协调,帮助他们解决生活和学习上遇到的问题。
            天池父子在石溪深深地感受到了学校各方的热情和支持,第一次来到异国他乡,能得到这么多好心人的帮助,他们感到十分惊喜与感动。
           石溪大学中国中心会持续为大家更新天池同学在石溪大学的生活和学习情况。