Skip Navigation
About Tianchi
          Tianchi Mo was born in October 1990, in Changsha, Hunan Province. Seven days after birth, milk blocked his airways, causing permanent brain damage and paralysis. However, Tianchi's misfortunes did not leave him defeated, and his adversities taught him to grow stronger. Tianchi was rated as one of the top students in Changsha. He graduated junior high school in 2007, and secured a place in Normal University High School, affiliated with a top Chinese university. In 2010, Tianchi achieved top scores on the Gaokao Chinese university entrance exam score, and was accepted to Central South University. At CSU he ranked second place in his major, and was recommended for the Master's program in Software.
          Upon completing his Master's in 2018, Tianchi began applying to PhD programs in the U.S. and Canada.   He received full scholarships in Computer Science at Stony Brook University and the New Jersey Institute of Technology, as well as admission to top programs at Boston University, the University of Washington, SUNY Buffalo, and the University of British Columbia.
          This April Tianchi announced that he would attend Stony Brook during the University's Admitted Student Information Session in Guangzhou, China.  His choice reflected the support and outreach he had already received from Stony Brook, including that of the Office of Global Affairs and Division of Student Affairs, who offered support in securing his father a U.S. visa and helping him and his father settle in Stony Brook. During the Information Session, Tianchi received an additional $8,000 scholarship from President Stanley to show the University's commitment, support, and care for diversity.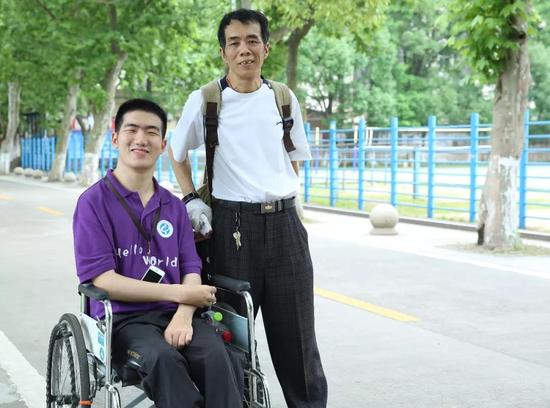 莫天池,1990年10月出生,湖南长沙人,中共党员。在他出生第7天,因牛奶堵塞呼吸道窒息罹患脑性瘫痪,先天性运动神经受损,从小就只能在轮椅上生活。但不幸的遭遇并没有打倒天池,反而让他在逆境中变得更加坚强。上学后,他很争气,年年是学校三好学生、长沙市三好学生;2007年初中毕业,他以10个A的成绩保送师大附中;2010年高中毕业,以604分的成绩被中南大学录取;2014年,又以专业第二的成绩被保送至中南大学软件学院读研,期间担任研究生党支部宣传委员;2018年成功拿到众多offer:纽约州立大学石溪分校、新泽西理工学院的计算机科学博士offer含全额奖学金;美国的波士顿大学、华盛顿大学、纽约州立大学水牛城分校以及加拿大的英属哥伦比亚大学的英语教学硕士offer。2018年4月,莫天池作为新生代表参加了纽约州立石溪分校新生见面会,校长思坦力当场表示为他追加8000美元的奖学金,学校分管国际事务的副校长刘骏,亲自协助莫天池父亲办理陪读签证,并安排到校后的住宿和学习事宜。