Skip Navigation
Message from the President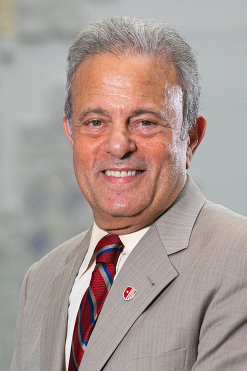 To Stony Brook Community,
As China and many nations around the globe take measures to address the Coronavirus, I send my best wishes to the students and families who have been impacted by the illness. I recognize that this is a difficult time for you and your loved ones, and want to reaffirm Stony Brook's commitment to you and your wellbeing. Stony Brook University is closely monitoring new developments and adhering to guidance from SUNY, the New York State Department of Health, and the Centers for Disease Control. At present, there are no known cases of the Coronavirus in New York State, and the risk to the campus and community is extremely low.
Stony Brook University takes pride in its diversity and welcomes all international students from around the world. We are the home away from home for many Chinese students. As one of the first universities in the United States to warmly welcome students and scholars from mainland China through efforts by professor emeritus C.N. Yang, our connections to China run deep. Many eminent scholars and leaders in China studied or graduated from our university.
The global scale and uncertainty surrounding this new virus have caused concern on the Stony Brook campus and throughout the local community. We understand the value of the diversity and new ideas our international students bring to campus, and are actively working to promote an environment where all students feel safe and supported, and are treated with respect.
Stony Brook has developed a website for students, faculty, and staff to answer frequently asked questions and provide tips to avoid the spread of any virus, including the flu and Coronavirus. For students affected by travel restrictions, we are developing alternatives for the Spring semester. I encourage anyone with questions or needing assistance to reach out to the Office of Global Affairs at vis@stonybrook.edu.
On behalf of Stony Brook University, I extend support and encouragement to all those affected by the Coronvirus. The Stony Brook community stands with you. We look forward to welcoming all students back soon.
Michael A. Bernstein, PhD
Interim President
Feb 18, 2020
---
亲爱的石溪大学大家庭的成员们:
你们好!随着新型冠状病毒疫情在中国的爆发,全世界都在关注此次疫情的发展。首先我想告知在校的同学们,石溪大学会根据CDC的信息和建议密切关注疫情发展,及时更新疫情情况。目前来看,这一病毒影响到石溪校园的可能性极低,大家不需要因疫情而产生恐慌情绪,我们的校园将一如既往的安宁祥和,热忱友善。
石溪大学高度重视学术和文化交流,欢迎来自世界各地的国际学生。其中,与中国的紧密联系也是重要的一环。目前,石溪大学是许多中国留学生的海外家园,在杨振宁教授的努力下,石溪大学是最早向中国敞开怀抱的美国高校之一。因此,在新型肺炎疫情严峻的时刻,我谨代表石溪大学向受到疫情影响的石溪学生和朋友致以最真诚的祝愿和鼓励。我们知道这次事件对你和你所爱的人来说,是一场严峻的考验。但我们也想要告诉你们,石溪大学将永远站在你们的身后,做你们坚强的后盾。石溪大学的各个部门会尽力帮助因疫情受到影响的学生,满足大家的学习和心理需求。
在一场影响世界的疫情中,仇视和猜忌的情绪往往伴随着民众的恐慌而在人群中蔓延。作为石溪大学的成员,我们需要意识到这种情绪既于事态的控制无益,又会在中国同学为亲友担忧的时候对其造成二次伤害。因此在这一非常的时期,我们更应坚持平等博爱的精神,在同学需要帮助的时候展现石溪人的爱与包容,与他们共渡难关。
愿中国武汉早日河清海晏,愿石溪游子早日重归校园。
迈克尔.伯恩斯坦
美国纽约石溪大学执行校长
2020年2月18日