Skip Navigation
Faculty
---
Erwin London, Professor
Joint Appointment with Department of Biochemistry and Cell Biology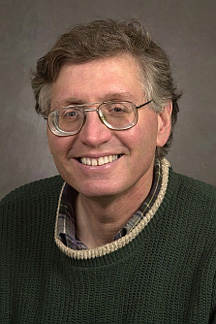 B.A., Queens College of the City University of New York, 1974
Ph.D., Cornell University, 1980
Postdoctoral Fellow, Massachusetts Institute of Technology
420 LS
Phone: (631) 632-8564
Email: erwin.london@stonybrook.edu
Structural Biology Membrane Protein Structure, Lipid Bilayer Structure
Determining the Rules for Membrane Translocation and Membrane Protein Folding and Studies of Sphingolipid-Cholesterol Lipid Domains (Rafts)
Our group is studying membrane protein structure and function by combining spectroscopic methods, such as fluorescence, with chemical, biochemical, immunochemical and molecular biological approaches. We are interested in determining membrane protein structure and the origin of specific lipid-protein and protein-protein interactions. At present, we are concentrating on protein toxins that penetrate and translocate across cell membranes, such as diphtheria toxin. Our aim is to understand the mechanism of membrane penetration by this toxin. This should have important implications for protein translocation in general, as well as the design of therapeutic agents and vaccines. One specific technique we are developing involves using antibody binding to study structure. Another involves the determination of the depth of groups by a fluorescence quenching technique.
These methods are being combined with site-directed mutagenesis in order to define the structure of the toxin in its membrane-inserted state. We are also using synthetic transmembrane helices. These studies are aimed at determining the basic rules for membrane protein folding.
In a related project on the topic of membrane protein folding, we are systematically varying the sequence of synthetic transmembrane helices, and then comparing their conformation when incorporated into lipid bilayers using fluorescence spectroscopy and other methods. This project aims to reveal the basic principles behind membrane protein folding.
In a third project we are studying membrane rafts. Rafts are sphingolipid and cholesterol rich domains that contain a special subset of membrane proteins. Rafts have critical roles in a variety of signal transduction and pathological processes, including viral and bacterial infection. We are studying the rules that govern the association of particular lipids and proteins in rafts, and developing methods to modify raft properties.
Publications
Caputo GA, London E
Using a novel dual fluorescence quenching assay for measurement of tryptophan depth within lipid Bilayers to determine hydrophobic alpha-helix locations within membranes
BIOCHEMISTRY-US 42 (11): 3265-3274 MAR 25 2003
Caputo GA, London E
Cumulative effects of amino acid substitutions and hydrophobic mismatch upon the transmembrane stability and conformation of hydrophobic alpha-helices
BIOCHEMISTRY-US 42 (11): 3275-3285 MAR 25 2003
Smither JW, London M, Flautt R, et al.
Can working with an executive coach improve multisource feedback ratings over time? A quasi-experimental field study
PERS PSYCHOL 56 (1): 23-44 SPR 2003
London E Insights into lipid raft structure and formation from experiments in model membranes
CURR OPIN STRUC BIOL 12 (4): 480-486 AUG 2002
Rosconi MP, London E
Topography of helices 5-7 in membrane-inserted diphtheria toxin T domain - Identification and insertion boundaries of two hydrophobic sequences that do not form a stable transmembrane hairpin
J BIOL CHEM 277 (19): 16517-16527 MAY 10 2002
London E, Ladokhin AS
Measuring the depth of amino acid residues in membrane-inserted peptides by fluorescence quenching
CURR TOP MEMBR 52: 89-115 2002
Hammond K, Caputo GA, London E
Interaction of the membrane-inserted diphtheria toxin T domain with peptides and its possible implications for chaperone-like T domain behavior
BIOCHEMISTRY-US 41 (9): 3243-3253 MAR 5 2002
London E, Brown DA
Influence of sterol, sphingolipid and membrane protein structure on lipid raft formation and organization
BIOPHYS J 82 (1): 52 Part 2 JAN 2002
Caputo GA, Lew S, London E
Effect of sequence on the properties of membrane-inserted hydrophobic peptides
BIOPHYS J 82 (1): 711 Part 2 JAN 2002
Rosconi M, Zhao G, Hayashibara M, et al.
Progress in characterizing the membrane topography and translocation of diphtheria toxin T domain and A chain
BIOPHYS J 82 (1): 2588 Part 2 JAN 2002
Dhanvantari S, Arnaoutova I, Snell CR, et al.
Carboxypeptidase E, a prohormone sorting receptor, is anchored to secretory granules via a C-terminal transmembrane insertion
BIOCHEMISTRY-US 41 (1): 52-60 JAN 8 2002
Brown DA, London E, Ren XY, et al.
Targeting of integral membrane proteins and peptides to rafts
MOL BIOL CELL 12: 16 Suppl. S NOV 2001
Xu XL, Bittman R, Duportail G, et al.
Effect of the structure of natural sterols and sphingolipids on the formation of ordered sphingolipid/sterol domains (rafts)
J BIOL CHEM 276 (36): 33540-33546 SEP 7 2001
Raghuram S, London M, Larsen HH
Flexible employment practices in Europe: country versus culture
INT J HUM RESOUR MAN 12 (5): 738-753 AUG 2001
Brown DA, London E
Sphingolipid and cholesterol-rich membrane microdomains
BIOPHYS J 80 (1): 132 Part 2 JAN 2001
Rosconi MP, Zhao G, Cheng TF, et al.
Membrane topography of the hydrophobic helices of diphtheria toxin T domain
BIOPHYS J 80 (1): 608 Part 2 JAN 2001
Caputo GA, Lew S, London E
The effect of the sequence of hydrophobic helices on the stabtlity of transmembrane insertion and helix-helix interaction in membranes
BIOPHYS J 80 (1): 2361 Part 2 JAN 2001
London E, Brown DA, Xu XL
Fluorescence quenching assay of sphingolipid/phospholipid phase separation in model membranes
METHOD ENZYMOL 312: 272-290 2000