Skip Navigation
Faculty
---
Francis Johnson, Professor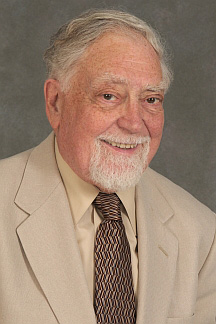 Ph.D. Glasgow University, 1954
Postdoctoral Fellow, Boston University, 1954-1957
Joint appointment with Department of Pharmacological Sciences
607 Chemistry
Phone: (631) 632-8866
Email: francis.johnson@stonybrook.edu
Organic Chemistry - Medical Chemistry
The major research interests of this laboratory are concerned with a) chemical aspects of genetic toxicology and b) a program of synthesis aimed at rationally designed drugs to inhibit viral enzymes associated with HIV-1 (AIDS), c) new methods of synthesis involving organo-alkali chemistry.
Our approach to studies in genetic toxicology involves the synthesis (automated) of DNA having chemical lesions that arise physiologically from carcinogenic substances or radiation. The chief objective is to examine the mutation spectrum associated with these lesions. This is investigated both by in vitro and in vivo studies with DNA polymerases and repair enzymes. Our work so far has examined lesions associated with acrolein, carcinogenic amines, and oxidation products of both deoxyguanosine and deoxyadenosine, products that are associated with both radiation damage and asbestos-mediated transformations. In the course of this work the oxidation chemistry of the carcinogenic amine adducts has shown that at physiological pH a slow oxygen-induced degradation takes place, producing an array of intermediates derived from the initial adduct. The role of these secondary lesions in carcinogenesis is under investigation. In addition, new protecting groups for the synthesis of DNA containing these lesions have had to be designed to accommodate the extreme sensitivity of a number of these adducts to the normal chemistry of DNA synthesis.
In the area of AIDS research, we have been successful in designing new substances that interfere with the reverse transcriptase responsible for the viral DNA/RNA replication. These substances constitute a new class of anti-viral agents in that they inhibit the viral reverse transcriptase at the active site and appear to be irreversible in action. They are active against a range of other viruses, but do not inhibit the cellular DNA synthetases of mammalian cells.
The third area of research concerns new synthetic methods. Here, we have discovered a new type of directed ortho-metalation cyclization that allows the easy synthesis of a wide variety of indenediones. Previously, synthetic methods for the preparation of this class of compound were limited to the simplest members of the group. Some of the new compounds are now being tested for anticoagulant and antibiotic activity.
Publications
Genotoxic mechanism for the major acrolein-derived deoxyguanosine adduct in human cells Yang IY, Johnson F, Grollman AP, Moriya M CHEMICAL RESEARCH IN TOXICOLOGY 15 (2): 160-164 FEB 2002
Preparation of oligodeoxynucleotides containing a diastereoisomer of alpha-(N-2-2 '-deoxyguanosinyl)tamoxifen by phosphoramidite chemical synthesis, Laxmi YRS, Suzuki N, Dasaradhi L, Johnson F, Shibutani S CHEMICAL RESEARCH IN TOXICOLOGY 15 (2): 218-225 FEB 2002
Regioisomeric synthesis and characteristics of the alpha-hydroxy-1,N-2-propanodeoxyguanosine Huang Y, Johnson F, CHEMICAL RESEARCH IN TOXICOLOGY 15 (2): 236-239 FEB 2002
A spin-labeled abasic DNA substrate for AP endonuclease, Kolaczkowski SV, Perry A, Mckenzie A, Johnson F, Budil DE, Strauss PR, BIOCHEMICAL AND BIOPHYSICAL RESEARCH COMMUNICATIONS 288 (3): 722-726 NOV 2 2001
Site-specifically located 8-amino-2 '-deoxyguanosine: thermodynamic stability and mutagenic properties in Escherichia coli Venkatarangan L, Sivaprasad A, Johnson F, Basu AK NUCLEIC ACIDS RESEARCH 29 (7): 1458-1463 APR 1 2001
Influence of flanking sequence context on the mutagenicity of acetylaminofluorene-derived DNA adducts in mammalian cells, Shibutani S, Suzuki N, Tan XZ, Johnson F, Grollman AP BIOCHEMISTRY 40 (12): 3717-3722 MAR 27 2001
Responses to the major acrolein-derived deoxyguanosine adduct in Escherichia coli Yang IY, Hossain M, Miller H, Khullar S, Johnson F, Grollman A, Moriya M JOURNAL OF BIOLOGICAL CHEMISTRY 276 (12): 9071-9076 MAR 23 2001
NMR characterization of a DNA duplex containing the major acrolein-derived deoxyguanosine adduct gamma-OH-1,N-2-propano-2 '-deoxyguanosine, de los Santos C, Zaliznyak T, Johnson F, JOURNAL OF BIOLOGICAL CHEMISTRY 276 (12): 9077-9082 MAR 23 2001
Bulge-specific DNA binding of spirocyclic NCS-chrom analogs. Jones G, Qabaja G, Goldberg I, Xi Z, Johnson F, ABSTRACTS OF PAPERS OF THE AMERICAN CHEMICAL SOCIETY 219: 677-ORGN Part 2 MAR 26 2000
Synthesis of biologically active N-2-amine adducts of 2 '-deoxyguanosine, Bonala RR, Shishkina IG, Johnson F TETRAHEDRON LETTERS 41 (38): 7281-7284 SEP 16 2000
A new method for the postsynthetic generation of abasic sites in oligomeric DNA Shishkina IG, Johnson F, CHEMICAL RESEARCH IN TOXICOLOGY 13 (9): 907-912 SEP 2000
Enolate ions as beta-activators of ortho-metalation: Direct synthesis of 3-aminoindenones Kayaleh NE, Gupta RC, Johnson F, JOURNAL OF ORGANIC CHEMISTRY 65 (15): 4515-4522 JUL 28 2000
Structure of an 11-mer DNA duplex containing the carbocyclic nucleotide analog: 2 '-deoxyaristeromycin, Smirnov S, Johnson F, Marumoto R, de los Santos C JOURNAL OF BIOMOLECULAR STRUCTURE & DYNAMICS 17 (6): 981-991 JUN 2000
Solution structure of an 11-mer duplex containing the 3,N-4-ethenocytosine adduct opposite 2 '-deoxycytidine: Implications for the recognition of exocyclic lesions by DNA glycosylases Cullinan D, Johnson F, de los Santos C, JOURNAL OF MOLECULAR BIOLOGY 296 (3): 851-861 FEB 25 2000
Chemical synthesis of cross-linked purine nucleosides, De Riccardis F, Johnson F ORGANIC LETTERS 2 (3): 293-295 FEB 10 2000
Synthesis and DNA binding of spirocyclic model compounds related to the neocarzinostatin chromophore, Xi Z, Jones GB, Qabaja G, Wright J, Johnson F, Goldberg IH, ORGANIC LETTERS 1 (9): 1375-1377 NOV 4 1999
8-OxodGTP incorporation by DNA polymerase beta is modified by active-site residue Asn279 Miller H, Prasad R, Wilson SH, Johnson F, Grollman AP BIOCHEMISTRY 39 (5): 1029-1033 FEB 8 2000
Dynamics and ordering in a spin-labeled oligonucleotide observed by 220 GHz electron paramagnetic resonance, Budil DE, Kolaczkowski SV, Perry A, Varaprasad C, Johnson F, Strauss PR BIOPHYSICAL JOURNAL 78 (1): 430-438 Part 1 JAN 2000
Single-stranded oligodeoxyribonucleotides are substrates of Fpg protein from Escherichia coli Ishchenko AA, Bulychev NV, Maksakova GA, Johnson F, Nevinsky GA IUBMB LIFE 48 (6): 613-618 DEC 1999
3,N-4-ethano-2 '-deoxycytidine: chemistry of incorporation into oligomeric DNA and reassessment of miscoding potential Bonala RR, Rieger RA, Shibutani S, Grollman AP, Iden CR, Johnson F NUCLEIC ACIDS RESEARCH 27 (24): 4725-4733 DEC 15 1999
Immunoaffinity/gas chromatography/high-resolution mass spectrometry method for the detection of N-2,3-ethenoguanine Ham AJL, Ranasinghe A, Morinello EJ, Nakamura J, Upton PB, Johnson F, Swenberg JA CHEMICAL RESEARCH IN TOXICOLOGY 12 (12): 1240-1246 DEC 1999
A general method for the synthesis of the N-2- and N-6- carcinogenic amine adducts of 2 '-deoxyguanosine and 2'-deoxyadenosine De Riccardis F, Bonala RR, Johnson F JOURNAL OF THE AMERICAN CHEMICAL SOCIETY 121 (45): 10453-10460 NOV 17 1999
Mutagenesis of the N-(deoxyguanosin-8-yl)-2-amino-1-methyl-6-phenylimidazo[4,5-b]pyridine DNA adduct in mammalian cells - Sequence context effects Shibutani S, Fernandes A, Suzuki N, Zhou L, Johnson F, Grollman AP JOURNAL OF BIOLOGICAL CHEMISTRY 274 (39): 27433-27438 SEP 24 1999
Mutagenic properties of the 8-amino-2 '-deoxyguanosine DNA adduct in mammalian cells Tan XZ, Suzuki N, Johnson F, Grollman AP, Shibutani S NUCLEIC ACIDS RESEARCH 27 (11): 2310-2314 JUN 1 1999
Biological studies on oligomeric DNA containing a major acrolein adduct of 2 '-deoxyguanosine. Khullar S, Moriya M, Johnson F ABSTRACTS OF PAPERS OF THE AMERICAN CHEMICAL SOCIETY 217: 052-MEDI Part 1 MAR 21 1999
Postsynthetic generation of a major acrolein adduct of 2 '-deoxyguanosine in oligomeric DNA Khullar S, Varaprasad CV, Johnson F JOURNAL OF MEDICINAL CHEMISTRY 42 (6): 947-950 MAR 25 1999
Synthesis of N-2-carcinogenic aromatic amine adducts of 2 '-deoxyguanostine. Bonala RR, De Riccardis F, Johnson F ABSTRACTS OF PAPERS OF THE AMERICAN CHEMICAL SOCIETY 217: 181-ORGN Part 2 MAR 21 1999
8-amino-2 '-deoxyguanosine incorporation into oligomeric DNA Rieger RA, Iden CR, Gonikberg E, Johnson F NUCLEOSIDES & NUCLEOTIDES 18 (1): 73-88 1999
Formation of s-triazines during aerial oxidation of 8-oxo-7,8-dihydro-2 '-deoxyguanosine in concentrated ammonia Torres MC, Varaprasad CV, Johnson F, Iden CR CARCINOGENESIS 20 (1): 167-172 JAN 1999
Synthesis of N-2-(2-aminofluoren-3-yl) adducts of 2 '-deoxyguanosine Bonala RR, Yu PL, Johnson F TETRAHEDRON LETTERS 40 (4): 597-598 JAN 22 1999
Site-specific mutagenesis of the N-(deoxyguanosin-8-yl)-2-amino-1-methyl-B-phenylimidazo[4,5-b]pyridine DNA adduct in mammalian cells Shibutani S, Fernandes A, Suzuki N, Zhou L, Johnson F, Grollman AP ZEITSCHRIFT FUR LEBENSMITTEL-UNTERSUCHUNG UND-FORSCHUNG A-FOOD RESEARCH AND TECHNOLOGY 207 (6): 459-463 1998
The impact of an exocyclic cytosine adduct on DNA duplex properties: Significant thermodynamic consequences despite modest lesion-induced structural alterations Gelfand CA, Plum GE, Grollman AP, Johnson F, Breslauer KJ BIOCHEMISTRY 37 (36): 12507-12512 SEP 8 1998
Studies towards the incorporation of the acrolein adduct of 2 '-deoxyguanosine into oligodeoxyribonucleotides. Khullar S, Chamakuia VV, Johnson F ABSTRACTS OF PAPERS OF THE AMERICAN CHEMICAL SOCIETY 216: 188-MEDI Part 2 AUG 23 1998
Reaction products from 3 ',5 '-bis-TBDMS-3,N4-ethano-2 '-deoxyctidine after exposure to acetic anhydride and pyridine. Rieger RA, Johnson F, Bonala RR, Iden CR, ABSTRACTS OF PAPERS OF THE AMERICAN CHEMICAL SOCIETY 216: 020-TOXI Part 1 AUG 23 1998
Products of aerial oxidation of oligodeoxynucleotides containing 8-oxo-2 '-deoxyguanosine in concentrated ammonia. Torres MC, Chamakura VV, Attaluri S, Johnson F, Iden CR ABSTRACTS OF PAPERS OF THE AMERICAN CHEMICAL SOCIETY 216: 022-TOXI Part 1 AUG 2
Suppression of adventitious formation of 8-oxoguanine(TMS)(4) from guanine during trimethylsilylation Hong JK, Oh CH, Johnson F, Iden CR ANALYTICAL BIOCHEMISTRY 261 (1): 57-63 JUL 15 1998
Uracil-DNA glycosylase: Interpretation of X-ray data in the light of kinetic and thermodynamic studies Vinogradova NL, Bulychev NV, Maksakova GA, Johnson F, Nevinskii GA MOLECULAR BIOLOGY 32 (3): 400-409 MAY-JUN 1998
Interaction of Escherichia coli 8-oxoguanine-DNA glycosylase with single-stranded oligodeoxyribonucleotides and their complexes Ishchenko AA, Bulychev NV, Maksakova GA, Johnson F, Nevinskii GA MOLECULAR BIOLOGY 32 (3): 454-462 MAY-JUN 1998
Thermodynamic consequences of an abasic lesion in duplex DNA are strongly dependent on base sequence Gelfand CA, Plum GE, Grollman AP, Johnson F, Breslauer KJ BIOCHEMISTRY 37 (20): 7321-7327 MAY 19 1998
Synthesis of enzymatically noncleavable carbocyclic nucleosides for DNA-N-glycosylase studies Johnson F, Dorman G, Rieger RA, Marumoto R, Iden CR, Bonala R CHEMICAL RESEARCH IN TOXICOLOGY 11 (3): 193-202 MAR 1998
Isolation and substrate specificity of apurinic/apyrimidinic endonuclease from human placenta Beloglazova NG, Petruseva IO, Bulychev NV, Maksakova GA, Johnson F, Nevinskii GA MOLECULAR BIOLOGY 31 (6): 946-951 NOV-DEC 1997
A new anionic cyclization reaction: Condensation of benzoate esters with nitriles to give 3-amino-2-inden-1-ones Kayaleh NE, Gupta RC, Morrissey JF, Johnson F TETRAHEDRON LETTERS 38 (47): 8121-8124 NOV 24 1997
Solution structure of a DNA duplex containing the exocyclic lesion 3,N-4-etheno-2'-deoxycytidine opposite 2'-deoxyguanosine, Cullinan D, Johnson F, Grollman AP, Eisenberg M, delosSantos C BIOCHEMISTRY 36 (39): 11933-11943 SEP 30 1997
Synthesis of N-2-(aminoaryl-substituted)-2'-deoxyguanosine derivatives. Bonala RR, Nakajima N, Ubukata M, Johnson F ABSTRACTS OF PAPERS OF THE AMERICAN CHEMICAL SOCIETY 214: 27-TOXI Part 1 SEP 7 1997
Products of aerial oxidation of 8-oxo-2'-deoxyguanosine in concentrated ammonia. Torres MC, Chamakura VV, Johnson F, Iden CR ABSTRACTS OF PAPERS OF THE AMERICAN CHEMICAL SOCIETY 214: 28-TOXI Part 1 SEP 7 1997
Synthesis of N-2-(aminoaryl-substituted)-2'-deoxyguanosine derivatives. Bonala RR, Nakajima N, Ubukata M, Johnson F ABSTRACTS OF PAPERS OF THE AMERICAN CHEMICAL SOCIETY 214: 217-MEDI Part 1 SEP 7 1997
Isolation of 8-oxoguanine-DNA glycosylase from Escherichia coli and studies on its substrate specificity Ishchenko AA, Bulychev NV, Zharkov DO, Maksakova GA, Johnson F, Nevinskii GA MOLECULAR BIOLOGY 31 (2): 278-283 MAR-APR 1997
Recognition and conversion of single- and double-stranded oligonucleotide substrates by 8-oxoguanine-DNA glycosylase from Escherichia coli Ishchenko AA, Bulychev NV, Maksakova GA, Johnson F, Nevinsky GA BIOCHEMISTRY-MOSCOW 62 (2): 204-211 FEB 1997
Structural studies of the ionizing radiation adduct 7,8-dihydro-8-oxoadenine (A(oxo)) positioned opposite thymine in a DNA duplex Chen HF, Johnson F, Grollman AP, Patel DJ MAGNETIC RESONANCE IN CHEMISTRY 34: S23-S32 Sp. Iss. SI DEC 1996
Substrate specificity of Escherichia coli MutY protein, Bulychev NV, Varaprasad CV, Dorman G, Miller JH, Eisenberg M, Grollman AP, Johnson F BIOCHEMISTRY 35 (40): 13147-13156 OCT 8 1996
Suppression of 8-oxoguanine formation from guanine during GC/MS quantitation of 8-oxoguanine by isotope dilution mass spectrometry. Oh CH, Johnson F, Iden CR ABSTRACTS OF PAPERS OF THE AMERICAN CHEMICAL SOCIETY 212: 32-TOXI Part 1 AUG 25 1996
Site-specific post-synthetic modification of DNA bases in oligomeric DNA Shishkina I, Lee HC, Varaprasad CV, Johnson F ABSTRACTS OF PAPERS OF THE AMERICAN CHEMICAL SOCIETY 212: 82-TOXI Part 1 AUG 25 1996
Investigation of the use of enolate ions to induce ortho lithiation in aromatic systems: A new type of cyclization reaction. Johnson F, Gupta RC, Kayaleh NE, Morrissey JF ABSTRACTS OF PAPERS OF THE AMERICAN CHEMICAL SOCIETY 211: 239-ORGN Part 2 MAR 24 1996
The impact of a bistrand abasic lesion on DNA duplex properties Gelfand CA, Plum GE, Grollman AP, Johnson F, Breslauer KJ BIOPOLYMERS 38 (4): 439-445 APR 1996
Synthesis of 8-oxo-7,8-dihydro-6-O-methyl-2'-deoxyguanosine and its use as a probe to study DNA-base excision by MutY enzyme Varaprasad CV, Bulychev N, Grollman AP, Johnson F TETRAHEDRON LETTERS 37 (1): 9-12 JAN 1 1996
Influence of the oxidatively damaged adduct 8-oxodeoxyguanosine on the conformation, energetics, and thermodynamic stability of a DNA duplex Plum GE, Grollman AP, Johnson F, Breslauer KJ BIOCHEMISTRY 34 (49): 16148-16160 DEC 12 1995
Synthesis of oligodeoxynucleotides containing congeners of 7,8-dihydro-8-oxo-deoxy guanosine and the activity of mut-y glycosylase towards them Varaprasad CV, Zhang ZD, Bulychev N, Johnson F, Grollman AP ABSTRACTS OF PAPERS OF THE AMERICAN CHEMICAL SOCIETY 210: 25-CARB Part 1 AUG 20 1995
Azido-iodo-phenyl-analogs of 2',5'-dideoxy-adenosine as photoaffinity ligands for adenylyl-cyclase Shoshani I, Qui H, Johnson F, Taussig R, Johnson RA BIOCHIMICA ET BIOPHYSICA ACTA-GENERAL SUBJECTS 1245 (1): 37-42 AUG 17 1995
Design and synthesis of novel inhibitors of hiv-1 reverse-transcriptase Maruenda H, Johnson F JOURNAL OF MEDICINAL CHEMISTRY 38 (12): 2145-2151 JUN 9 1995
Chromophore-modified antitumor anthracenediones - synthesis, dna-binding, and cytotoxic activity of 1,4-bis[(aminoalkyl)amino]benzo[g]-phthalazine-5,10-diones Gandolfi CA, Beggiolin G, Menta E, Palumbo M, Sissi C, Spinelli S, Johnson F JOURNAL OF MEDICINAL CHEMISTRY 38 (3): 526-536 FEB 3 1995
Synthesis of 3,n-4-etheno, 3,n-4-ethano, and 3-(2-hydroxyethyl) derivatives of 2'-deoxycytidine and their incorporation into oligomeric DNA Zhang WF, Rieger R, Iden C, Johnson F CHEMICAL RESEARCH IN TOXICOLOGY 8 (1): 148-156 JAN-FEB 1995
Miscoding by the exocyclic and related rna adducts 3,n-4-etheno-2'-deoxycytidine, 3,n-4-ethano-2'-deoxycytidine, and 3-(2-hydroxyethyl)-2'-deoxyuridine Zhang WF, Johnson F, Grollman AP, Shibutani S CHEMICAL RESEARCH IN TOXICOLOGY 8 (1): 157-163 JAN-FEB 1995