Skip Navigation
Faculty
---
Elizabeth Boon, Professor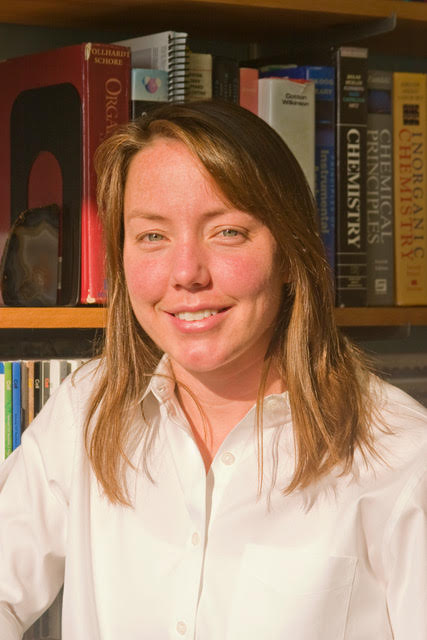 A.B. in Chemistry, Kenyon College, 1997
Ph.D. in Chemistry, California Institute of Technology, 2003
NIH Postdoctoral Fellowship, University of California, Berkeley, 2003-2006
547 Chemistry
Phone: (631) 632-7945
Email: elizabeth.boon@stonybrook.edu
Chemical Biology, Enzymology, Bioinorganic Chemistry, and Spectroscopy
The ability of biological systems to sense and respond to external stimuli is of fundamental importance. Dissolved gases such as nitric oxide (NO), carbon monoxide (CO) and molecular oxygen (O2) are well recognized as important biological signals. NO, a well-known signaling molecule in eukaryotic organisms, has recently been implicated in the development of bacterial biofilms. Biofilms are surface-bound, matrix-encapsulated, multicellular communities of bacteria. Biofilms are extremely persistent; current antibiotics are ineffective against these compact and well-protected structures, and host immune systems are typically unable to clear biofilm infections. Despite the well-documented role of NO in this process, the mechanism for NO regulation of biofilm formation is unknown.
Our long-term goal is to understand NO signaling in bacteria from a molecular- to a community-level and to employ this new knowledge to advance human health, prosperity and welfare. Currently we are in the process of identifying and characterizing the biochemical pathways involved in bacterial NO sensing. Accomplishment of this objective is of fundamental importance and will provide a rationale for exploring the potential of these pathways for practical and therapeutic intervention.
For more information, visit our group website!
The Boon Group is affiliated with several different graduate programs:
Awards/Honors
   Elected a Kavli Fellow, 2011
   PECASE, 2009
   ACS PROGRESS/Dreyfus Lectureship Award, 2008
   NYSTAR James D. Watson Young Investigator Award, 2008
  Office of Naval Research Young Investigator Award, 2008
  Rising Star Award from the Research Foundation of SUNY, 2008
Publications
View Complete List of Publications