Skip Navigation
When people think about buildings, they often think about the science that goes into designing and the materials that they're made of. But there are many other factors to consider, especially how humans interact with the buildings they live in. Studying and understanding that will help engineers and scientists improve the relationships between humans and their built environments.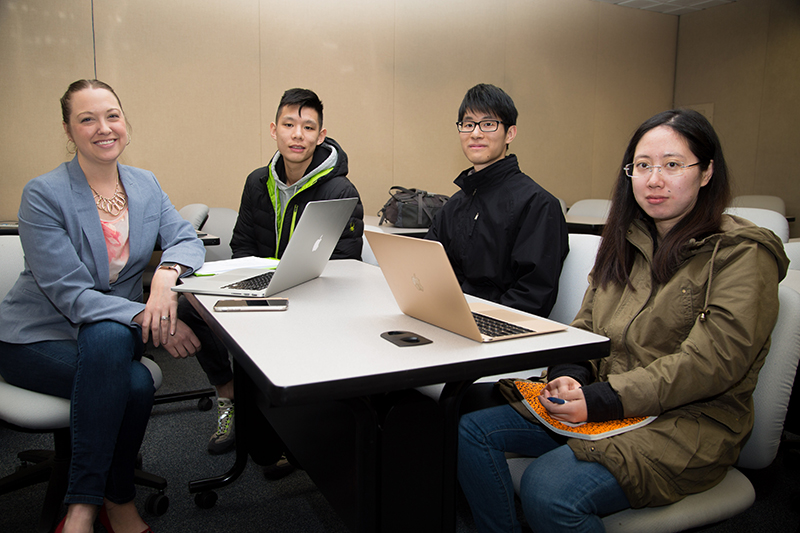 As an urban planner and social scientist, Elizabeth Hewitt researches just that. Hewitt is an assistant professor in the Department of Technology and Society at Stony Brook's College of Engineering and Applied Sciences. She is also LEED-accredited by the United States Green Building Council.
Her work explores human processes that impact energy and resilience in buildings and cities. She focuses on urban multifamily or commercial buildings and conducts research on the many scales, influences and factors within and outside of buildings that impact energy and resilience.  In engineering, resilience is the ability of a building or structure to absorb or avoid damage without suffering complete structural failure. Hewitt's research looks at occupant behavior in buildings, decision-making for resilience, occupant interactions with smart building technologies and organizational culture for energy and resilience.
One research project that Hewitt is currently working on is called "New York State Solid Waste Characterization." Funded by the New York State Department of Environmental Conservation (NYSDEC), the project began in 2019 and is ongoing until 2024.
This project aims to explore how solid waste and recycling are currently transpiring in New York state and develop recommendations for how they can be improved to make New York a more environmentally sustainable state. Teams of graduate students travel all across the state sorting through waste at landfills and evaluating patterns in what people throw in the garbage and what they recycle.
One of her other research projects, "The Influence of Social Norms on Recycling Behavior in Urban Multifamily Buildings," is funded by the Environmental Research and Education Foundation (EREF) and partnered with a property management firm to test the effectiveness of social norm-based interventions in residential buildings in Queens. The study investigates the effect that competition and peer pressure can have on recycling participation rates, diversion rates, and contamination rates.
Some key takeaways from the study are that residents were environmentally motivated and inclined to recycle, reporting that they do it frequently and that it is important. Some residents seem motivated by what others think. The data showed some evidence that the team's interventions had an effect, but it was unclear how strong of an effect. 
The results from the project can help inform building managers, policymakers and the solid waste industry as a whole of the effectiveness of these two strategies for improving recycling behavior. 
Hewitt's history with urban planning is extensive. Growing up in Central New Jersey, she originally developed an interest in interior design. In 2002, she received her bachelor's degree in interior design from the Fashion Institute of Technology (State University of New York). After completing her undergraduate education, she stayed in New York City and worked in the architecture field. It was during this time that she became interested in examining larger issues that occur in relation to urban areas. 
"I went from focusing on what I consider the micro scale, like an individual house or apartment building, to the macro scale, which includes cities and neighborhoods, and the design of urban layout and planning," Hewitt said.  
This led her to pursue a master's degree in urban planning at New York University, which she received in 2007. While completing her master's, she began working at the Alliance for Downtown New York, the largest business improvement district in North America, where she led the organization's green building research and policy initiatives. She worked there for four years before she went on to pursue her PhD which She received in 2015 from Rutgers University's Bloustein School of Planning & Public Policy at Rutgers University in 2015.
 

 

"You're not just designing a
piece of infrastructure or building,
you have to think about who's in it"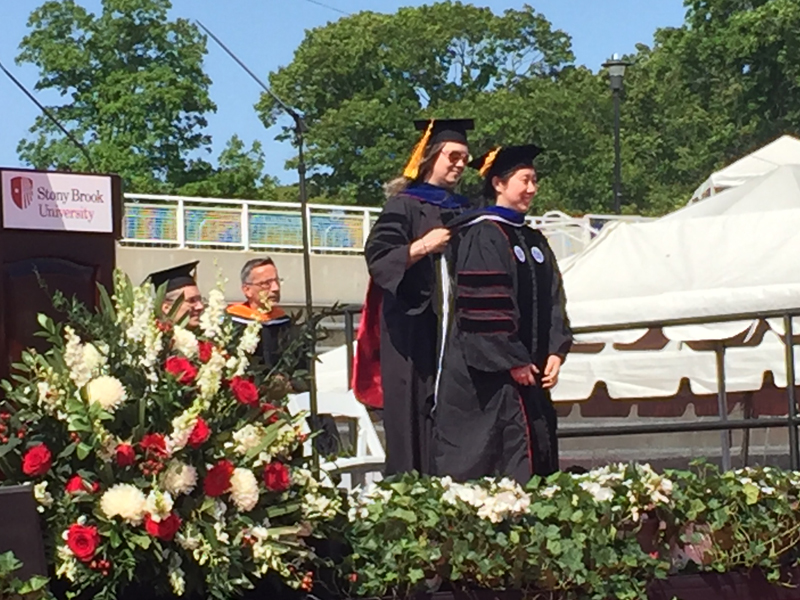 Stony Brook's unique Department of Technology and Society in the College of Engineering and Applied Sciences (CEAS) drew her to Long Island,  despite it not being exactly what she was used to. 
"I'm trained as an urban planner, so this wasn't my natural place to look because Stony Brook doesn't have an urban planning program. But I was so interested in this idea of technology and society and how that merges so many of my interdisciplinary areas of interest and research," Hewitt said. 
She also liked that the department was in CEAS because of her past experiences working with engineers. Often being one of the only social scientists in her past work, she appreciated being able to combine her unique view of urban planning with traditional engineers.
"I felt that I could contribute a lot by opening people up to what I do, and the importance of thinking about people. You're not just designing a piece of infrastructure or building, you have to think about who's in it," Hewitt explained. 
Stony Brook ended up being a great fit for her. She teaches undergraduate and graduate classes that address the impact of technology and infrastructure on society, in which she incorporates her urban planning background to help students understand how these concepts impact communities. 
By Sydney Corwin