Skip Navigation
Dean Fotis Sotiropoulos Appointed Provost and Senior Vice President at Virginia Commonwealth University
Fotis Sotiropoulos, Dean of the College of Engineering and Applied Sciences since Fall of 2015 and SUNY Distinguished Professor of Civil Engineering, has been appointed Provost and Senior Vice President at Virginia Commonwealth University, effective August 1, 2021.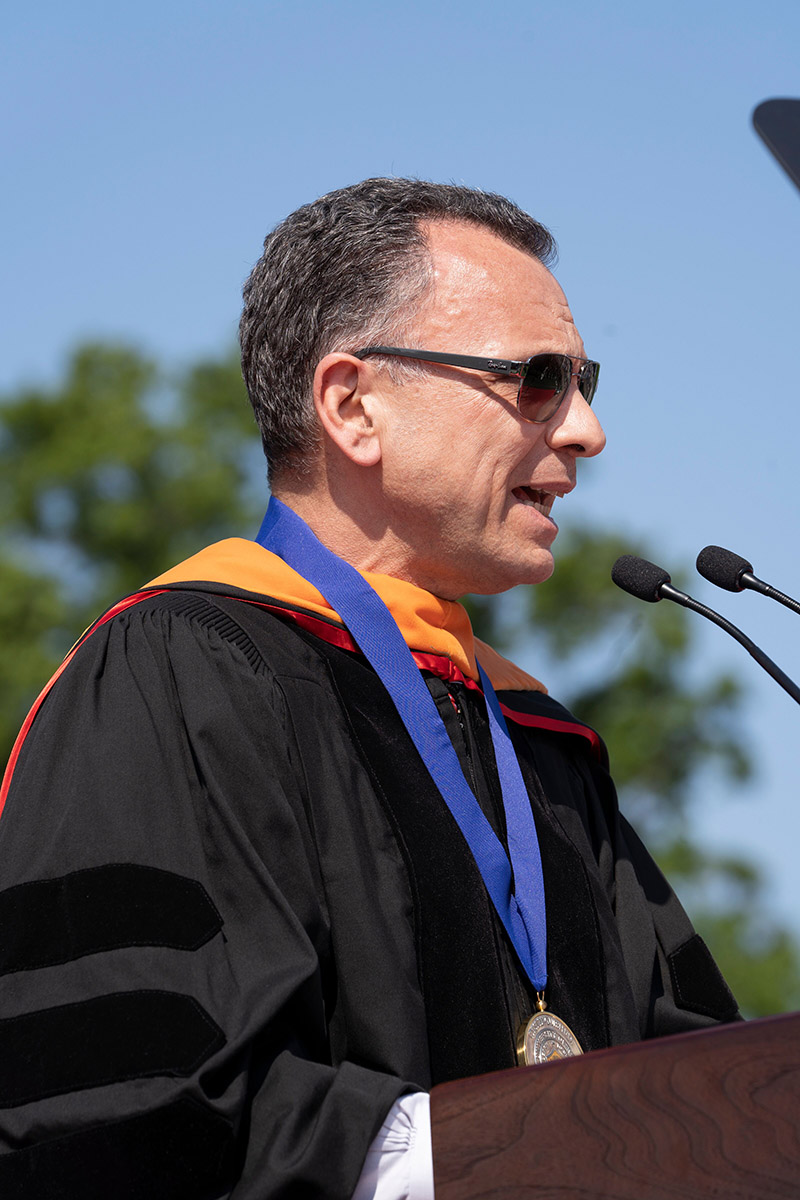 Dean Sotiropoulos at the podium at 2021 Commencement ceremony
During his nearly six years at Stony Brook, Dean Sotiropoulos led a 55 percent increase in funded research over the past five years to an all-time high of $47 million, while spearheading a new vision for the College of Engineering and Applied Sciences (CEAS) aimed at tackling major societal grand challenges by advancing convergence science initiatives in collaboration with the School of Medicine, the School of Marine and Atmospheric Sciences, the College of Arts and Sciences and Brookhaven National Laboratory.  He led University-wide initiatives in Engineering-Driven Medicine and Artificial Intelligence and has been at the forefront of the College's strategic commitment to expand diversity and invent the future of engineering education in the era of exponential technologies. 
Last September, Sotiropoulos was asked by President Maurie McInnis to serve as Stony Brook's Interim Provost and Senior Vice President for Academic Affairs while the search for a permanent Provost was underway. He provided important guidance as the University remained open for research and in-person and hybrid learning and navigated ongoing challenges for students and faculty posed by the pandemic. 
"It has been my distinct honor and privilege to work with this incredibly talented and dedicated faculty, staff, students, alumni and partners to develop and execute a bold vision for the future CEAS," said Dean Sotiropoulos. "I couldn't imagine or predict all that we would achieve together and I have every confidence the work we started will continue to propel CEAS to new levels of excellence in the future."
"Fotis has made an indelible impression on his College and on the entire Stony Brook community," said Paul M. Goldbart, Provost and Executive Vice President for Academic Affairs at Stony Brook University. "I am grateful, in addition, for his engagement, encouragement, and willingness to help me come aboard during a period of significant leadership transition and my arrival at Stony Brook."
Sotiropoulos is recognized nationally and internationally for his research contributions in computational fluid dynamics with applications in wind and tidal energy systems, river hydromechanics, cardiovascular fluid dynamics, and aquatic swimming. He has published over 200 peer reviewed journal papers and book chapters and his research has been supported by NSF, NIH, DOE, and private industry. In the past few years he was named SUNY Distinguished Professor, received the Hunter Rouse Hydraulic Engineering Award from the American Society of Civil Engineers and was awarded the Borland Lecture in Hydraulics Award by the American Geophysical Union. 
A Fellow of the American Physical Society and the American Society of Mechanical Engineers, Sotiropoulos has twice won the APS Division of Fluid Dynamics Gallery of Fluid Motion, and is also a recipient of a Career Award from the National Science Foundation.
Selection of an Interim Dean is underway and will be announced in the near future.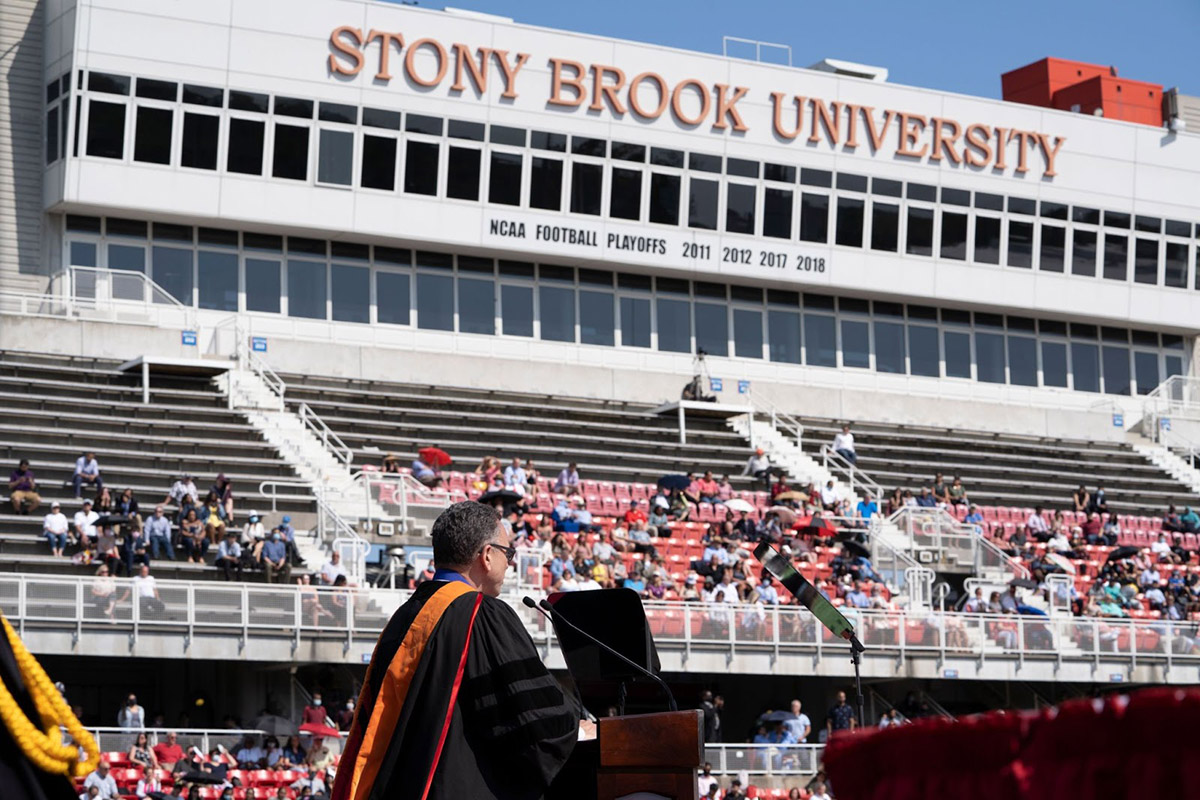 Dean Fotis Sotiropoulos addresses CEAS students at Stony Brook's 2021 Commencement Ceremony on May 20