Skip Navigation
Identifying the Source of Alzheimer's Disease to Develop Effective Treatments
The Departments of Biomedical Engineering and Psychiatry Team Up with the NIH on a $4.3 Million Research Grant from the National Institute of Health
Christine DeLorenzo's lab at Stony Brook University focuses on the neurobiology of mental illness using brain imaging, AI and technology to obtain the most comprehensive views of the brain possible.  She says: "if we know exactly what is altered in the biology, then we can develop the next generation of treatments."
Professor DeLorenzo is doing just that, leading a team of cross-disciplinary faculty spanning Biomedical Engineering in the College of Engineering and Applied Sciences and Psychiatry in the Renaissance School of Medicine to develop treatments that can potentially arrest and reverse memory loss in Alzheimer's sufferers.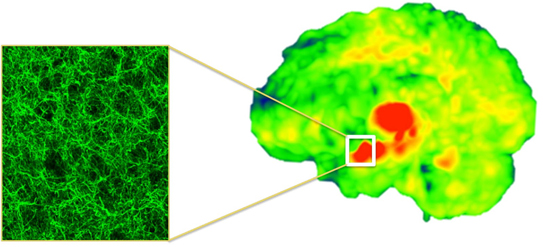 The cholinergic system in a mouse (left) and human (right) brain.
It has been known since the 1970's that cholinergic neurons are responsible for memory cognition in the human brain. They employ a neurotransmitter, acetylcholine (ACh), to communicate with each other for memory retrieval. It has also been known for some time that decreased levels of ACh are found in Alzheimer's patients. Prevailing treatments for the disease have focused on boosting the levels of ACh, but these have been minimally effective in arresting the progression of memory loss.
The team received an initial grant from the Alzheimer's Foundation of America to prove the potential of their approach. Using pilot data from this study as a proof of concept, the National Institutes of Health (NIH) then awarded $4.3 million over five years to execute the study, to develop an approach to find the source of the damage to cholinergic neurons that results in Alzheimer's disease. The study involves both human imaging and examination of a mouse model of Alzheimer's disease (led by Dr. Role of the NINDS).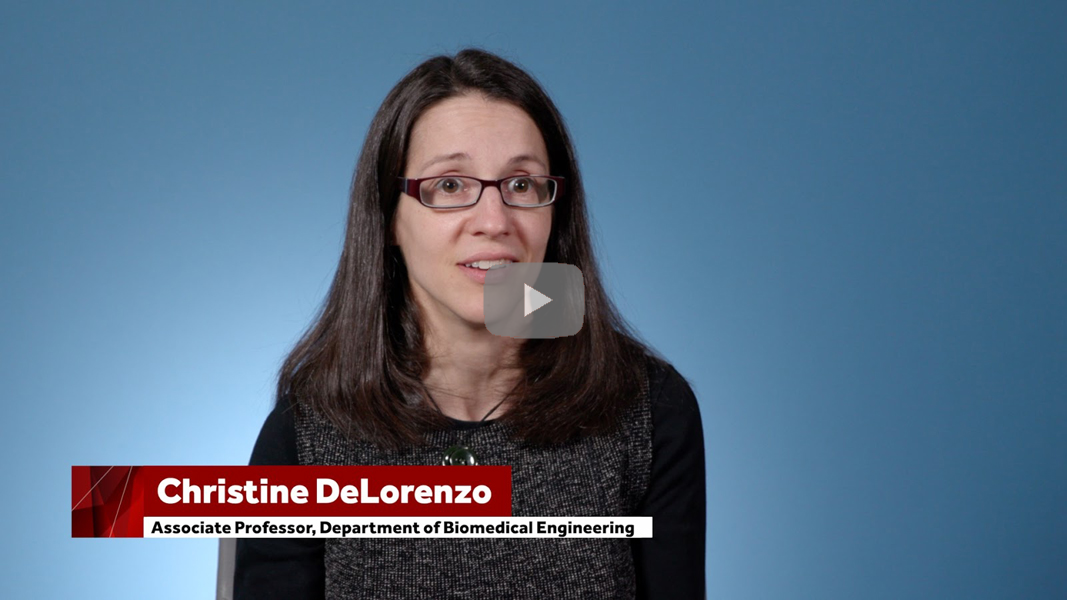 See Prof. DeLorenzo's comments in this video announcing the Institute for AI- Driven Discovery and Innovation
"Medical science has known for some time that Alzheimer's is a result of the 'memory network' in the brain falling apart," says Christine DeLorenzo, Principal Investigator (PI) on the project and an Associate Professor of Biomedical Engineering and Psychiatry. "What we intend to discover is how the network deteriorates and how to fix it."
DeLorenzo is Director of the Center for Understanding Biology Using Imaging Technology, which uses advanced imaging modalities to investigate neuropsychiatric disorders and their treatment. They are making important discoveries related to psychiatric disorders as well as using new radioligands and techniques for quantification and analysis.
She is also on the faculty of Stony Brook's new Institute for AI-Driven-Discovery and Innovation, poised to serve as a hub for AI research and fuel the workforce for the AI-driven economy of the future through programs that fuse computer science, engineering and applied mathematics with medicine, life sciences, and the arts and humanities.   
"Alzheimer's Disease has long seemed to be an intractable foe of the medical community," said Fotis Sotiropoulos, Dean, College of Engineering and Applied Sciences. "The multi-disciplinary approach this team is taking to tackle such a grand challenge problem is a great example of the kind of research our Institutes for AI-Driven Discovery and Innovation and Engineering-Driven Medicine are designed to facilitate."
In addition to Professor DeLorenzo, the interdisciplinary project team includes: 
David Talmage, Senior Scientist, National Institute of Mental Health (NIMH)
Nikhil J. Palekar, MD, Department of Psychiatry
Mala Ananth, Postdoctoral Fellow