Skip Navigation
Academics Drove Champion Swimmer's Choice in Stony Brook
Lexie Bakke was a state champion as a high school swimmer in Maine, but swim programs did not factor into her decision for college. Displaying a rare level of self-awareness, she understood her future lay outside the pool and made her choice based on the academic program she felt best suited her talents and interests.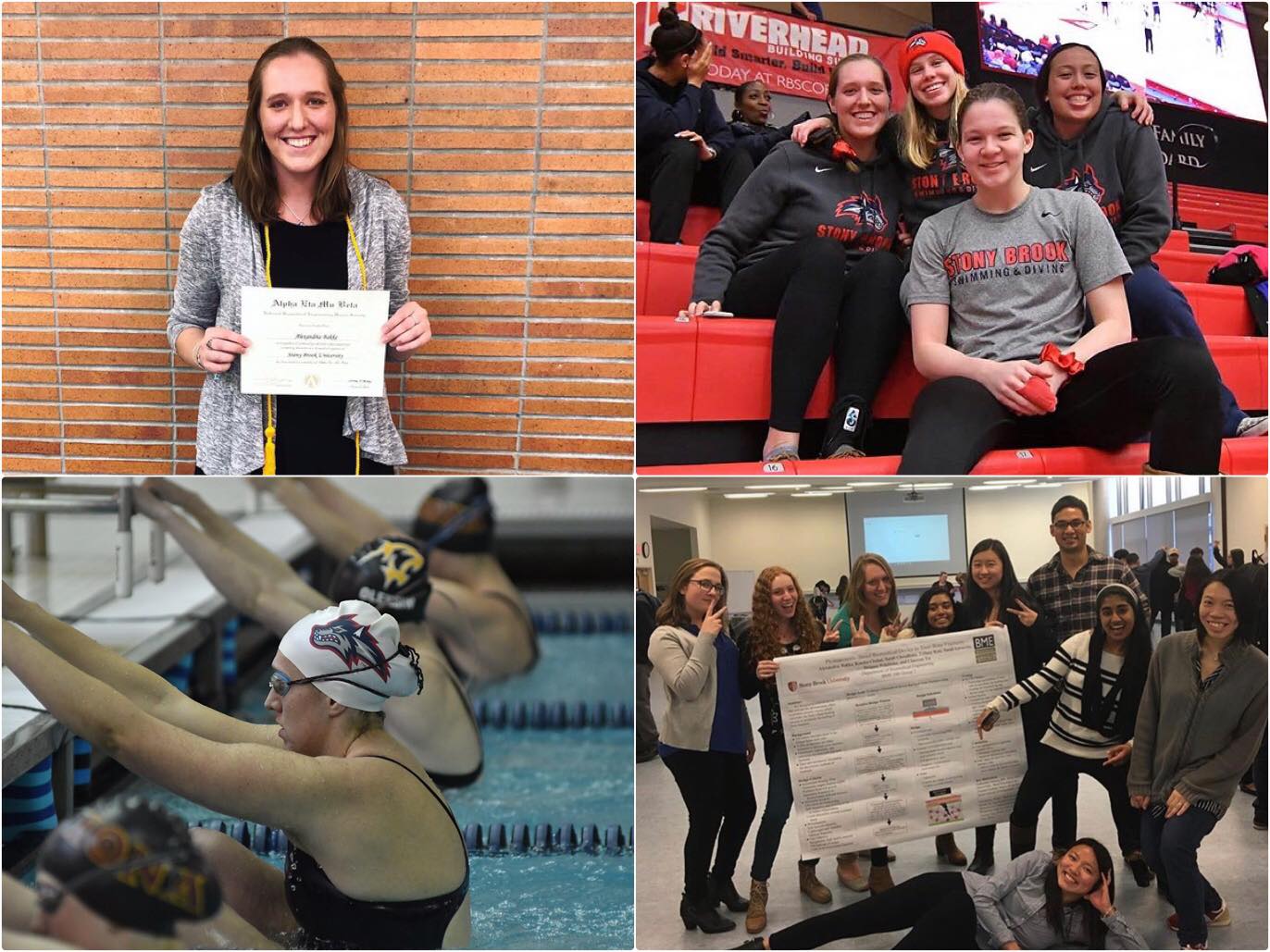 "I chose Stony Brook and the College of Engineering and Applied Sciences, despite the fact there was no swim program when I enrolled, because it offered the field of study I wanted and because of the Women in Science and Engineering Honors (WISE) program," said Bakke. "It was the right choice for me, and I haven't regretted it."
Not only have there been no regrets, she has thrived since arriving on campus. A biomedical engineering major, Lexie qualified for the highly competitive WISE Honors program serving as vice president of the student leadership council in her third year at Stony Brook, and elected president for her upcoming fourth year.
According to her, "It's such a great experience to be surrounded by like-minded women in STEM. Plus, there are so many networking and internship opportunities to begin building a career. Probably the highlight for me has been working on a research project at the Brookhaven National Laboratory."
Doreen Aveni, administrator of the WISE Honors program says of Lexie, "The thing that most impresses me is her level of commitment. In addition to her studies and other activities, Lexie keeps regular office hours as the WISE student vice president and handles our newsletter, yet still finds time to volunteer for other WISE initiatives while tirelessly promoting the program."
By the way, she's also back in the pool as part of the newly rejuvenated Stony Brook Seawolves swim team. For Lexie, the team being reborn during her second year is a "cherry on top" of her experience at Stony Brook.
Seawolves head swim coach, Kerry Smith, had this to say, "Lexie is a role model and leader in and out of the pool. She's an especially strong presence in the locker room because she understands the reasons for our process and how it makes the team and the individual better. This enables her to be a valuable advisor to other team members."
Not surprisingly, Lexie has some very concrete milestones for the future, both in and out of the pool. She scored in the 1650-meter freestyle this past season and next year she wants to score in multiple events. Academically, she has already applied for Stony Brook's accelerated Masters program and has a PhD in her sights as well. Here's a friendly bet that she'll accomplish her goals.
 -Dick Wolfe
A Day in the Life: Lexie Bakke