Skip Navigation
Associate Dean and BME Professor Named Fellow of ASBMR
We congratulate Yi-Xian Qin, recently named a Fellow of the American Society for Bone and Mineral Research (ASBMR). The Fellow of the ASBMR program serves to recognize long-term members who have made outstanding contributions to the field of bone, mineral science, and musculoskeletal research .
"Yi-Xian is a major contributor to the Biomedical Engineering Department and the entire Stony Brook community. His research and expertise in biomechanics and mechanobiology are critical to the College and University-wide initiatives, including our new Institute for Engineering-Driven Medicine," said Fotis Sotiropoulos, Dean, College of Engineering and Applied Sciences. "I congratulate him for this outstanding and well-deserved distinction and am honored to have faculty of his caliber in our College."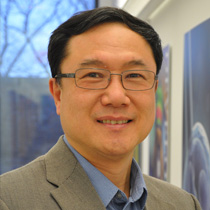 Professor Qin serves as Associate Dean for Academic Affairs and International Programs for the College of Engineering and Applied Sciences and is Professor and a founding faculty member in the Department of Biomedical Engineering (BME). He also serves as Director of Orthopaedic Bioengineering Research Laboratory at Stony Brook. With more than 25 years in academia, his research is focused on musculoskeletal tissue regeneration and translation through physical regulation and characterization of tissue quality, as well as evaluating the mechanisms responsible for tissue remodeling.  He has published 110 peer-reviewed papers and more than 20 books and book chapters in the musculoskeletal research areas. Yi-Xian's work has generated a total of $15 million over the past 20 years, and has been continuously funded by the National Institutes of Health (NIH), U.S. Department of Defense (DoD), National Aeronautics and Space Administration (NASA), and National Space Biomedical Research Institute (NSBRI), as well as industries. He is also Fellows of the American Institute of Medicine and Biological Engineering (AIMBE), and the International Astronautics Academy (IAA).
The Fellow of the ASBMR program is committed to recognizing the breadth and diversity of the Society's membership. Preference is given to individuals who have shown a commitment to ASBMR by having served as a volunteer in the Society or as a Society representative to another organization or initiative. Fellows are nominated by their peers, followed by evaluation and selection by a review committee.

Professor Qin will be recognized for this distinction at the ASBMR 2019 Annual Meeting , scheduled for September 20-23, 2019 at the Orange County Convention Center in Orlando, Fla.