Skip Navigation
College of Engineering and Applied Sciences Inducts Jon Oringer, '96 BS, '17 Hon., into Distinguished Alumni Hall of Fame
The College of Engineering and Applied Sciences announces the induction of Jon Oringer, Founder, CEO and Chairman of Shutterstock Inc. into the College of Engineering and Applied Sciences Distinguished Alumni Hall of Fame.   
The Hall of Fame was established to honor alumni who have demonstrated exceptional success in their field, and served as an inspiration to past and future innovators. Hall of Fame recipients are recognized for sustained and significant leadership in engineering, technology, entrepreneurship or innovation throughout their professional lives.   Oringer received his BS '96 in Computer Science and Mathematics and Honorary Doctor of Science '17 from Stony Brook University.  
He was inducted in a special ceremony at Stony Brook's annual Engineering Ball on April 25, 2019, attended by President Samuel L. Stanley, Dean Fotis Sotiropoulos, Provost Michael Bernstein and Senior Vice President of Advancement Dexter Bailey.
Oringer spent the afternoon on the Stony Brook campus, joining Dean Sotiropoulos, students and faculty for a "fireside chat" entitled: Risk and Reward: the Ultimate Balance
Oringer is a programmer, photographer, and businessman, best known as the Founder and CEO of Shutterstock. He began learning  computer programming  in elementary school  coding simple games and plug-ins for bulletin board systems. Oringer started selling his own software products   while attending  Stony Brook , inventing and selling thousands of copies of what  Forbes  describes as "one of the Web's first pop-up blockers." After graduating, he received an MS in computer science from Columbia University. While there, he estimates that he founded about ten small startup companies, most of which had him as the sole employee.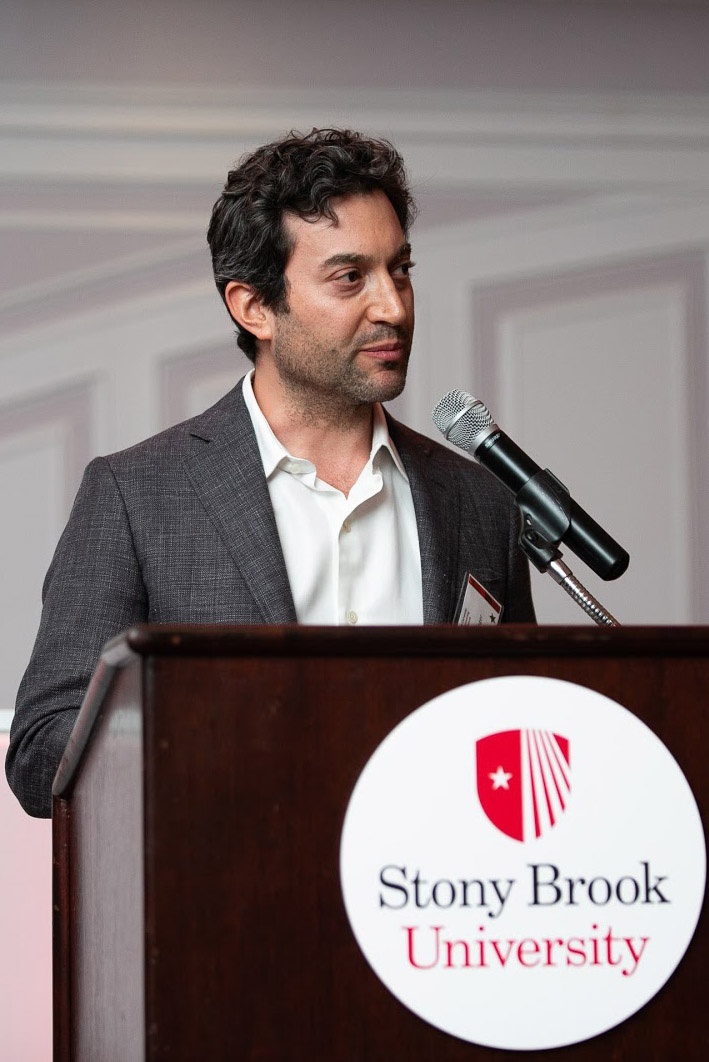 While marketing his software through a mailing list, he realized that emails with photos were better received than emails without. He recognized the need for licensable images at an affordable cost and created Shutterstock, the first global subscription image marketplace, in 2003. Funding Shutterstock entirely with his savings, he rented a 600-square-foot office in New York and initially handled all roles himself. Shutterstock went public in 2012 and is now a portfolio of brands serving businesses, marketing agencies and media organizations around the world.
In accepting the award Oringer said, "I never imagined that I would be back at Stony Brook 25 years later accepting an honor like this. Here at Stony Brook is where I first learned how important it would be to balance these three variables - risk, reward, and time - in an undergraduate class called operating systems. I had always wanted to start a company but, in that class I learned an important lesson that has stayed with me ever since."
As part of his address, he told students: "The best time to take these calculated risks is now. Time increases risk. It gets harder and harder to take calculated risks over time. You will fail sometimes. You will learn things about yourself that will scare and inspire you simultaneously. Taking calculated risks is a numbers game. Shutterstock was my 10th business - but the law of numbers will be on your side the earlier you start.  And I think you should start today."
CEAS Honors Distinguished Alum, Jon Oringer, Founder and CEO of Shutterstock Inc.